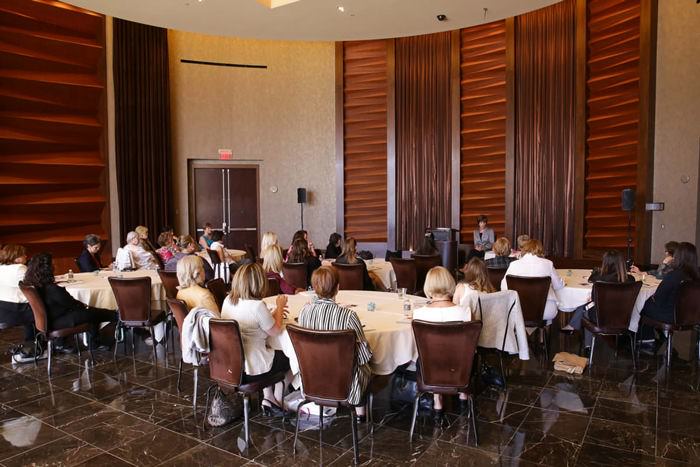 The concurrent sessions provide a unique intimate setting for learning in a small group setting. These break out sessions are especially designed to enhance attendee learning on various topics of each year's conference theme
This morning, we have: Kathy Tosoian, speaking on Imagine … Believe …. Achieve (Hands on Goal Setting to Reinvent Yourself and Your Career); Christy Brown Wright, speaking on Wired As Women; and Annette Brown, speaking on The Leadership Challenge, BOLD Practices of Exemplary Leaders.
Christy Brown Wright: Wired As Women
Christy was a warm, bright and articulate speaker, who really related to the attendees.
Women have gender-specific tendencies. We're emotional; we process everything by how we feel. It goes through our filter. Men go through facts. We think non-stop. We make lists and checklists and to-do lists. We play out scenarios in our mind. We don't even need the other person to participate in a fight with them in our head! Our thoughts get away from us.
We feel in extremes. We are relational, and see ourselves in those roles: mother, wife, sister. We love being needed, it is one of our core values.
But these very characteristics can lead to the very hard fragile issues: stress, weakness, fear, an almost crippling fear from the scenarios in our heads.
Perception – it's what we believe, what's going on in our lives. We can believe things that are not true. Our pasts contribute and we struggle with the lies planted along the way. These negative words shape our beliefs because they stick with us. (Christy told the story of being 11 years old, when her "boyfriend" lied about her, telling others that she had fat rolls the day after he placed a hand on her stomach. It created a lie in her mind, because at 30 years of age, she still struggles with that past lie when viewing her stomach).
It's not true! Those labels and names we soak up from others' unkind words are not true. It's not really your past if it continues to affect your present. It's not the stomach, it's what you believe about it! BE aware of your wounds and overcome the lies.
Voices in our heads: The voices we hear in our heads almost never speak positively to us. They are negative and they tell us lies. "You're not doing enough." "You should work harder." "You cannot say "No" to that request." "Other people have cleaner houses." For Pete's sake, those voices never shut up!!!
Christy related that throughout the days leading up to the conference, she struggled with "Why are you going to talk? You have nothing to say." 99.9% of the time, the things the voices say aren't true. They cripple you with fear and stress. Media messages: send messages to society that you are not enough. It is hard to combat! "If I could just lose weight/etc., I would feel good". But it's never enough. It's an elusive finish line and even if you get there, there is no contentment when you cross it.
When you say "if I could just ….. then I would be …." Doing this is a type of self-rejection. Finding contentment in your life is a choice.
Through this, we lose sight of our values and our identity. We do not thrive as leaders.
To combat this, we need to find truth. We can't change the past and we can't stop the media.
1. Find the wounds of the past and find healing to manage them. Use them as a positive.
2. Say to someone you love and trust and tell them in detail exactly what the voices in your head are saying to you, aloud. When you do this, it takes the power and pain away. When you own them as your own thoughts and keep them secret, those lies and secret thoughts retain their power over you. They will continue to cripple all the possibility from your future.
3. If you can worry, then you can dream. One is negative and one is positive, that's the only difference. Change your worries into dreams. When you catch yourself worrying, start to dream instead. And, be proud of your accomplishments. Love your body.
4. In all the chaos, the clutter and the lies, listen to a different voice that tells you who you really are.
5. We are not called to a life of guilt, shame and lies. We are called to lead a full life.
Priorities:
Name five things you value. Make your values a priority. When we live consistent to our values, we have peace. When we live incongruently to our values, we create stress.
Ask yourself: "So, what are my values since I have so much stress?" We should be on our values list. We put everyone before us on the list and it moves us down to the back of the list. What kind of life can we have when we aren't even on our own values list?
We should unapologetically put ourselves first. If you are depleted or exhausted you aren't good for anyone.
Invest in yourself first. You are a priority in your own life. Self esteem, self acceptance, self confidence all start with "self."
Don't put your time and energy on things, time, money and energy that are not important to you. How you spend your time and your bank account is what you value in life.
Don't wait for "next month" as though you'll have a sudden influx of time and money. What's important to you right now?
Where we serve we begin to find our identity there, instead of having our own identity and self-worth apart from these things. Do not let them define you.
Busyness builds a need in us. Know your purpose and identity without those things.
What makes you come alive? Go do that! What your boss or husband or kids need is a woman who is alive. That is your strength.
Protect your boundaries. Everyone else will tell you what is important to you.
Boundaries aren't about saying "No." They are about respect.
"If you have the nerve to ask me, I have the nerve to say "No."" You have the obligation to say NO.
Purpose –
Our perception affects our priorities.
We are responsible to make the choices to create the life you want.
Two reasons to lead well:
1. For others. Others are watching you live your life. What story do they see in you? What are you teaching them? We are made to live in community.
2. For you. It starts and ends with you. You cannot offer someone you don't have yourself. You have to foster itself in yourself. Your story is your core. You are responsible to lead yourself.
I am created on purpose for a purpose.
What an amazing presentation!
Kathy Tosoian is a certified trainer and speaker. She spoke on hands-on goal setting to reinvent yourself and your career. She is warm, engaging, fun-loving and empathetic. Everyone enjoyed her professional presence and calm demeanor.
Kathy asked attendees to think about what they are passionate about. What makes them excited and jazzed about the day? These are the things we would do and be so easily if money and time were not an issue. What would we do?
Next, she asked us to think about three people we really admire. We were to write down their names and especially, to note their character traits and behaviors that we wish we could emulate in our own lives and careers.
From these thoughts, we were encouraged to begin to create a vision. How would we change a current life/career situation? With a blank canvas, paint our lives as we would like them to be. Dream but be realistic. We set ourselves up for failure when we expect the impossible, but we MUST stretch beyond what we think we can do.
We wrote down a description of our live. A vision is a description of a desirable future state. We wrote our vision in the present tense, as if we had already achieved it.
Kathy told us our mind remembers things in pictures, not words. When we feed our minds pictures, we can internalize those dreams and visions into our lives.
In time, we can build on this, expand it and adjust it any way we would desire to do.
Kathy encouraged us to create a dream board or dream book of our vision. She gave us real practical "how-to" steps we could take to begin to transform our lives and careers to match the vision for our lives.
The concurrent sessions give a great "drill down" learning opportunity to select the track you most want to attend and learn more in detail about the many facets of strengthening life pillars so you can master leadership skills in every area of life!