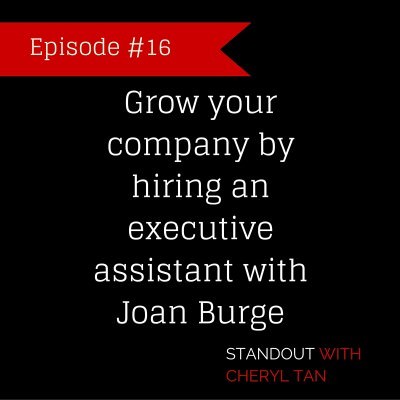 This guest post was originally published at CherylTanMedia.com and is shared here with permission.
Today, we're talking about getting help. And how, if you have the right help, you can see incredible growth in your business. We discussed it with business coach Allison Maslan in STANDOUT Episode 13 and with entrepreneur Jim Palmer in STANDOUT Episode 15.
But what is the best way to work with assistants who could be the key to your success?
Joan Burge is the founder and CEO of Office Dynamics International. She was an executive assistant for many years, who now provides training for administrative professionals worldwide. I love the honesty she shares about how hard it is to build a sustainable company and what it takes to make it. Whether you're an assistant or the boss, you will get some valuable steps on how best to work together to grow a company.
What you will learn in this episode:
*What Joan learned about relationships while an executive assistant for 17 years, and how she turned that experience into a successful business
*Misconceptions people have about administrative professionals, and why it's so important to address them
*How scheduling your own tasks as a business owner is a waste your time
*The changing role of assistants in the growth of a company
*Why Joan almost had to close her doors three times, and what she did to overcome major business challenges
*When should an entrepreneur hire an assistant?
*How to work with an assistant effectively
*How her assistant's role has evolved, and why she is now the Vice President of Joan's company
Links mentioned in this episode:

Reach Joan by phone here: 1-800-782-7139
Email: burgej@officedynamics.com
Resources available here.
Free monthly webinars are available for administrative assistants. Sign up here
Did you enjoy the show? Please subscribe to the STANDOUT with Cheryl Tan podcast on iTunes here.
Share your thoughts on this episode in the comments below and join our blog-a-thon fun this month!