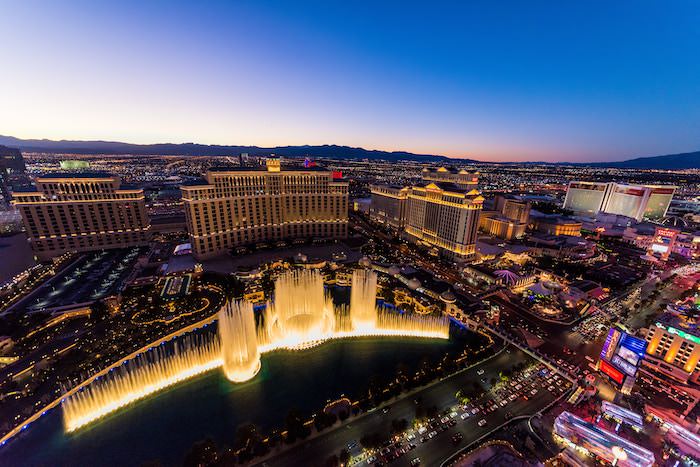 Hello Office Dynamics friends and family! Ernan here and I'm very excited to share with you a little interview I had with Joan Burge.
Year after year we host the Annual Conference for Administrative Excellence here in Las Vegas and each year about half of the attendees are new, not just to our Conference but to the city of Las Vegas.
This got us thinking, if you are new to Las Vegas and you are here for our conference for administrative assistants, it can be extremely overwhelming trying to figure out what you should visit and experience. So, I sat down with Joan Burge and asked her what her favorite places are and what she recommends to visit for your first time here in Las Vegas.
Here are Joan's recommendations in no particular order.
Bellagio – Fountains of Bellagio and Bellagio Conservatory & Botanical Gardens
The Bellagio is part of the MGM Resorts and is located approximately in the middle of The Strip. It is considered a luxury hotel and casino and hosts the "Fountains of Bellagio" and conservatory and botanical gardens.
The Fountains are a choreographed water performance that uses light and music to add to it's show. It's located in front of the Bellagio and the show takes place every 30 minutes during the day. After 8 pm, the fountains play every 15 minutes until midnight.
It's a wonderful display that will leave you speechless and standing in awe.
The conservatory and botanical gardens is inside of the Bellagio hotel and is located next to the hotel's lobby. This attraction features five seasonal themes and celebrates the Chinese New Year, Memorial Day, Thanksgiving, the spring display, and the summer display which is usually red, white and blue themed.
Both of these attractions are FREE and definitely worth the trip to the Strip.
Fremont Street
What can we say about this place that hasn't already been said? It truly is a place to see everything!
Fremont street is roughly seven blocks and is located downtown Las Vegas. It is home to the world's largest video screen, the Viva Vision, that gives an amazing light show while your favorite songs are played. The Viva Vision is 1,500 feet long, 90 feet wide and yes it stretches over head.
Other amenities include zip lining on SlotZilla which is 12 stories and almost the entire length of the Viva Vision. Various restaurants such as Hugo's Cellar, Second Street Grill, American Coney Island, Red Sushi, Chicago Brewing Co., and Cadillac Mexican Grill are scattered throughout. You might be lucky enough to catch live music as well. One last thing, if you are a people watcher, then this is your place!
If you, your friends, and your fellow conference attendees decide to go be prepared to see anything and everything!
Vintner Grill
For those administrative assistants and executive assistants that are attending the conference here in Vegas, food can be hard to settle on when in a group. So many choices and styles to choose from!
Vintner Grill is an American Bar and Bistro that is located in Summerlin. The setting is a very inviting modern look and the menu is American dishes infused with amazing flavors from Spain, France and Italy.
Joan calls this one a "must go to."
Hawthorne Grill
The Hawthorne Grill is located in the JW Marriott only a few miles away from the Red Rock Casino and Resort. This very chic dining experience has a menu that caters to breakfast, lunch, Sunday brunch, a champagne menu and a very nice selection of cocktails and wine.
The dining room is perfect for a business gathering or a romantic dinner. This restaurant sits next to a large outdoor patio that overlooks a beautiful waterfall with an amazing array of foliage.
This blissful restaurant will definitely make you feel that Las Vegas high life.
We loved the Roasted Atlantic Salmon and the Pan Seared Diver Scallops!
The Park
One of the newest additions to Las Vegas, The Park, sits in between New York, New York, the Park MGM and the T-Mobile Arena. It features restaurants, bars, and shops.
If you are a beer connoisseur or a sushi fanatic, The Park has the right place for you. The Beerhaus houses craft beers from around the United States from Michigan to California. If you are craving sushi then you will want to visit Sake Rok which is inspired by Japan's vibrant pop culture. You will find other places like Bruxie and California Pizza Kitchen in the same area.
From the park you will have easy access to New York, New York where you can ride the roller coaster or visit the newly renovated Park MGM Las Vegas.
This destination is a little further away but you can definitely make your way up and down the strip seeing other attractions like the High Roller, Skyfall Lounge, various Cirque du Soleil shows, and the Chandelier bar located in the Cosmopolitan.
Linq/High Roller
The Linq is a hotel/casino centrally located on the Strip sitting across the street from Bally's and Caesars Palace that is also home to a nice shopping area and the famous High Roller.
The High Roller is 550 feet tall and has 28 passenger cabins that have a 40-passenger capacity.
It takes roughly 30 minutes for a rotation and at night it is lit up by a 2,000-LED multicolor system.
Day or night, you will get a view you will never forget.
T-Bones Chophouse
T-Bones Chophouse is located right inside the Red Rock Casino Resort and Spa, so all conference attendees can just take a little walk downstairs and find themselves in one of Joan's favorite restaurants in Las Vegas.
The restaurant has an amazing selection of the freshest seafood, side dishes, and decadent desserts.
In 2015 T-Bones Chophouse was selected as a Wine Spectator Restaurant Award Winner.
While you are at the Conference for Administrative Excellence, you should consider giving this venue a visit.
Skyfall Lounge
This chic bar sits on the Delano's 64th floor, overlooking the beautiful Las Vegas landscape while serving artisan cocktails and playing easygoing tunes with eclectic beats.
This Joan Burge favorite opens at 5:00 PM and requires a "nightlife attire" for its dress code but be ready because this one of a kind venue boasts prices that match the requirements.
Click here, to visit the Skyfall Lounge website.
O – Cirque du Soleil
This water-themed production is put on by Cirque du Soleil, a Canadian circus and entertainment company and has had residence in Las Vegas since 1998.
This stage production takes place in, around, and above a tank of water that holds 1.5 million gallons.
O is a performance that uses 150 stage technicians, a cast of 85 members that is comprised of international acrobats, divers, and synchronized swimmers.
You will be sitting in a theater that is made to represent a 14-century European opera house that seats 1,800 people.
If you visit this show, you will not forget it.
Whether it is our Annual Conference for Administrative Excellence or a different conference, we hope that you take a night or two to yourself and enjoy the greatness that Las Vegas has to offer.