SPECIAL EDITION
MAGNIFICENT MONDAY MOTIVATOR!
Living the 5 Pillars of a BIG Life™
Hello Monday Motivators!
I am so pumped and excited to write this Monday Motivator. I'm sorry if you are getting this late in the day but I could not have written this any sooner as these splendid thoughts would not have been in my head.
This morning, as I was driving to work ready for a very full day of tackling "A" priority projects, I realized I lived ALL 5 Pillars of life this weekend: Career, Family, Financial, Spiritual and Wellness.  If you are not familiar with the 5 Pillars yet, these were a key element of our Be BOLD: Mastering Exceptional Leadership Skills One BOLD Step At a Time 2012 conference theme. And the 5 Pillars are incremental to Living a BIG Life which is the outgrowth philosophy of my new book for women, Give Yourself Permission to Live a BIG Life.
Here is what transpired this weekend.  As you read about my experiences, I want you to think about your weekend. Which pillars had your attention this weekend? Which pillars rarely get your attention on weekends? And which pillars do you want to incorporate more often on your weekends and week nights?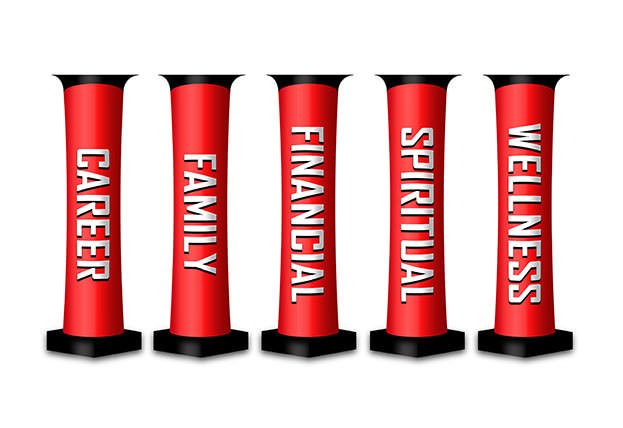 Early Saturday morning, I focused on my Wellness Pillar by going to the gym and working out (very hard, mind you) with my trainer, Cody (see photos below). I do not always work out with a trainer but have made a habit of meeting with him weekly because he pushes me beyond what I will push myself.  I was sweating the entire hour and still ache (in a good way) from the workout. Much of the work I did was without machines so it was hard on my muscles and we included cardio. Did you know heart disease is the number one killer for women? What cardio activities are you doing throughout your week? Running around the office is not sufficient cardio. If none, this week push yourself and stimulate your heart!
Then I had to transition into my Career Pillar as I was working on a deadline and had to get information to our web master by Saturday afternoon. I spent about 90 minutes viewing videos from our 2012 Annual Conference for Administrative Excellence to extract clips for our 'Event of Distinction' trailer video for our 2013 conference. This task had a two-pronged effect: One is I realized why it takes our web master so much time to do a similar assignment therefore having a greater appreciation for the time it takes on that task. Second, I was reinforcing concepts that I had heard in September! While you may not want to focus on your Career Pillar on the weekend because you do that 5 days a week, you might take out a few minutes on the weekend to learn something new. The reason is that you are not distracted like you are during the week.
My Family Pillar was nurtured in numerous ways this past weekend and that is probably why I feel so at peace this morning as I venture into a crazy week at work. I spent 6 hours with my daughter and her family on Saturday. We baked tons of Christmas cookies for a women's cookie exchange the next day. Yes, I do those types of things! We had Christmas movies playing on the TV as we baked. I really do not like to bake especially if I have to whisk things, crush nuts, melt caramels and roll and press and fill dips in the cookies! I'm more of a "get ready-made" dough or already-baked cookies type of girl! But I was so happy with myself after I made these special cookies as I didn't think I could do it; I was so out of touch with baking. But you have to use your brain when you bake—accurate measuring, multiplying the recipe for larger quantities, and quality insurance. This was a wonderful way for me and my daughter to bond. We laughed and created a new tradition.
My Family Pillar was nurtured even more when I went to Sunday Service but especially on Sunday night when I joined a group of the Vegas Young Professionals (VYP) to cook a meal and serve at our local Ronald McDonald House. Jasmine Freeman is very active in VYP and they do a great deal of community outreach. She asked if I wanted to participate in this giving of time and food; I immediately said, "Yes!" Ronald McDonald house is amazing. They have 12 bedrooms, each can house up to 6 people. The kitchen was huge; there were about 8 of us cooking and preparing. One young women who is staying at the house was there because her 3-month old daughter had open-heart surgery. Can you imagine the stress for those parents? As I drove home, I was so tired from a full day but that act of kindness filled my soul — leading to my Spiritual Pillar – more than anything. I love giving of myself. We often give money. What can you do this week that demonstrates you care about someone less fortunate? I know you give of yourself every day at work; but giving of ourselves to a cause or a person, goes miles beyond what we do at work.
I filled my Spiritual Pillar when I attended Sunday Service at The Crossing. I love this place. The work they are doing in our community and the world is amazing. Our spiritual leaders are awesome and I love attending this place. Yesterday was extra special because our church family brought in big Christmas bags filled with clothes and toys for children in our community, clear plastic boxes filled with items for Children in Mexico, and gift certificates for places like Target for families in need in our Las Vegas Community – providing over 1,500 gifts in one day. I was also casually mentored yesterday while speaking to one of our spiritual leaders. I feel like I'm on pause right now as I wrap up the year whereas I am used to running all over the country traveling and speaking so I feel like I am in slow motion. He said, 'You know that is okay, don't you?" It does not mean nothing is happening. This is what is to happen right now." This left me with a feeling of peace that what I am doing at Office Dynamics and Live a BIG Life right now is what is supposed to be occurring. I am going with the flow. What about you? Are you nurturing your Spiritual Pillar on a regular basis? Are you living in spirit? Are you going with the flow of life or fighting it?
I am pleased to say I am really sticking to a budget this year for Christmas spending. This weekend I focused on my Financial Pillar by checking my pre-shopping Christmas list where I listed who I would buy gifts for and how much I expected to spend. While I did up the numbers a bit, I still know exactly where I stand money-wise thus giving me direction to my shopping instead of doing "emotional" shopping and spending more than I should. Did you write a reasonable budget for your holiday shopping? Do you guilt shop? Have you thought of other things you can do for people you care about that does not include spending money?
When my 5 Pillars are intact, I feel terrific! I feel:
·         confident
·         in control
·         a sense of accomplishment
·         peacefulness
·         joyous
·         energized to do more and give more
·         thankful
While we will not be able to focus on all 5 Pillars every week day or every weekend, we should consciously strive to focus on 2 or 3 Pillars during the week flowing from 1 Pillar to the other and so forth. Every month, we should bring attention to all 5 Pillars! When our BIG Life is intact, we become powerful beyond our belief and we lead others to a bigger, better life!
Wishing you a BIG Life week filled with joy!
Joan Burge