Do you LOVE your admin career?
Or have you lost the love for your career as an administrative professional?
We love the administrative profession and we hope you do too. But, it doesn't matter which camp you reside in. Join us this month for our Love Your Admin Career Challenge from February 1 – 14, 2016. We'll be sharing a challenge each day to encourage you in your career as an administrative professional.
Win one of our 14 administrative-career-enhancing prizes
Surprise Valentine (5 will be awarded throughout our 14-day challenge)
Managing Your Executive's Day $99 Value (3 will be awarded at the end of our challenge)
2015 Conference On Demand $599 Value (1 will be awarded at the end of our challenge)
Joan Burge Book Bundle – including Joan's 3 titles for the administrative profession (1 will be awarded at the end of our challenge)
Build a Better Partnership Bundle, $186 Value (1 will be awarded at the end of our challenge)
Live a BIG Life Bundle (1 will be awarded at the end of our challenge)
How to enter:
Follow @OfficeDynamics on Instagram.
Post your picture on Instagram of you doing your challenge item of the day.
Use the #adminlove when you post your challenge photo.
You can also enter on Facebook and Twitter – same rules apply. Follow or Like us and be sure to use the tag.
We look forward to seeing your posts and sharing some serious love for the administrative profession.
Love Your Admin Career Challenge
Find the challenge updates here daily.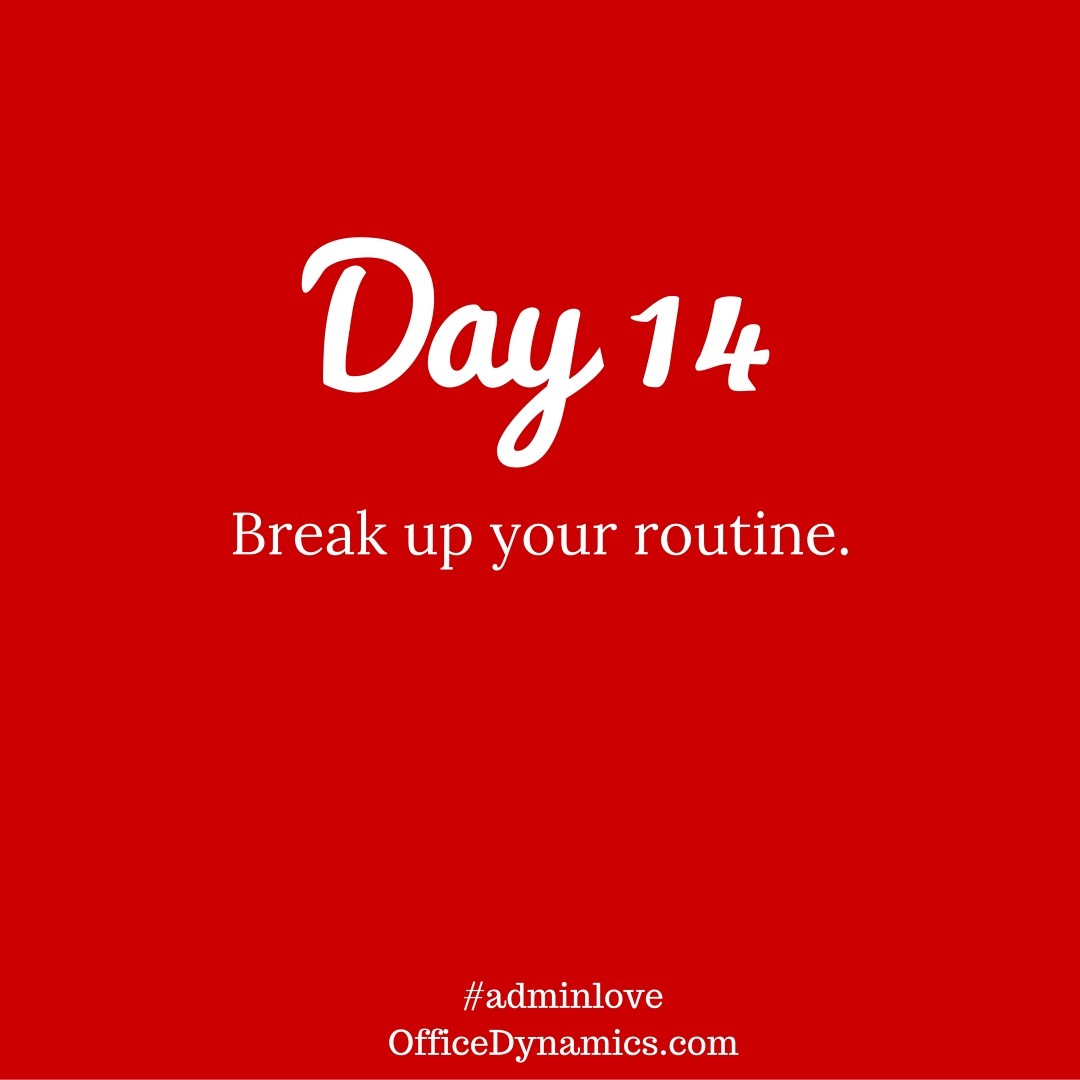 Day 14 – Break up your routine. When you try new things, even small changes like taking a different route to work, you light up new neuropathways in your brain. Try something out of your usual routine today to add some excitement to your career and wake that brain up! Do you usually sit at your desk through lunch? Get outside and go for a walk. Do you start your day prioritizing what's ahead? Try ending a little earlier and prioritizing before you leave the night before. Mix up that routine and check in with us on social to enter the contest. This challenge ends February 14, 2016.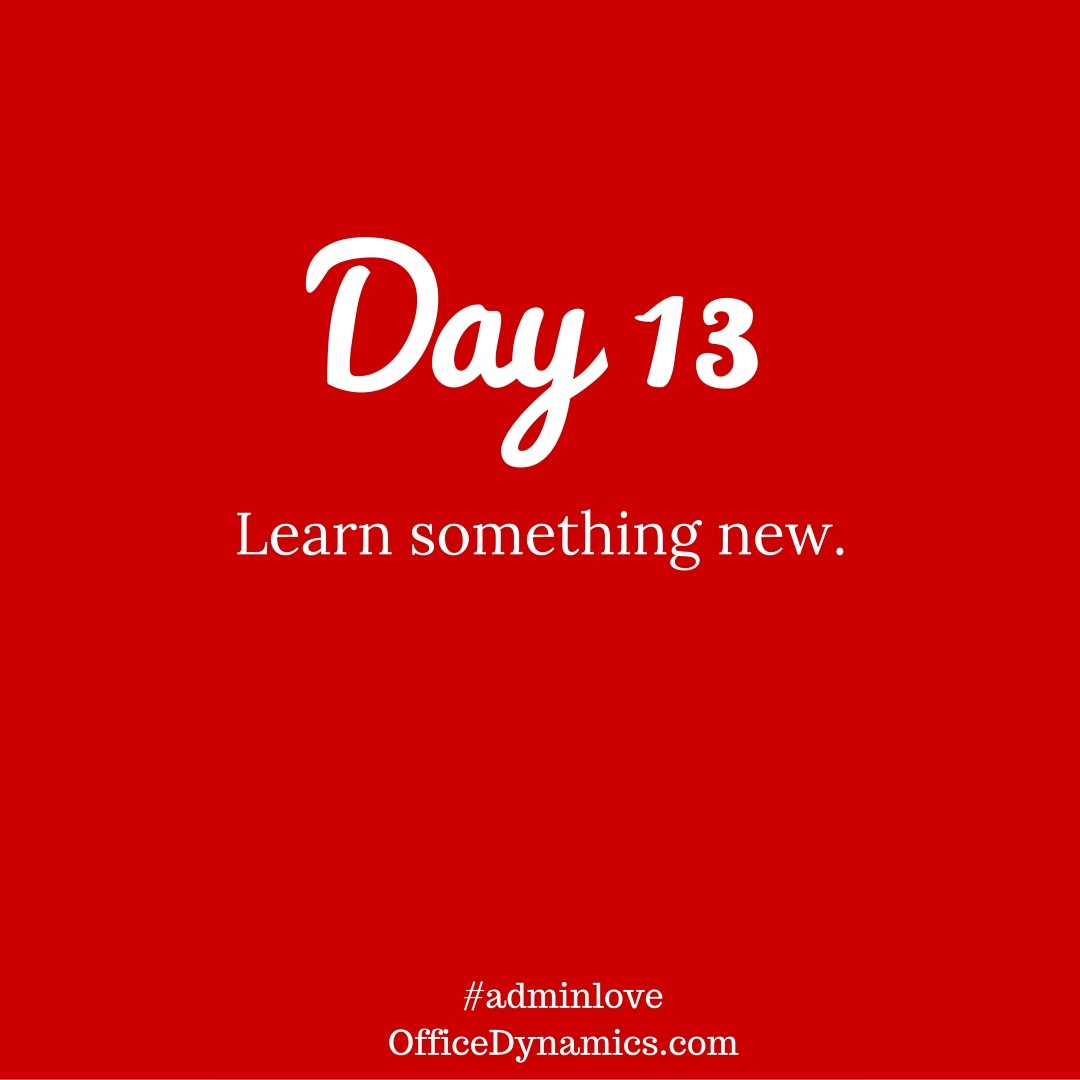 Day 13 – Learn something new. We're advocates for life-long learning. No matter what stage of your career you are in, you can learn something new today. What would suit your goals, a new language, a new way of doing something, learning how to use social media, or cross-training with another department? Tag us in your posts on social with #adminlove and let us know how you are learning something new to enhance your administrative career.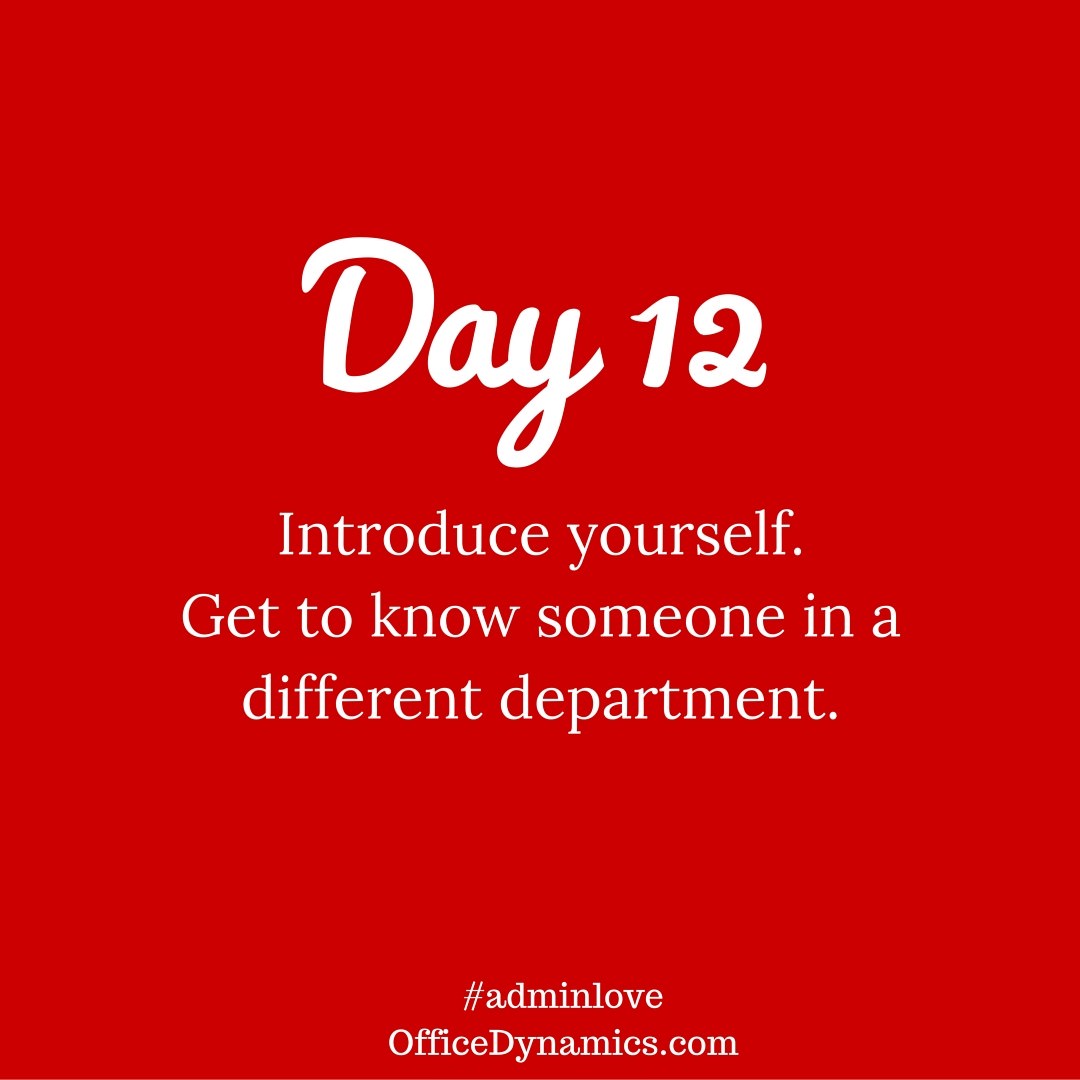 Day 12 – Introduce yourself. Get to know your co-workers, even the ones you don't work with directly. It's a great way to expand your knowledge of the organization and be happier at work! Here are 10 fun ways to get to know your co-workers. Don't forget to join us over on Instagram and share how you're getting to know the people you work with.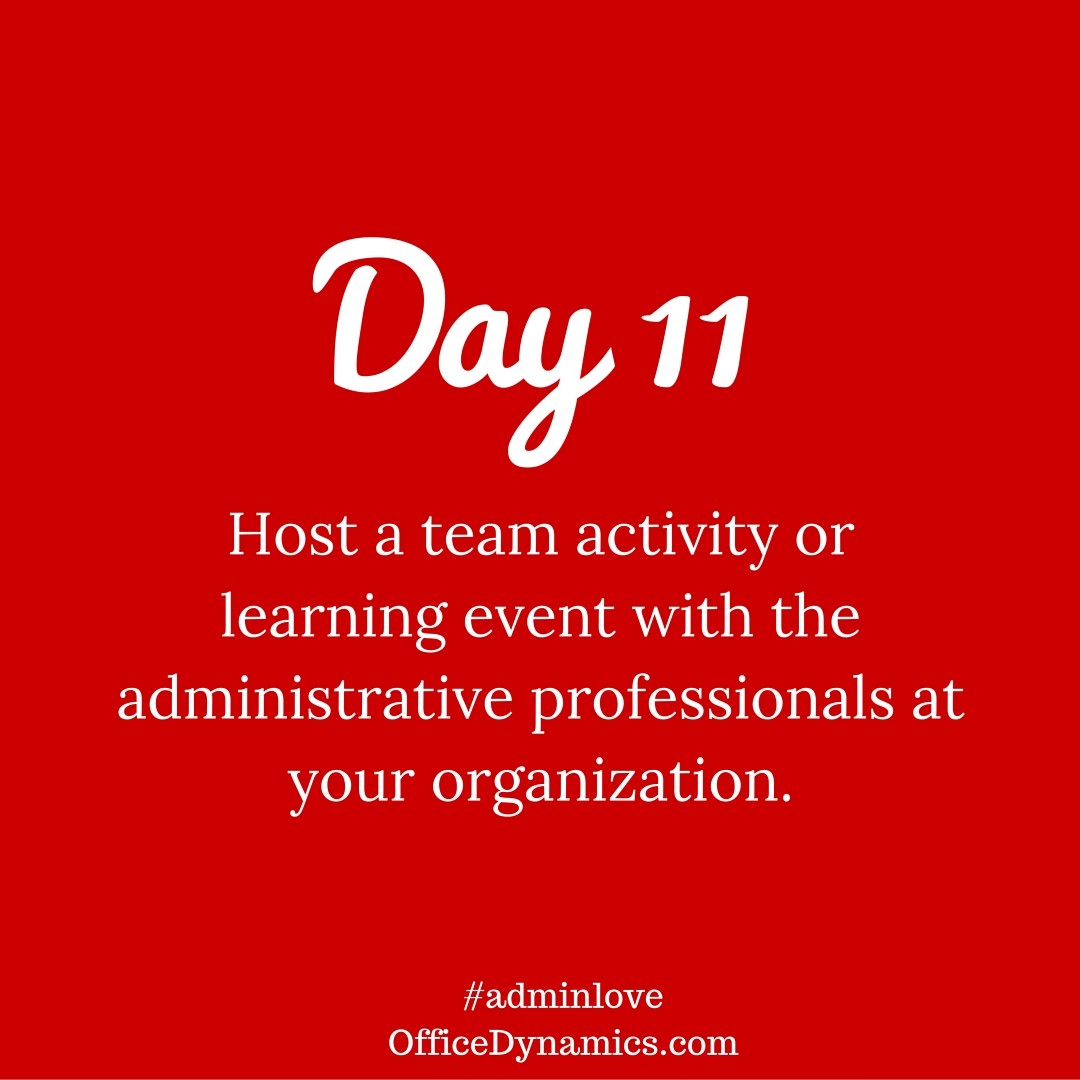 Day 11 – Host a team activity of learning event. Start small and simple with a core team of administrative professionals interested in learning and sharing ideas and grow this into an internal network of administrative peers. You will build a rapport with your team and you'll all enhance your leadership skills throughout the process. Lunch and Learn, Team-building Tuesday, Network After Work…let the ideas flow and get something started. Admin team of one? You can still build your network. Get creative and look for administrative peers in your community to get connected with. Perhaps their is already a local organization you can be part of. If there isn't, start something simple and small and get together once a month to share ideas and skills with one another. Let the ideas flow today. How have you already done this and what did that look like? What are you going to try this year to grow your administrative community? Remember to use the hashtag #adminlove.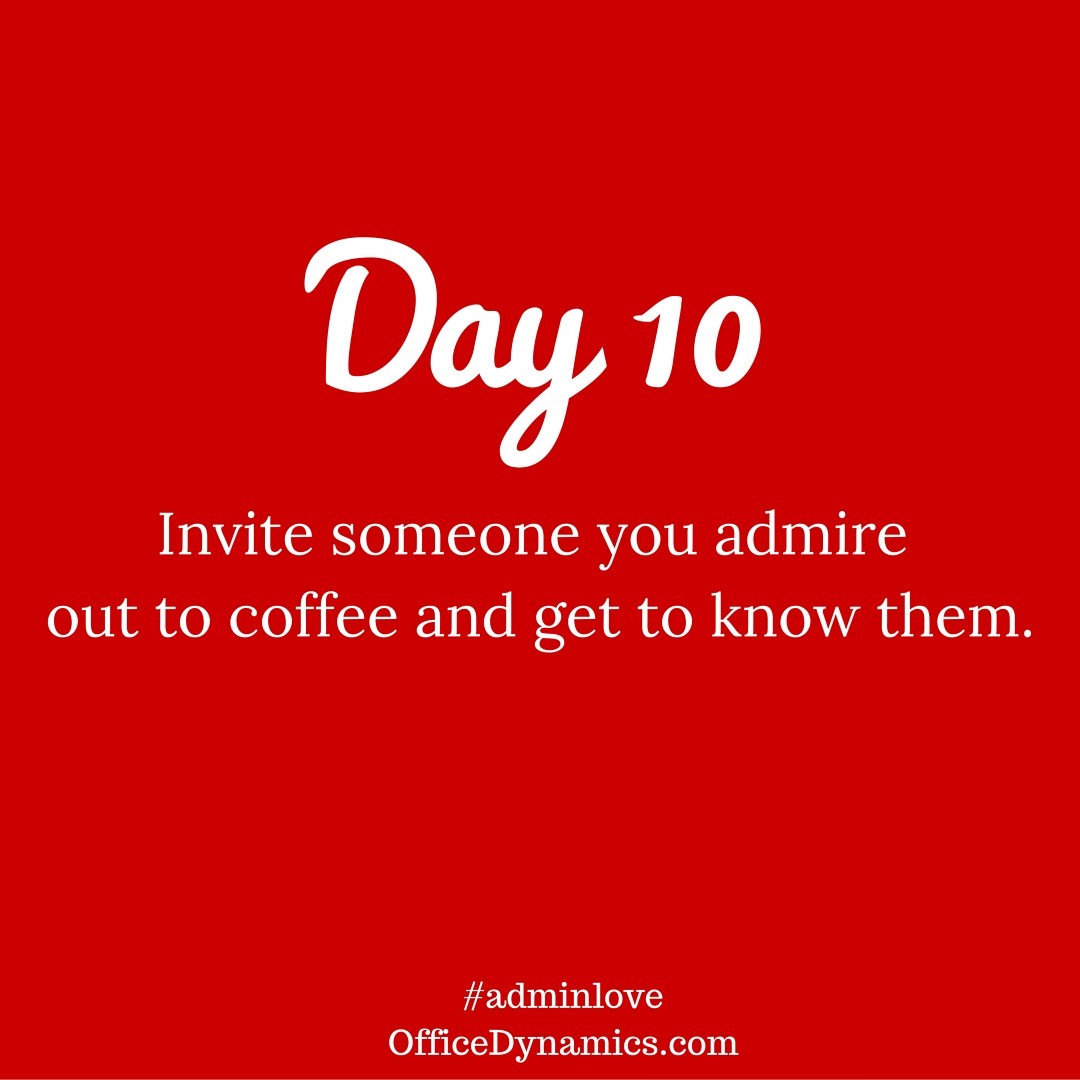 Day 10 – Get to know someone you admire. This isn't the same as a "can I pick your brain meeting." This is genuinely wanting to get to know someone you admire. Treat them to coffee or lunch and ask questions about what drives them. What are their goals. What are their fears? How did they overcome "x?" You'll learn a lot about this person, form a bond and you'll walk away having gained some wisdom.  Who are you going to get to know a little better today? Let us know over on Instagram (or you favorite social platform. Just be sure to use the tag #adminlove.)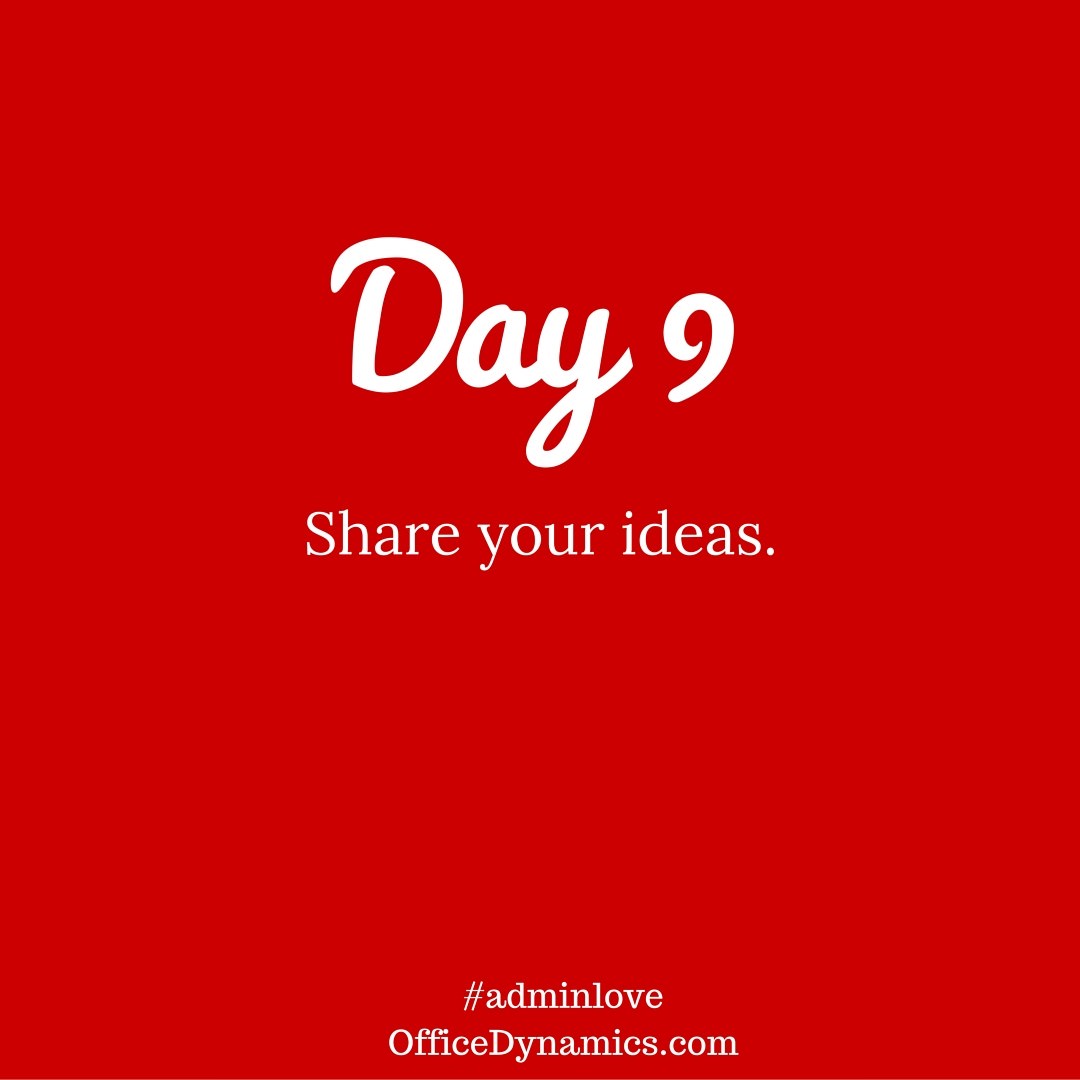 Day 9 – Share your ideas. Are you sharing your ideas at work? Do you see a way your company could be saving money but you're keeping it to yourself? Speak up. Take some time to discuss your ideas with your leader or others in your organization. The administrative role has a unique position to see areas for improvement that many other job functions in your organization may not be aware of. Doing so shows you care about the organization you support, you're engaged in your career, you're innovative and you're a team player. Let us know what you're sharing today/this week over on Instagram using the #adminlove. Don't forget to follow @OfficeDynamics there as well.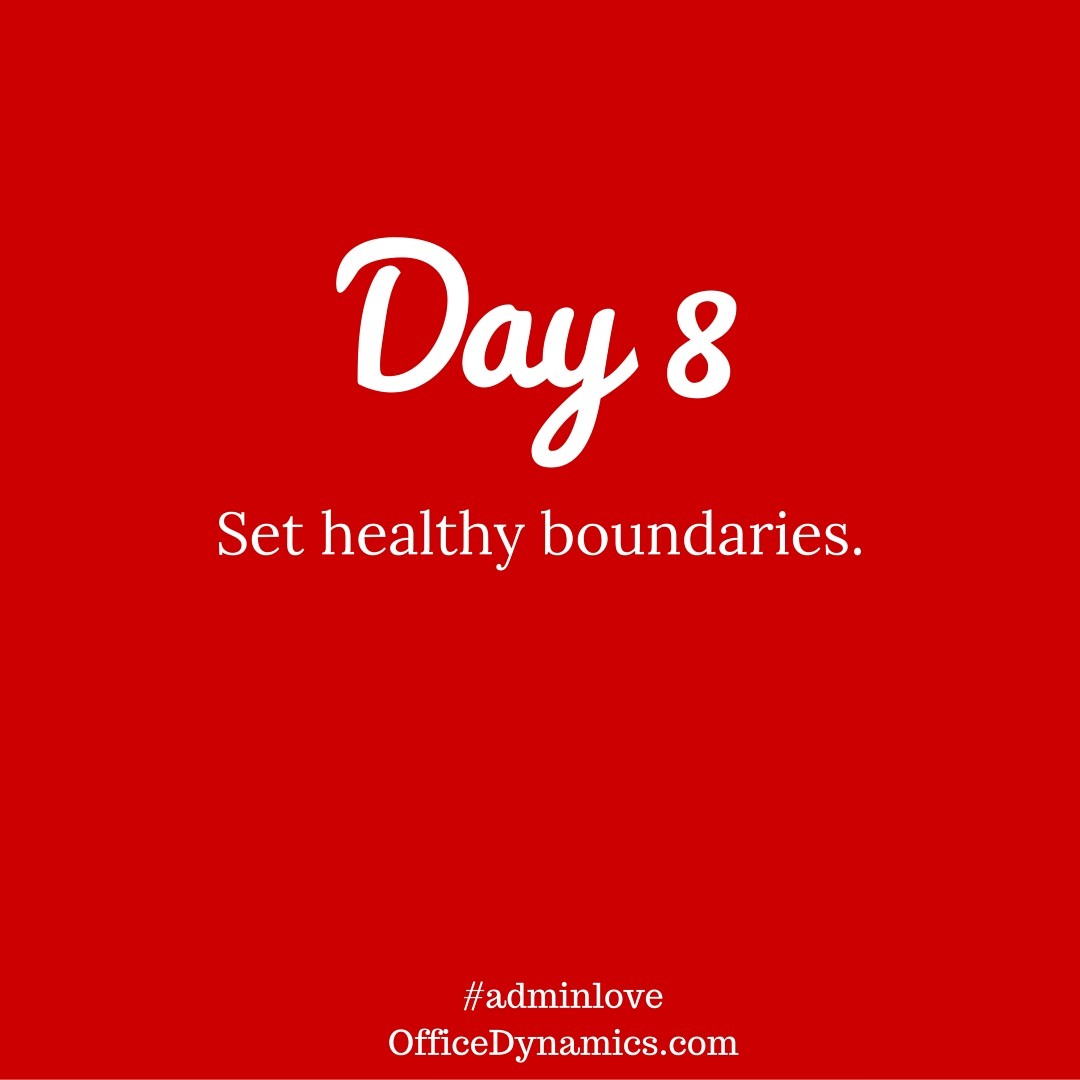 Day 8 – Set healthy boundaries. Do you struggle with saying no? Do you keep your phone on you 24-7 so that you don't miss a beat with your executive? Are you feeling the pressure and overwhelm of having taken on too much? Set healthy boundaries at work and at home. What steps will you take today to set a boundary that's needed in your life? Example: Take some time off (don't let your vacation days go unused, you've earned them.) You can learn more about setting healthy boundaries in this webinar recorded by Joan. Recommended book: Boundaries by Dr. Henry Cloud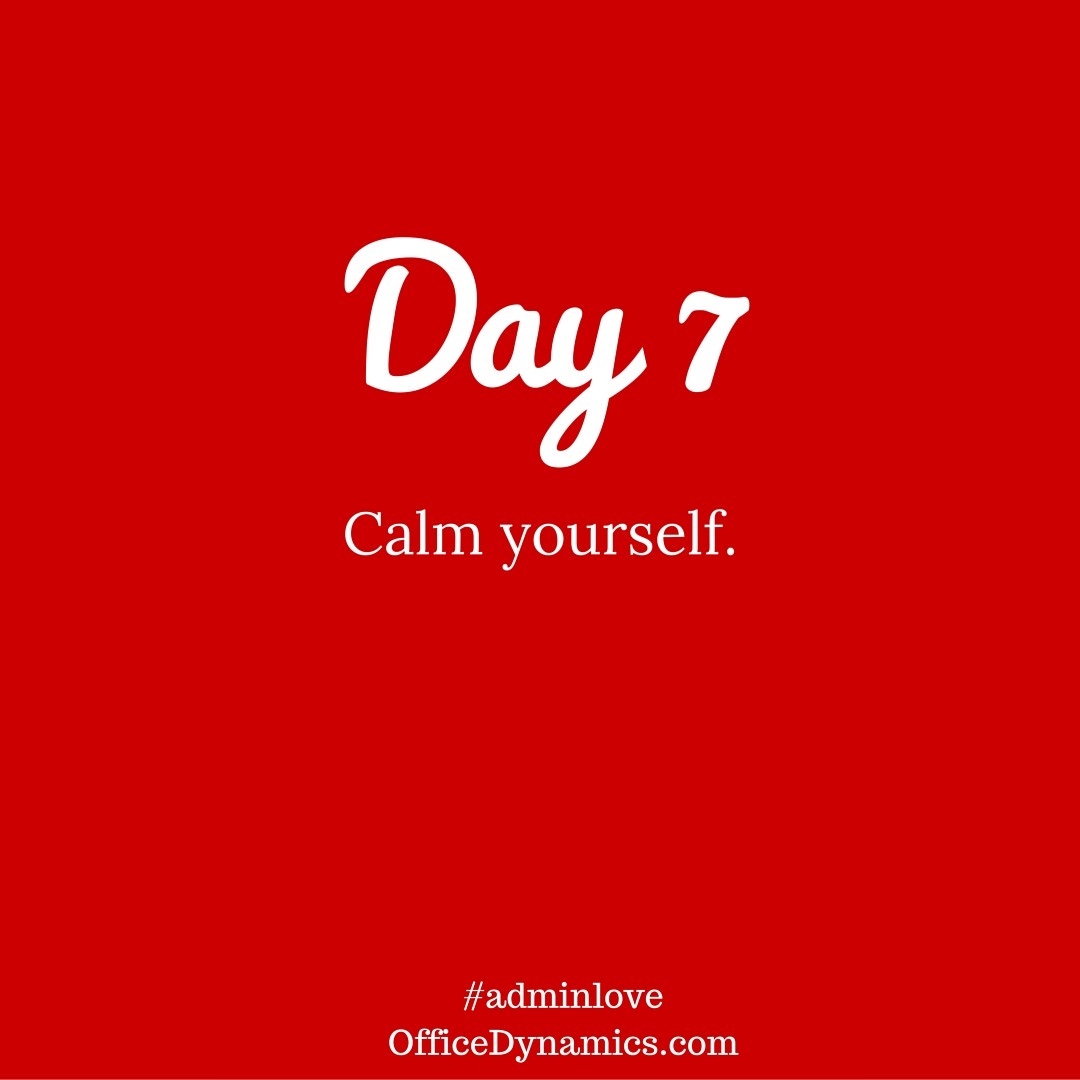 Day 7 – Calm yourself. It's easy to get overwhelmed at work. Administrative professionals find themselves in the thick of the office stress whether it's our stress, a team member's, a client's or our  own executive. We absorb a lot!
Learn techniques to quickly calm yourself so you can keep a level head and bring peace back to your work place. We enjoy the Calm App or Headspace but there are many ways you can introduce a practice of meditation into your life for just a few minutes at a time. Meditation helps reduce anxiety which allows you to enjoy your career! #adminlove The Mayo Clinic also offers a lot of great information how to reduce stress – check it out.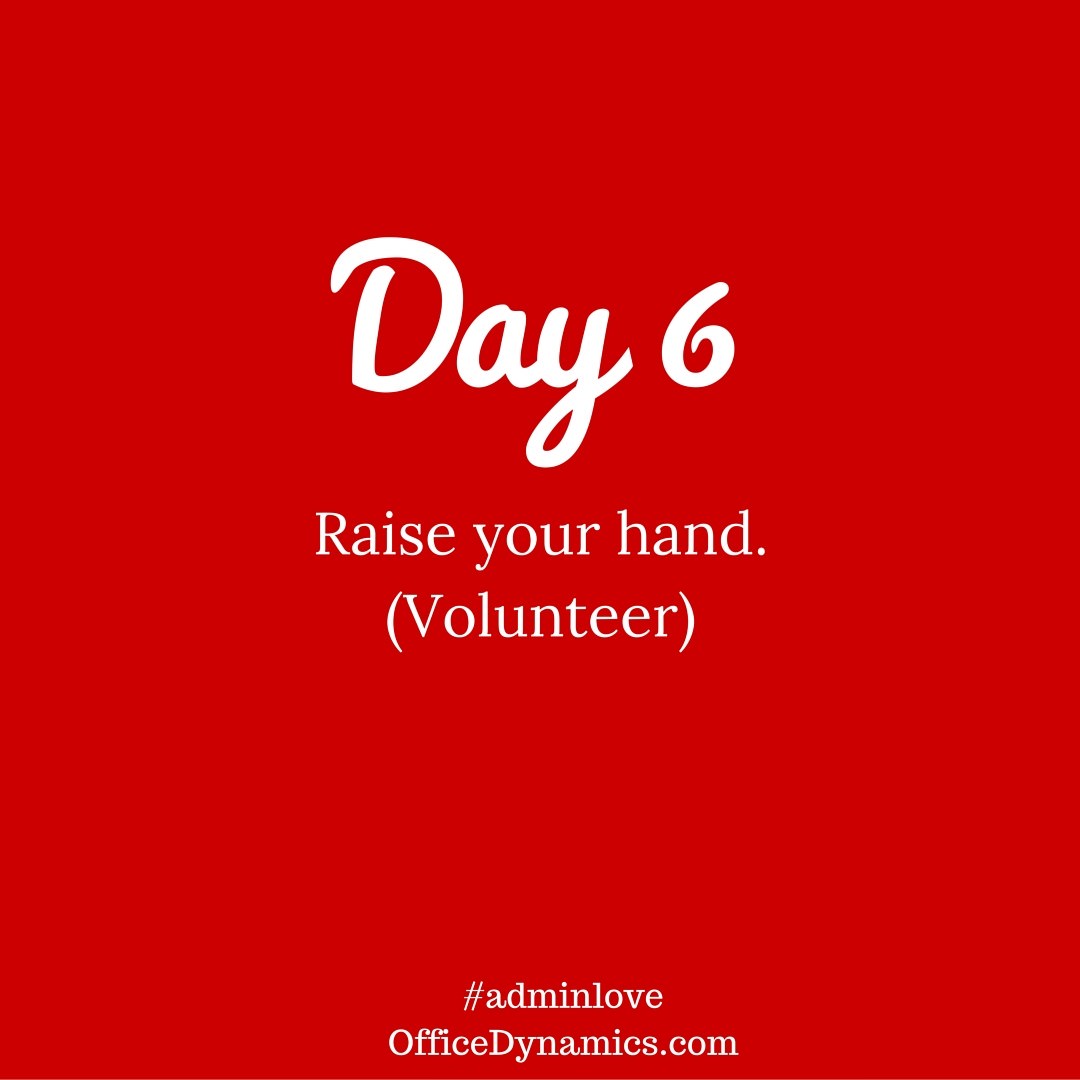 Day 6 – Raise your hand. We know the power of growing your career and your skill set by volunteering for a variety of committees and community organizations. Pick something that is close to your heart and ask if you can get involved. There are surprising (and not so surprising) benefits to getting involved. By joining a committee in your organization you will meet new people, learn new skills and experience leadership opportunities.
We want to hear from you. In what ways have you already done this and what do you plan to do in the near future to continue to grow your administrative career? Share with us on Instagram and use the hashtag #adminlove.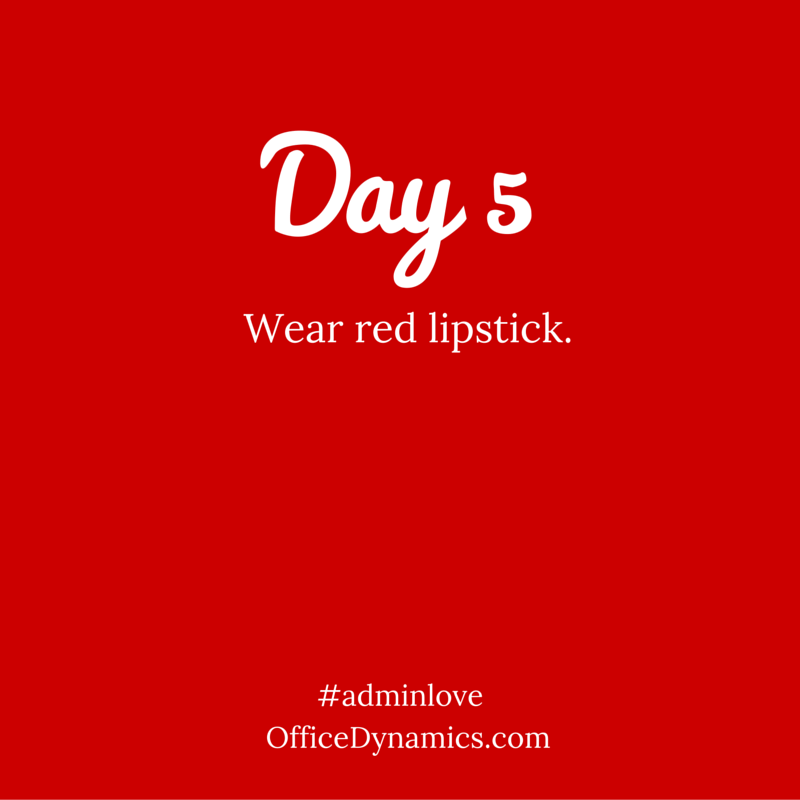 Day 5 – Wear red lipstick. (Red Lipstick ON!) Red lip color means you're willing to stand by your every word. Red lipstick is iconic; it is a powerful statement of feminine vitality and positive outlook. May it become your clarion call to courage, power and passion.
Friday Feb. 5 is National Wear Red Day in support of educating women on heart health. Wear Red Day is part of the Go Red for Women campaign, created by the American Heart Association (AHA) and sponsored by Macy's.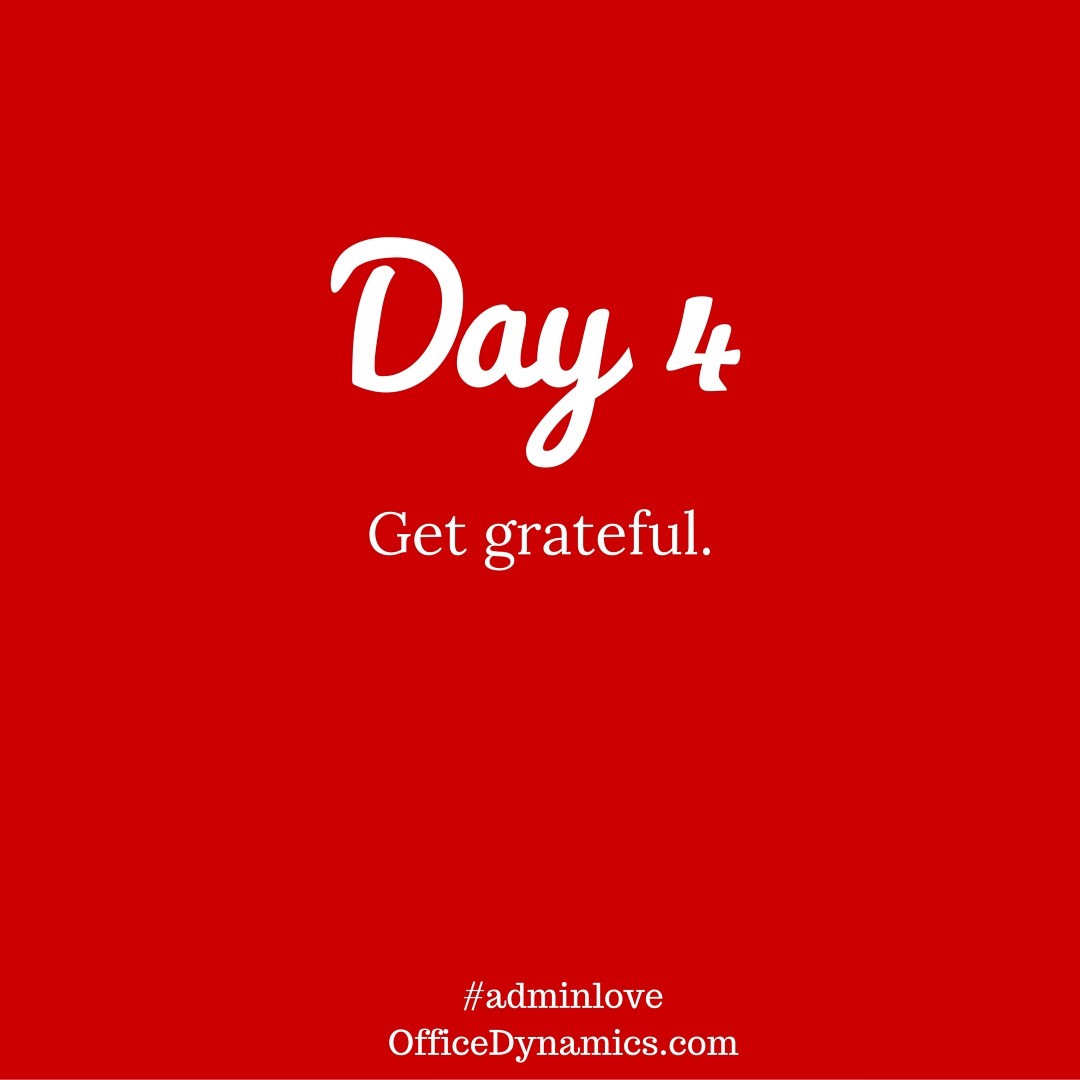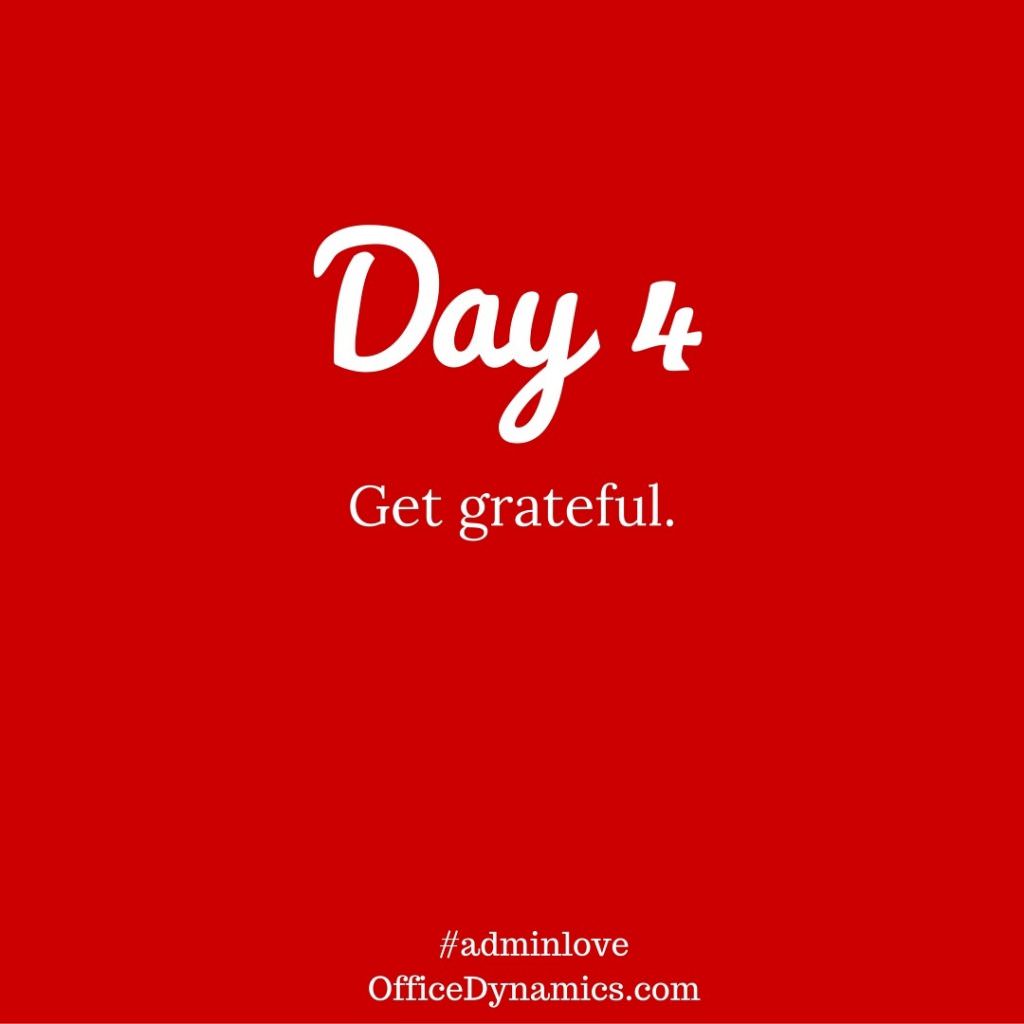 Day 4 – Get grateful. Start or reinvigorate a daily gratitude practice. Find at least three things each day that you're grateful for. Keep a running list or start new entries every day. Write them down. When you're feeling blue, revisit this list. When you practice gratitude there are a large number of benefits, including emotional, social, health and career benefits. In fact the benefits are scientifically proven!
Bring your gratitude to the #adminlove Love Your Career Challenge on Twitter, Facebook and Instagram.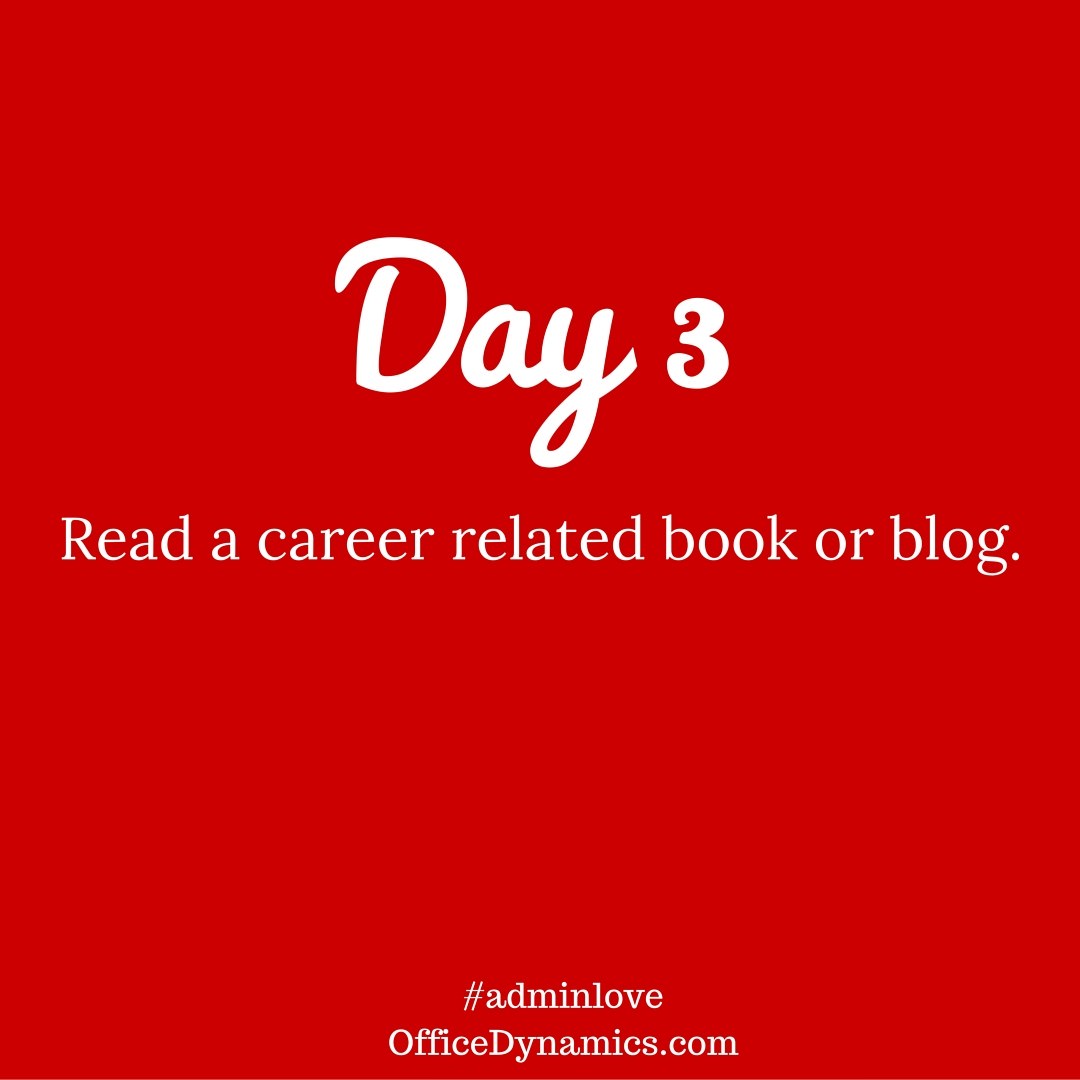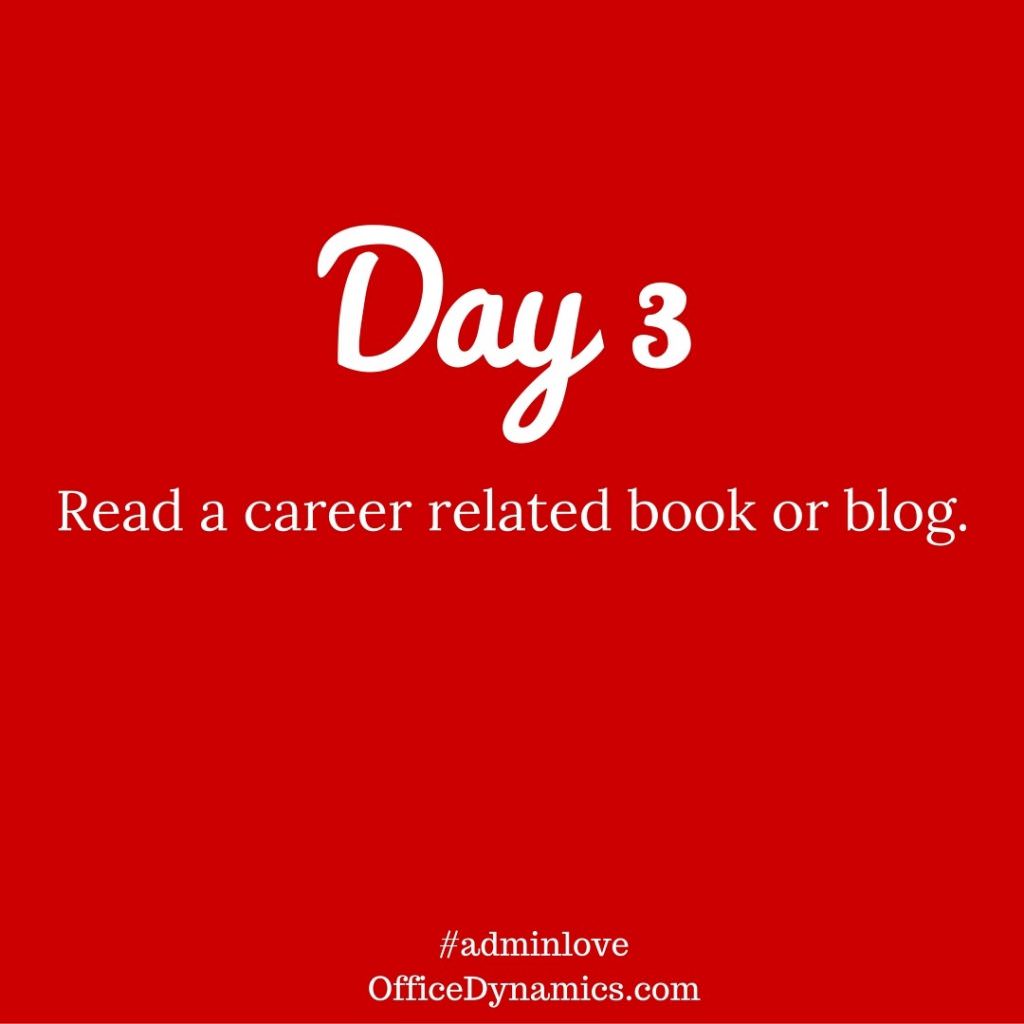 Day 3 – Read a career related book or blog. Share the book or blog of your choice right now to enhance your administrative skill set. Reading is so good for you! There are many benefits to reading daily (even if you can just find 10-30 minutes to read). Reading will enhance your career in many ways. We can't wait to see what your reading and learn about some new resources. Join the party on Twitter, Facebook and Instagram.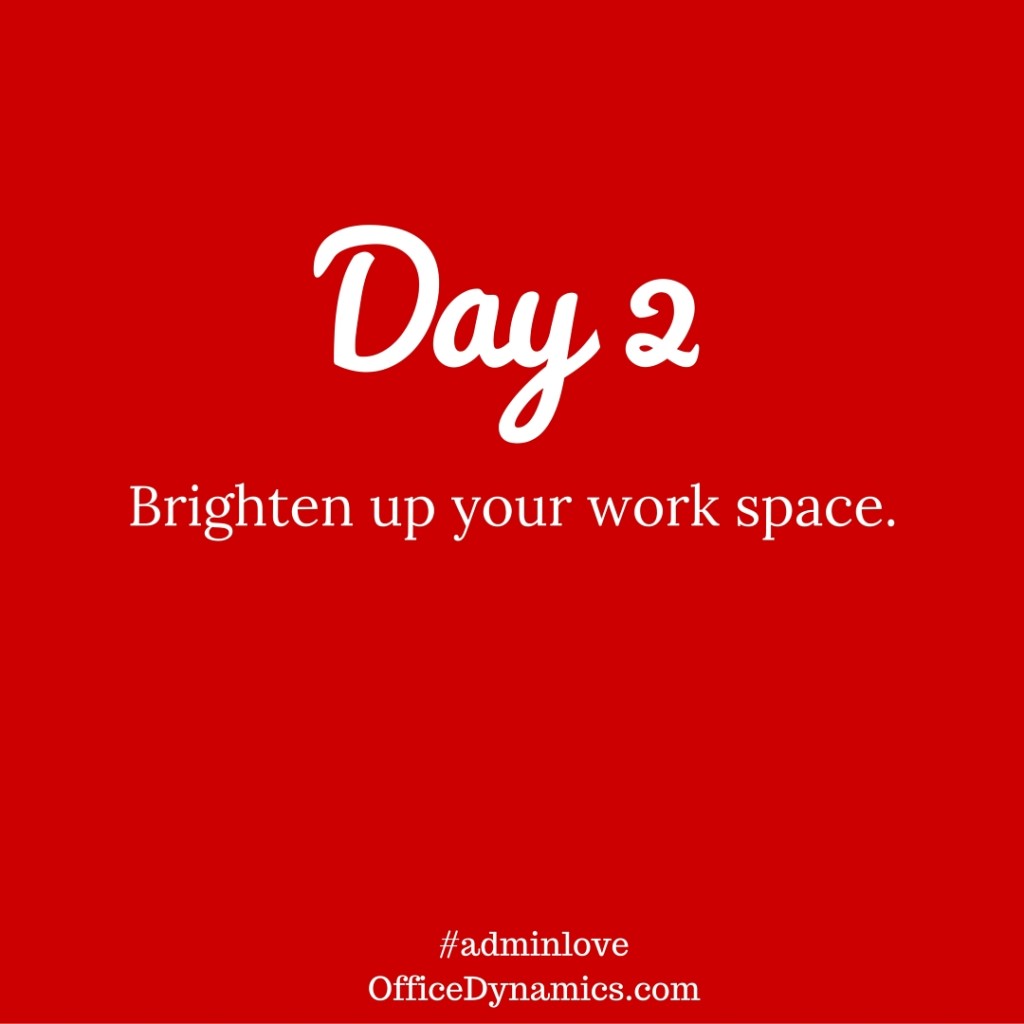 Day 2 – Brighten up your work space. Simply by making your work space a little more enjoyable you can make your work days more enjoyable. We have lots of ideas on how you can do this but we'd love to hear from you! In what ways are you brightening up your work space? Add a pop of color with some new desk supplies or file folders. Add a bouquet of fresh flowers or a fresh plant to your cubicle or office. Use colorful paperclips or pushpins. Play some fun music that energizes you. The list goes on and on! We can't wait to see how you're brightening your work space on Instagram.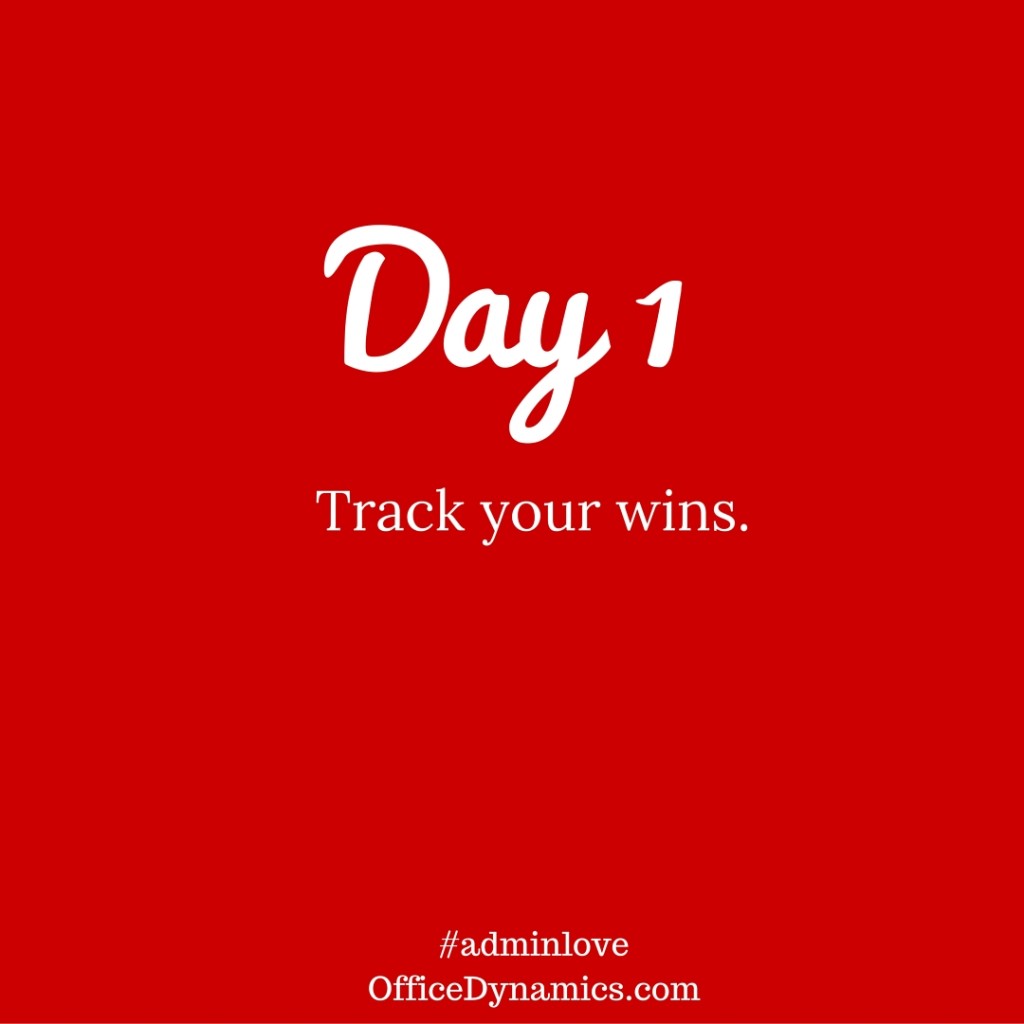 Day 1 – Track your wins. Celebrate yourself and be ready for your next review by keeping track of your successes. Did you have an idea that turned out well for your organization? Did you implement a cost-savings office supply management system? Start a file and add your wins to that file every time you think about it. This is a great way to quantify what you do and recall your successes when you're updating your resume or preparing for a review.