Me and Michael Jordan
By Nancy Fraze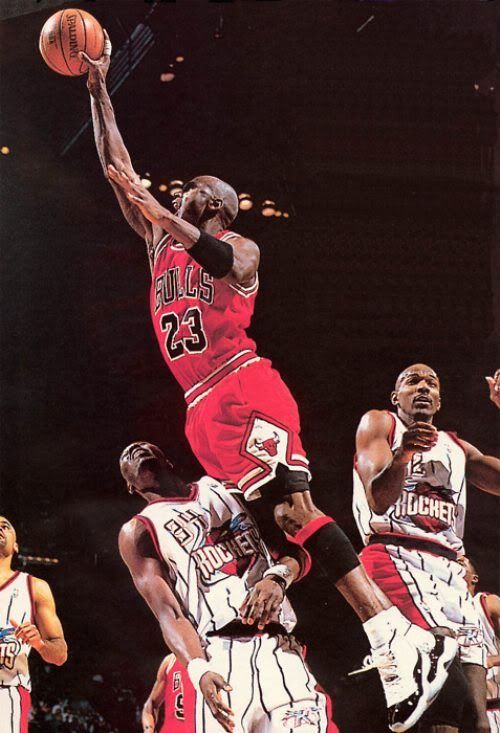 Let me start by saying I blame it all on Michael Jordan.
Recently I did something quite astonishing and unpredictable: I joined a six-week outdoor Fitness Boot Camp. We meet Tuesdays and Thursdays after work, and for an excruciating hour, ply ourselves with the most amazingly painful activities: pushups, crunches, lunges and squats with weighted balls. In gym shorts. In broad daylight.
The first class created an assessment baseline. I did 29 pushups in one minute, followed by 16 full crunches in one minute. Then I did the almost 2 mile walk/run (any doubt which pace I took?) in 29 minutes and 14 seconds, in shoes that pinched.
My favorite moment was when Coach Denise instructed us to get into a pike. "What's a pike?" I asked myself. I had no idea. It was like a foreign language.
Nothing prepared me for the painful walk to my car following class. Or for the next day when my body communicated very clearly that it thought I was completely out of my mind.
So why did I subject myself to this experience? It's all because of Michael Jordan.
Recently, due to a stressful life change (selling our home of 12 years and moving to a new town, in less than 30 days), I regretted a work task I wished I had completed differently. I lamented to my husband that if only I could be an expert, a complete specialist, each and every moment of each and every work day, I'd be so happy.
With a smile, he told me to research Michael Jordan, so I did.
Mr. Jordan is the number one NBA player of all time. He is "The Man" in all things basketball, and throughout his lengthy career dominated the sport so completely that many analysts say no one before or in the future will ever surpass his record. His stats are number one in NBA history:
Career totals:
• 12,192 – Completed Field Goals
• 581 – Completed 3-Point Shots
However, consider this: he attempted 24,537  field goals, so his percentage of success was only 49.7%. And those mighty 3 pointers? He attempted 1,778 of them, so his percentage of success was just 32.7%.
Michael Jordan is celebrated for being the best player in history. But he often failed. He often missed shots. He just came back, repeatedly; and he didn't let the last miss dominate him from succeeding at the next opportunity.
So I decided that "me and Michael Jordan" would work together [okay, I have a vivid imagination!]. I decided to attempt activities and tasks without regard to miss/success results. Just get in the game and give it my best that day.
And I decided to place myself into new situations to immerse myself in that philosophy. So, though I have no experience or success at it, I now consider myself an athlete.
My goal is simple: move along the continuum of fitness. Try as many new things as I can. Develop expertise where possible. Don't let my attempts be dictated by previous results [good or bad].
Today's challenge: pick something in which you have no experience, success, or understanding of — and get into the game with Michael Jordan. Show up, give it your best, and don't be afraid to not be good at something. To coin a phrase: Just do it. Anyway.
Nancy Fraze is a member of Office Dynamic's Media Team and a frequent contributor to the OD blog; she also blogs about film at allbestfilms.wordpress.com.and is employed as a Senior Legal Assistant at Chevron Corporation. She is Poet Laureate Emeritus for the Town of Danville. Nancy runs a creative writing and editing business, "Phrase, Ink" and published her first poetry book, "Paper Wait" in 2008. She is married to Mark, a man who doesn't know he's a prince. They have two tuxedo cats who definitely know they are princesses!