Monday Motivators, it's time to Give Yourself Permission to Live a BIG Life!
Welcome back to work and a fresh, new Monday! I'm sure most of you took vacations, enjoyed spring break, or visited family over the Easter holiday. I enjoyed a 5-day holiday with my big family in Cleveland, Ohio—sisters, brother-in-laws, cousins, 2nd cousins, nieces and nephews. I brought my adult children and 4 grandchildren from Las Vegas with me and they had a ball! We also celebrated my Dad's 88th birthday! He feels great, looks fantastic and still runs his own business. Of course, I ate way too much but the food and desserts were so good. I often eat Italian traditional dishes that I don't cook so it is a special treat for me.
This leads me to my special announcement today. I want to take you on a special journey for the next five months. Yes, I said five months. I want to introduce you and immerse you in Living a BIG Life! In the fall of 2012, I released a new book (for women) called Give Yourself Permission to Live a BIG Life. I open my heart and the story of my life in this book as an inspiration to others—all of whom have obstacles to overcome, barriers to break through, mountains to climb and heartaches to carry. But this is a story of hope, inspiration, overcoming obstacles and red lipstick!
At the core of this book are the 5 Pillars: Career, Family, Financial, Spiritual and Wellness. It is vital that we give equal attention to these pillars over time. When I hear speakers or others talk about work/life balance, I say, "No way. Work and personal life are never in balance. Our personal lives incorporate so many aspects." However, I firmly believe that we can give attention to all the pillars over a period of time—say, a year! In fact, my Office Dynamics team and I have been proving this belief since May of 2012 and all of us have improved all 5 Pillars of our life. We are healthier, better off financially, finding greater satisfaction in our work, make more time for friends and family, are spiritually connected and grateful for the little things in our lives.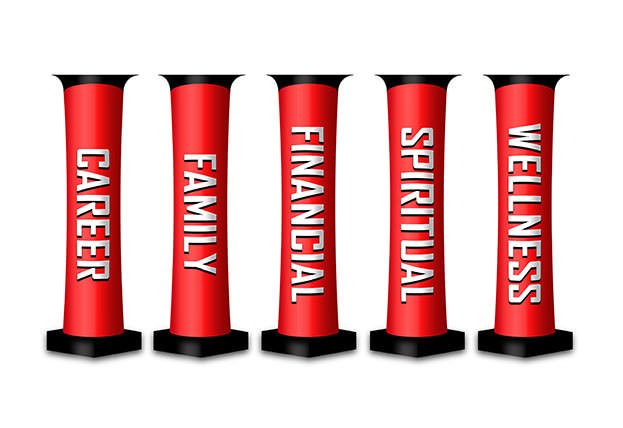 Going back to my story above, my 88-year old dad has lived a BIG life; not an easy one, mind you, but a full one. Not everyone is that fortunate. A BIG life is not about the number of years on this earth; but the quality of your life and what you do with your life. Living a BIG Life is about becoming all you were meant to be and living your full potential.
So what about our journey? I've chosen to focus on one Pillar per month starting with the Financial Pillar in April. Do you cringe when you hear "financial?" I am not much of a numbers person and accounting was never my strong suit but I've realized that our Financial Pillar is very important. I'm sure you would agree. If our finances are not in order or we have not prepared properly for emergencies, it will affect all the other Pillars. So please take some interest this month and read your weekly Motivators.
Also, I'd love for you to visit JoanBurgeBIGLife.com where you can listen to some of the daily huddles that the Office Dynamics team and I hold based on the 5 Pillars. It's like sitting at the coffee shop, listening to inspiring messages with your best friends and sharing your deepest thoughts on a subject.
This week, see where you can cut small expenses. Don't buy anything that you really don't need; don't buy anything when you are feeling down or upset—that's called emotional spending. Be wise about every penny you spend as you work hard for your paycheck!
Check out this week's companion video for this Monday Motivator, click the video play button below.
Good luck!
Joan Burge