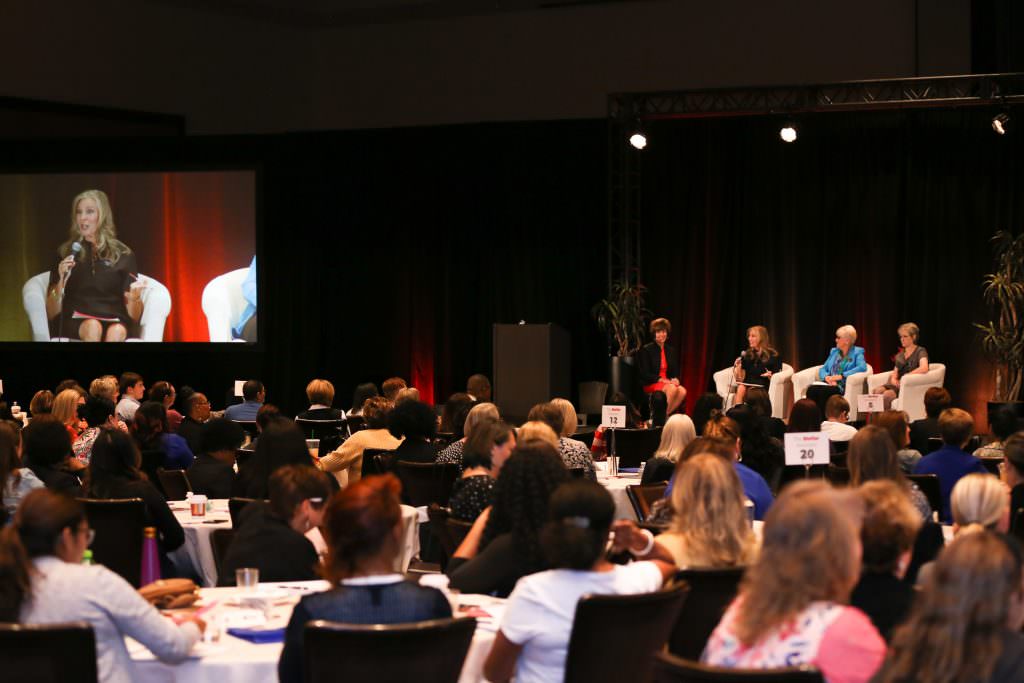 As Told By Your Office Dynamics Marketing Specialist
Hello from your Office Dynamics Marketing Specialist! Recently we held our 25th Annual Conference for Administrative Excellence and WOW, it did not disappoint! So much so that I asked Brian and Joan if I could write a blog post about my experience and share some photos from the event.
Oh, and just in case you are wondering, I am the guy you get all the emails from 😉
So many of you came up and introduced yourselves and said, "Hey you're the guy I get all the emails from" I had to slip it into this blog. It was so fun and so awesome to finally get to meet all of you.
Before I go on, I do need to mention that this was my first conference with Joan and the Office Dynamics team as well as my first time working a conference so I didn't know what to expect. Let me tell you, "Wow" just doesn't describe the event with justice.

Tuesday, October 23 – Welcome Reception
The Conference began with Joan's traditional Welcome Reception. People from all over the country and all over the world gathered for cocktails, food, networking, and the enjoyment of a Frank Sinatra actor singing to go along with our Star theme.
I didn't know what to expect or how many people would show up but when I rounded the corner with my phone on Facebook Live, I was impressed with the HUGE turnout. It seemed everybody had shown up and no one was without conversation. It really was awesome to see.
I watched friends reunite, assistants from different companies getting to know each other, and a line of people waiting to meet Joan Burge. Well the line for Joan wasn't that much of a surprise but the atmosphere was electric, and I loved it!
A great way to start the week and kick off the 25th Annual Conference for Administrative Excellence.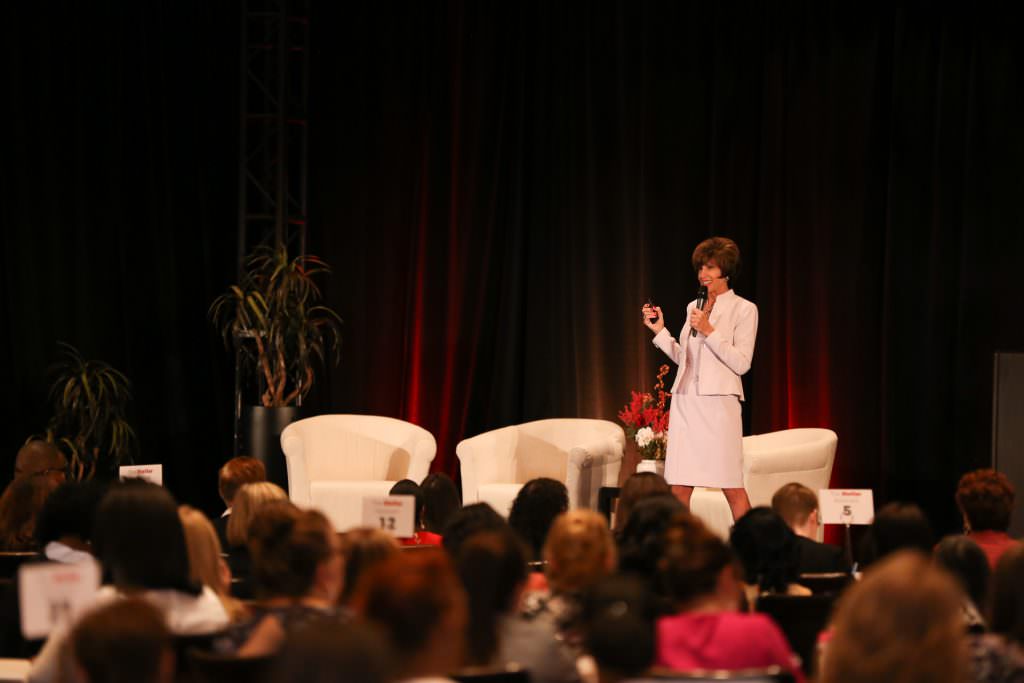 Wednesday, October 24 – Speakers, Classes, and Panels
Wednesday began with Joan's opening remarks that would eventually lead into the recognition of two Platinum VIPs, Joni Hogue for her 10th conference attendance and Sue Velarde for her 12th.
After the awards were given out, the attendees were then told about their special "space" theme cards that they received in their welcome packet. Lisa Olsen explained that there were others in the room with the same card and that when she said "go", everyone would have to get up out of their chair and find their other team members. Well, I'm sure you can guess what happened next when 327 people got up at once to find their teams. You can find the video of this on our Facebook and YouTube pages. Please enjoy watching it!
There were several breaks throughout the day that allowed me to meet a lot of you and hear your stories about why you came to the conference. Whether it was your second or third time, or even first.
It was awesome to hear the reasons why you all chose to come.
Googled "Administrative Conferences"
Co-workers or colleagues recommend the conference
Some attendees told their stories to their managers and were able to get several more team members approval for the conference (so cool)
You previously attended
Our agenda looked the best when compared to other administrative conferences
I could go on but there were too many to list them all.
Later in the day Shasta Nelson would take the stage and cover the topic of, "How to Connect in Meaningful Ways." Unfortunately, I was not able to stay for the entire session as duties called. However, the attendees raved about her.
When Shasta concluded, we broke for lunch and enjoyed prepped meals provided by Office Dynamics and most took the time to stop into the Success Store to purchase some items. After lunch, the attendees then broke out to different hands-on labs that were taught by Joan Burge, Julie Reed, Brandi Britton, and Johna Little.
Wednesday ended with Jennifer Lier, accomplished singer, Las Vegas performer, former Miss Nevada winner, and former Miss America contestant. Jennifer told the story of her journey and with each instance, she would sing a song that related to that particular moment in her life. Let me just say this…JENNIFER CAN SING! I was able to attend her entire session and I'm so glad I did, it was very moving and motivating.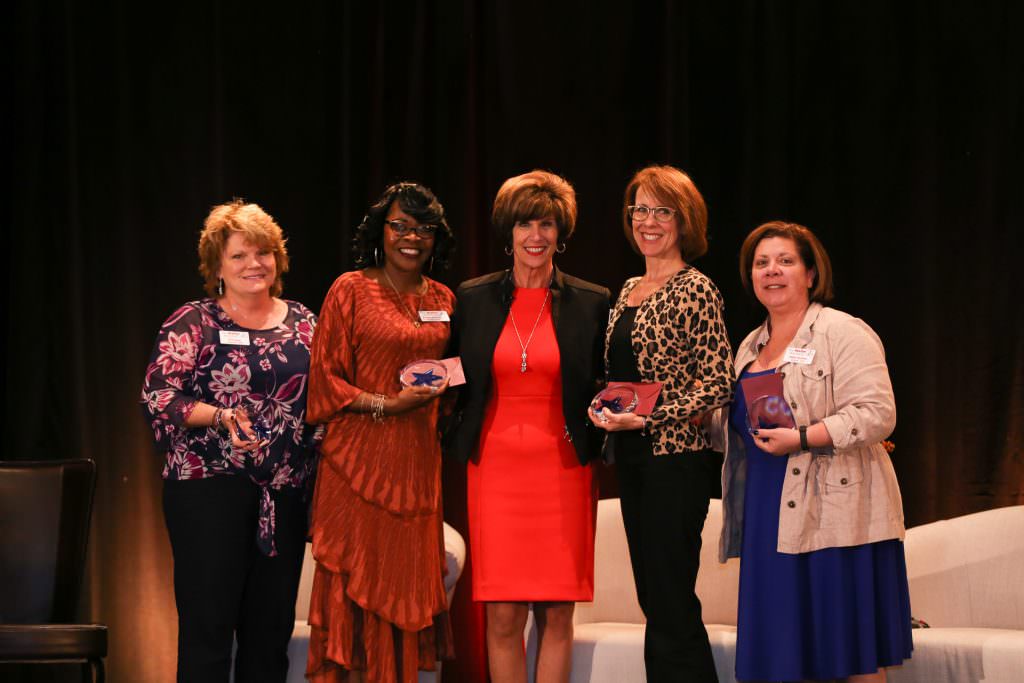 Thursday, October 25 – Speakers, Classes, Panels, and Awards
Thursday was awesome! By this time, the Office Dynamics team had individually put in 13 – 16 miles of walking each day, making sure that the conference was running smoothly.
Lisa Olsen, the conference MC, had opened and introduced the panel that would discuss the State of the Profession. Joan Burge, joined by Lisa Olsen, Julie Reed, and Debbie Gross provided amazing insight into the profession, where it is going, and where you, as an assistant, need to be. Amazing questions were asked by a few attendees that were answered by the panel including one heated, yet passionate answer given by Joan.
Click Here, to watch the State of the Profession.
This session was followed by the Best Practices Sharing session conducted by Julie Reed, an Office Dynamics Elite Trainer.
After a break, the attendees once again broke out into concurrent sessions and lunch soon followed.
The day would end with a wonderful session by Judi Moreo that caused laughter, tears, and a sense of togetherness. You truly had to be there to experience it. Beautifully done.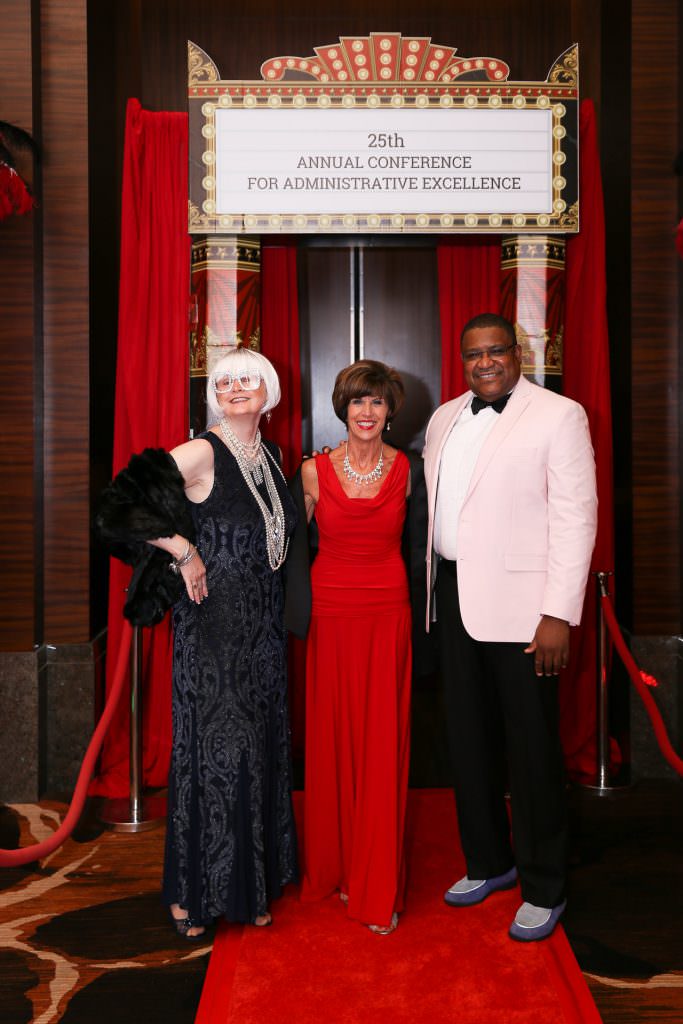 Glitz and Glam Gala
WHERE DO I BEGIN? Let me begin with…THANK YOU JJ VILLAR! JJ has been our Entertainment Director for the last 7 years and I've got to say, you and your team put on an amazing performance! Please check him out at Feel The Music Entertainment.
I've spent 8 years in the Marine Corps and have been to 7 Marine Corps Balls (the celebration of the Marine Corps Birthday) and I must say I have never been to anything like this!
Every year Joan makes it a point to put on the best show, experience, and evening she can to allow her attendees to "let their hair down." This being her 25th, she went all out. Her goal was to make each person feel as if they were the star of the show.
In the hall outside the Gala was a step and repeat where paparazzi was taking pictures and interviewing attendees. You would also find a famous Mouse walking around greeting people.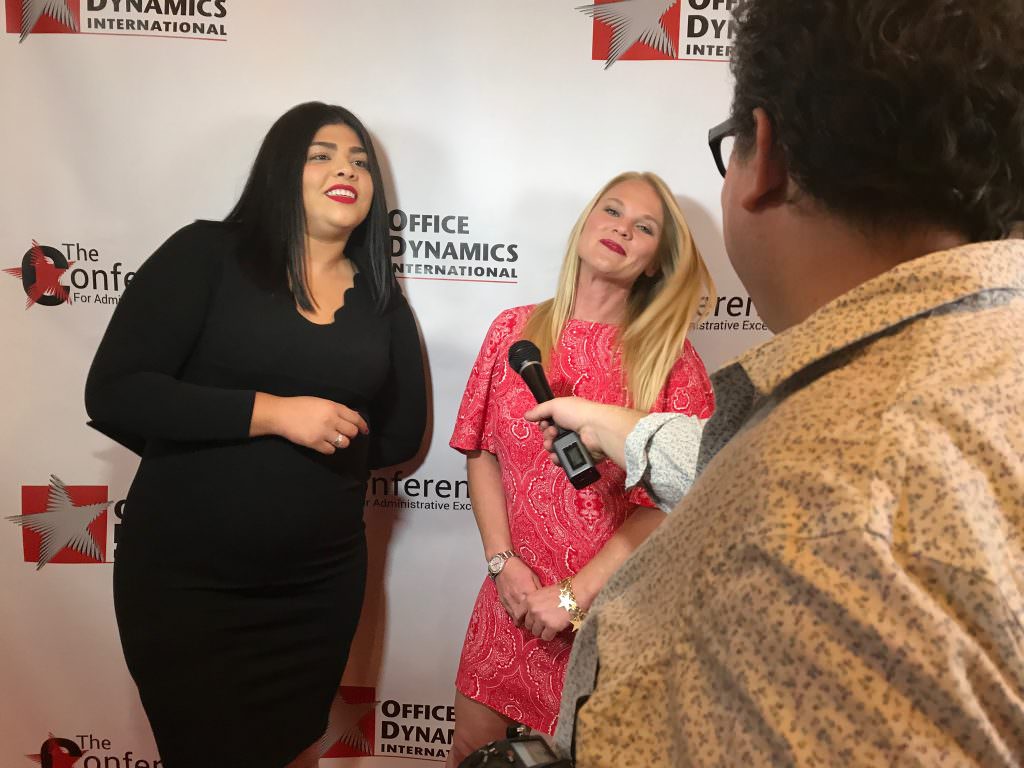 Above the entrance to the Gala, there was a beautiful arch that mimicked the entrance to the Oscars. Tall pillars and a light-up sign that said, "25th Annual Conference for Administrative Excellence." A beautiful red carpet led you under the arch and into the Gala.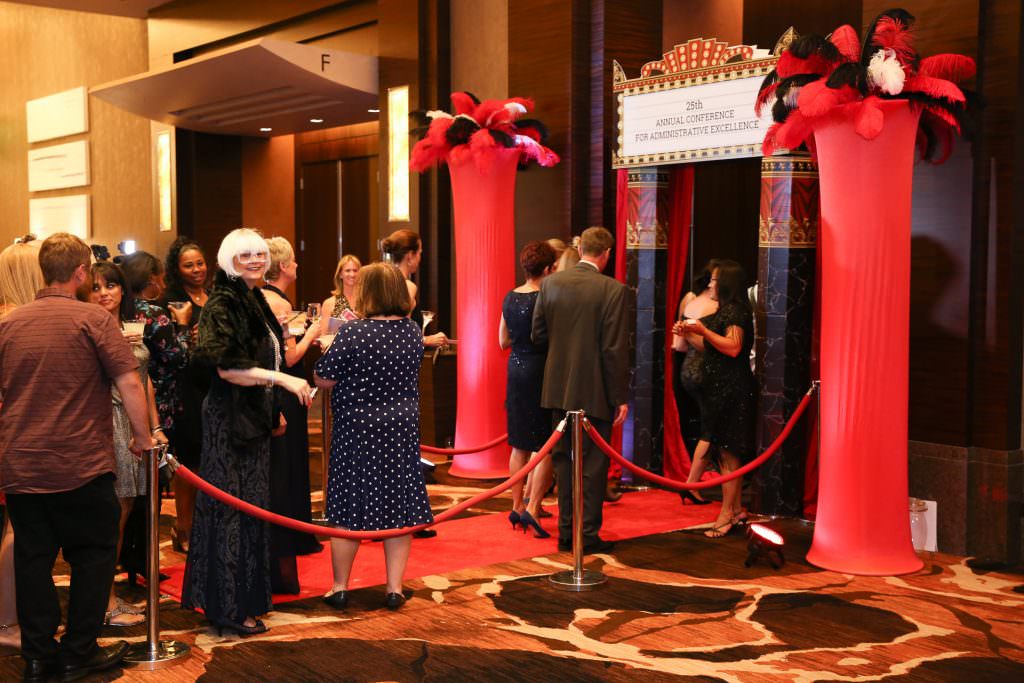 "Be Our Guest" was playing as I entered the ballroom where I literally stopped in my tracks. Just inside of the main entrance stood Marilyn Monroe, Elvis Presley, and that famous Mouse.
I walked to my left and was greeted by Princess Leia, Michael Jackson, and Madonna. To the right of the room was Pocahontas, Han Solo, and Peter Pan. In the corner was a real movie set make up studio where attendees could get the star treatment of getting glitzed and glammed! Next to that was a photo booth area with our paparazzi photographer.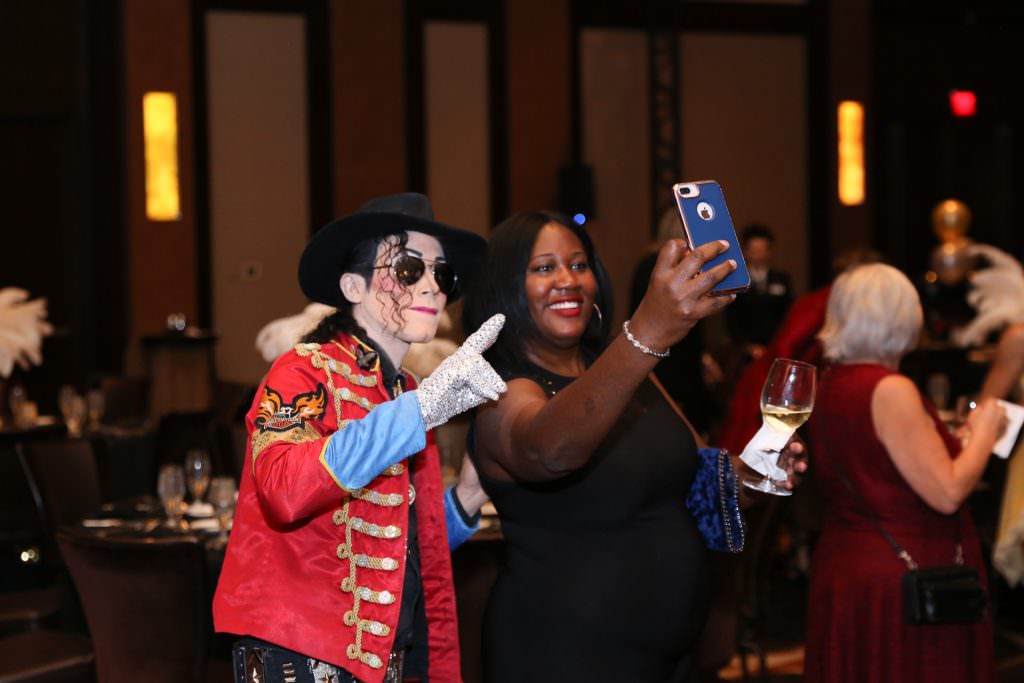 Each table was beautifully covered with black and gold with a gorgeous centerpiece. The main stage was occupied by DJ Rodney and his amazing crew. The stage was decorated with two large pillars and the Oscar standing nearly 10ft tall.
This night was truly for the Stars!
During the 3 course dinner, the actors would put on different performances that tied to their characters but what was truly magnificent was when the characters would involve the attendees in the dance skits…and yes, I participated in two. Thanks Melia and Brian! Haha!
The final skit before the dance floor was open was something out of a James Bond or Mission Impossible scene that involved espionage, dancing, acrobatics, and a performance to remember.
After dinner, there was dancing, music, and so many memories made.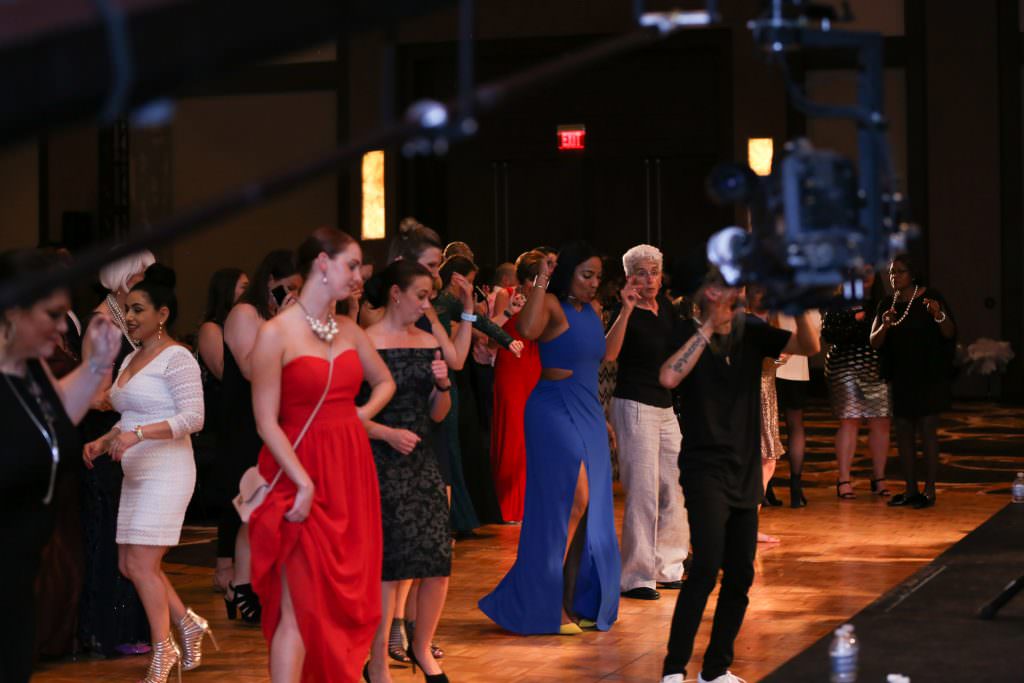 I, along with many others, will not forget the night we were all Stars!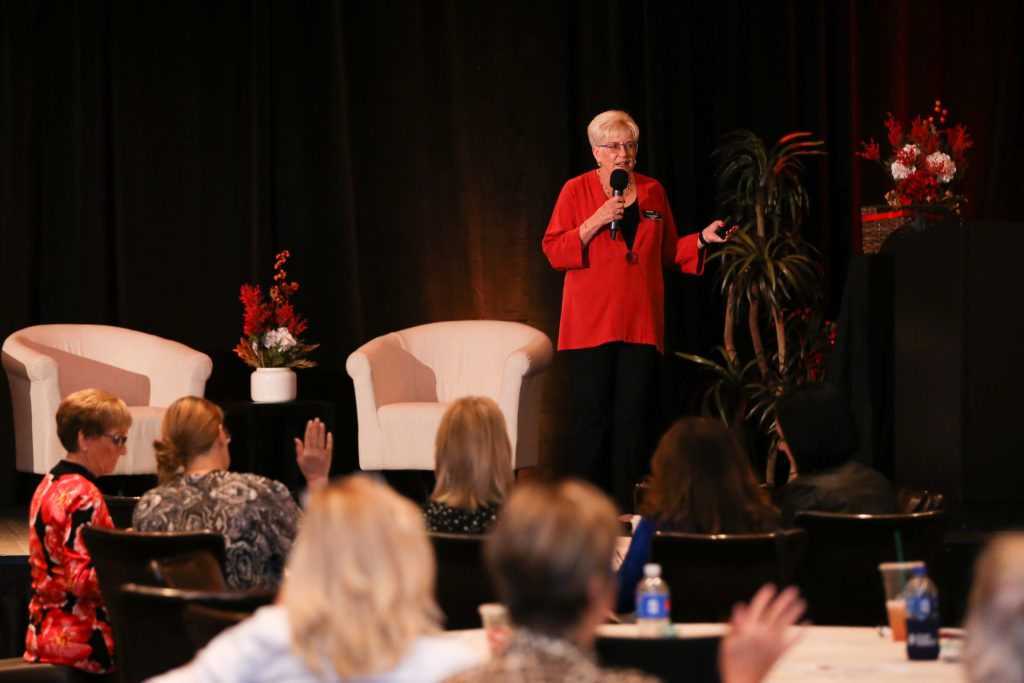 Friday, October 26 – Final Day
The day began with more prizes given out and a general session by Joan Burge. Followed by the, "What's Next" session, the final set of concurrent classes, and Joan's "Closing Thoughts."
A somewhat emotional yet invigorating moment for those who attended. Life-altering lessons, stories, and events took place during this amazing week followed by an inspirational message from Joan.
The perfect way to end a fulfilling week.
As Brian and I stood outside the doors along with Beth and Melia, I realized in our goodbyes just how amazing this week was for our attendees and for me too.
In Conclusion
How do I end a re-cap of one of the coolest events that I have ever had the privilege to be a part of? How about with a quick story that should explain the passion, care, and love the Office Dynamics team has.
When I met many of you, you asked me how long I've been with the company, if I like it, and what brought me to Office Dynamics.
I'd like to share with those that haven't heard why I decided Office Dynamics was the perfect home for an aspiring marketer and at the end, I hope it will make sense to you.
When I had interviewed with Brian and Joan in January, I had two other companies that had made offers to me, but before I would make my decision I wanted to do my due diligence by researching each company.
The first company, a company that makes computer chips and motherboards, would've wanted me to blog about such things and Tweet about them. I'll be very honest…there is no way I, as a marketer could do that; just not something I could be passionate about.
The second company, in the service industry, was ok but didn't excite me either.
The last company, Office Dynamics International, specializes in the training and education of Administrative and Executive Assistants. Led by Joan Burge, a pioneer and trailblazing woman that has a commanding presence and passion like no other.
After I found Joan on YouTube, I started to watch a video from a previous conference and about 45 seconds into the video Joan got fired up and had this amazing intensity you only see in a few speakers. Joan was speaking so direct, so powerful, that I watched in awe and had goosebumps. After watching for about two minutes I sat back in my chair, smiled, and said, "I'm going to work for her."
It was approximately three weeks later when I started on February 12.
Why did I choose Office Dynamics and Joan? Because someone with so much passion for the industry, so much care about the lessons, so much love for the administrative profession along with the people involved in it, is someone I can truly get behind and work with.
After seeing the dedication from the Office Dynamics team, I can say that everyone has that same passion, care, and love for their work and those involved. Joan, Brian, Melia, and the speakers believe in what they are doing and only want to provide the best for all fans, followers, clients, and companies.
So, I'm concluding with this…The Conference for Administrative Excellence is the culmination of the efforts of this team and I'm so very proud to be a part of it. The amount of work that this team has put into it has shown me how important that your experience is to them and at our final lunch together as a team on Friday, it showed.
Sometimes in silence, sometimes in conversation, but always happy with the efforts put into it. Happy with the responses given by the attendees. Happy for our 25th conference.
I hope those who attended this year's conference enjoyed it as much as I did, and I truly cannot wait to see you all again next year.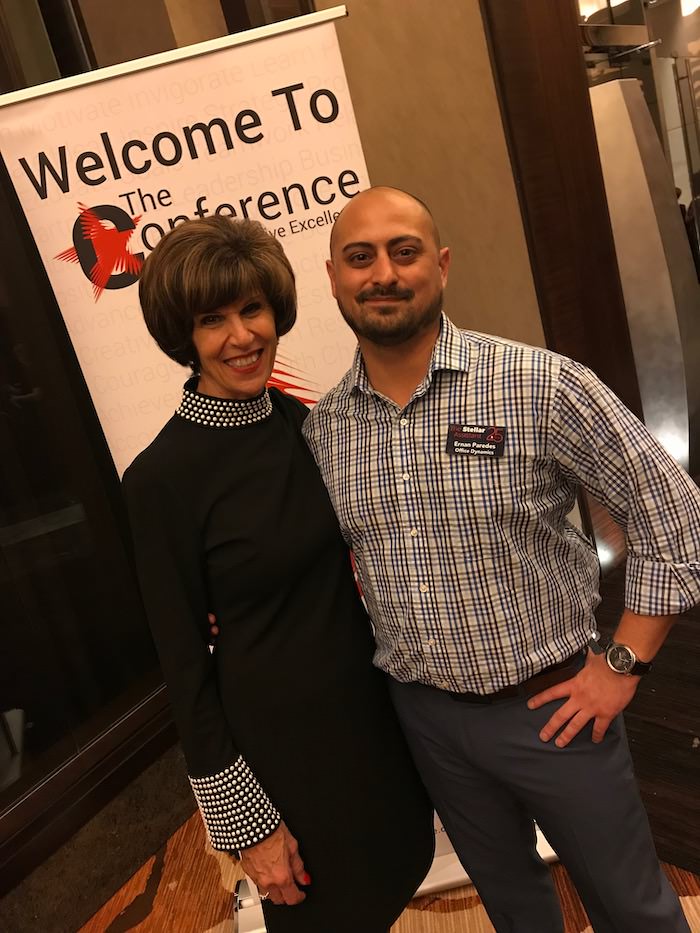 Your Friendly Neighborhood Marketing Guy (that sends you all those emails),

Ernan A. Paredes