Increase Your Productivity by 25%
Make Your Assistant a Business Partner
Managers and executives can increase their productivity by 25% by learning how to effectively utilize today's administrative or executive assistant. Joan Burge, renowned administrative and executive expert and coach shares with you her best advice on making your assistant a business partner from a presentation given to Fortune 1,000 leaders.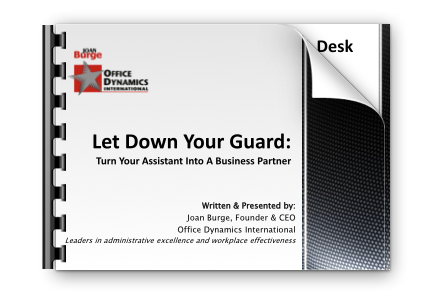 Learn to:
Maximize the time and talents of your administrative assistant or staff
Determine what assignments, daily processes and projects to delegate
Set high expectations for performance
Bring administrative staff up to speed on the business
Open the lines of communication to increase assistant's ability to be more proactive
Provide constructive criticism to create positive change
Clearly communicate your expectations to save time and money
Don't have your own assistant? No problem. This information is extremely useful for sharing with all levels of managers and leaders in your organization.
"Because of Joan's broad and deep experience from working on both sides of the desk, she has a true understanding of each party's perspectives and expectations." – David S. Forrester, President, Forrester Construction Company