What if you could . . .
. . . be transported into a world full of support, wisdom and growth?
. . . have the tools necessary to become that indispensable "right-hand" assistant?
. . . get the personalized career assistance you need to apply newfound knowledge?
. . . stop skimming the surface of your career and do a deep dive?
. . . gain fresh ideas from other top-notch executive assistants?
. . . transform into an even better version of YOU—more productive, more effective, more capable of achieving your personal and professional dreams?
. . . navigate your day in a world that never stops?
. . . could get answers to your most pressing questions from the world's administrative industry expert?
Well, You Can! But you will have to stretch outside your comfort zone.
In this industry first training course, you will learn how to develop the skills needed to achieve your full potential, experience greater levels of fulfillment, build or improve your reputation in the workplace, provide better support for your executive, prioritize and give attention to things that really need it, manage and adapt to change, as well as mastering your communication skills.
Cruise with the Administrative Training Industry Pioneers
Once again Joan Burge and Office Dynamics International prove to be the undisputed pioneers in the administrative training and development industry. They are revolutionizing where assistants learn—drawing them away from sitting in front of a device, at their desk or in a training room and taking them on a journey over the open seas!
Imagine expanding your professional skills while indulging in the comforts of a world-class cruise ship. You'll join an intimate group of like-minded professionals for a fully immersive, transformative journey, unlike anything you've ever experienced. Plus, you'll enjoy exclusive, unparalleled access to Joan Burge.
We think it's time for assistants to experience the same kind of personal and professional transformation as the executives they support, which is why we've launched Learning at Sea—an immersive growth experience unlike any other.
Overview and Curriculum
Sailing true in today's fast-paced corporate environment requires consistent, dedicated focus. Your executive and company depend on your navigation expertise to gauge the winds and respond appropriately with confidence, diplomacy and professionalism. Joan wants to anchor you in sound principles that align with today's business environment.
Learning at Sea Curriculum
The Value Of Learning At Sea
No workplace distractions
Focused environment enhances learning
Unique, relaxing setting inspires creative thinking
Exclusive, unparalleled access to Joan Burge and Jasmine Freeman, industry pioneers
Small, intimate group atmosphere for connecting and sharing best practices
Journey-based immersion experience accelerates transformation
Incredible value for investment
"Nothing replaces the development that comes from outside-the-box experiences and a change in environment."
-Talent Development Magazine
Earn Credits While You Cruise
Yes, you will earn CEUs while you are at sea. Office Dynamics International will award CEUs to each participant who completes the course, with a Certificate of Completion.
Course Materials
You will receive a comprehensive participant workbook to use as a reference guide post-training. Additionally, we will provide several bonus resources to keep you on your journey long after the learning at sea.
ITINERARY/VENUE
March 20 – 24, 2017 – SOLD OUT!
2018 Dates And Itinerary To Be Announced
What's Included?
Specific offerings are based on the ship we select for any future dates. Details will be provided once the next sailing date is confirmed. Below are examples of the types of exciting things you can expect to experience during your time on the ship.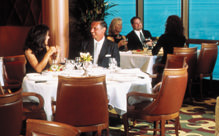 NEW Complimentary Park Café, where you can grab gourmet sandwiches, salads and more
Main Dining Room with complimentary, multi-course dining for breakfast, lunch and dinner
More complimentary options including the Windjammer Café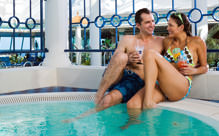 NEW Outdoor, poolside movie screen
State-of-the-art Fitness Center, with classes ranging from aerobics to kickboxing to yoga
3 pools including the Solarium, an adults-only retreat
6 whirlpools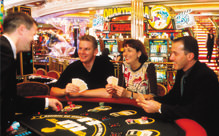 NEW R Bar, a retro-inspired bar with a personable mixologist
Complimentary Broadway-style entertainment in the Main Theater
6,843 square foot Vegas-style Casino Royale® with 190 slots and 12 tables
8 bars and lounges that never have a cover, including Boleros Latin-themed lounge and the Champagne Bar
Duty-free shopping at the Boutiques of Centrum, featuring name brand jewelry, perfumes, apparel and more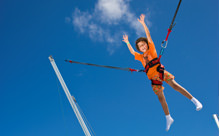 Rock-climbing wall
Bungee trampoline for kids of all ages
Upper-deck jogging track
Video game arcade
Are You Ready Be Part of Our Crew?
We are looking for high-achieving executive and administrative assistants to go on this journey. Be part of this historical event and break the status quo for the profession. Regardless of your title, if you are a vital contributor supporting management in your organization, this course is for you!
Course Registration and Cabin Information
Pricing will be announced once the next sailing date is established. Registration will include your cabin, course registration, food, and materials. Prices may range from $2,300 to $5,000 depending on the size of your cabin, single or double occupancy, and the time of year.
If you are seriously interested and have the budget to attend this event, please fill out the form below and let us know. We will add you to the interest list and email you with course dates and information as soon as they become available.
About Royal Caribbean
Royal Caribbean Cruises Ltd. is the world's second largest cruise company, operating the Royal Caribbean International, Celebrity Cruises, Pullmantur, Azamara Club Cruises and CDF Croisieres de France brands, with 40 ships and a passenger capacity of approximately 94,000, and TUI Cruises through a 50% joint venture.
These brands offer an array of onboard activities, services and amenities, including simulated surfing, swimming pools, sun decks, beauty salons, exercise and spa facilities, ice skating rinks, in-line skating, basketball courts, rock climbing walls, miniature golf courses, gaming facilities, lounges, bars, Las Vegas-style entertainment, cinemas and Royal Promenades, which include interior shopping, dining and an entertainment boulevard.
To learn more about Royal Caribbean Ships and cruising, visit www.royalcaribbean.com
Learning at Sea does not replace the Office Dynamics Annual Conference for Administrative Excellence. Learning at Sea is a completely different program, format and experience.