It's time to talk about webinar etiquette. We've been hosting a free monthly webinar since January of 2015 and as the events grow each month the chatter during the event increases. We love this feature but we've heard from a few attendees that some of the comments aren't appropriate for the webinar and we wanted to take this opportunity to address webinar etiquette and protocol.
Here are a few quick tips.
Introduce yourself in the chat and get to know fellow attendees.
Share relevant strategies as well as resources with your fellow attendees.
Keep your commentary positive and optimistic.
Read pre-webinar messaging carefully.
If you are having difficulty logging in, please follow the steps sent via email for troubleshooting guidance.
If the difficulty continues, please check with your IT dept to make sure the site isn't blocked by a Firewall.
Advice from Joan Burge for Webinar Etiquette and Protocol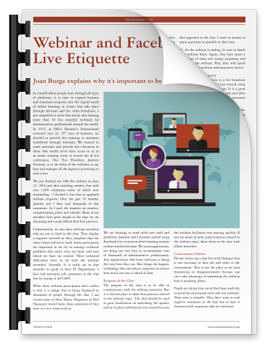 Download Joan's article from Executive Secretary Magazine
Thanks for taking a moment to learn more about webinar etiquette with us.
Share your thoughts with us in the comments below.