If you're anything like me, you love to check out the newest technologies. I'm sure you've heard the buzz around Periscope by now, but if you haven't, you're in the right place – keep reading.
We started our interest with Periscope by watching scopes of a few friends and people who seemed to know what they were doing with the app and others who were sharing the scenery around the world (think Disneyland's parade; a carnival in France; the people milling outside the Taj Mahal and so on). Weeks later, the app is flooded with some of our favorite thought leaders and brands sharing information via live broadcasting! It's so cool.
Let me back up for a second and explain what Periscope is.
Periscope is owned by Twitter. It's a live broadcasting app that let's you explore the world through someone else's eyes.
Brilliant.
We've been enjoying the new Periscope app for several weeks and we'd like to invite you to join us!
(You can find us there @OfficeDynamics.)
We're hosting weekly broadcasts and one of the great things about Periscope is that we can communicate with one another real time. If you have questions, you can direct them to us via the comments section and we're able to answer in real time.
So what can you do with Periscope?
We will use this tool differently than our scheduled, free, monthly webinars. The conversations will be more casual and off-the-cuff. They will be short and sweet. We'll be able to share behind-the-scenes at our live events and our offices. We've already used the tool to play a fun "hide-and-seek" game where the winners actually won some great products for their participation.
Other interesting ways to use the app is to host an interview with another thought leader, support others through "Pass-the-Cast" style events, games, behind-the-scenes footage of interesting events, on the spot Q&A, scheduled or regular broadcasts and so much more.
Hearts Make People Happy
When you're watching a broadcast, be sure to tap the screen when you like what the broadcaster is sharing. Hearts appear and show the broadcaster/scoper that they are offering value to you and you're liking it. Hearts are a sort of currency on Periscope and allow the broadcasters to know how well their broadcasts are doing. It's a way to measure your success on Periscope. So tap, tap, tap away!
Here are a few of the short, interview-style scopes we've done recently.
Click on one of the images below for the video recording of our interview scope.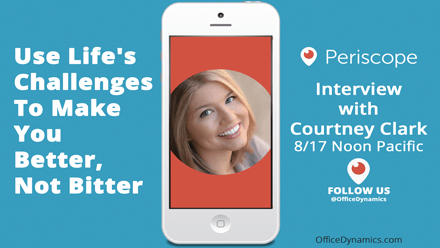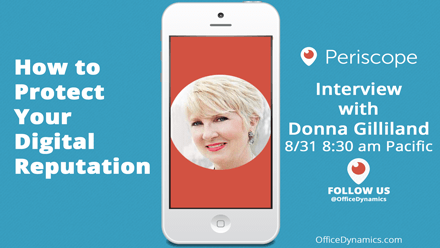 Scopes Expire in 24 Hours!
One sad fact about your scopes (the broadcasts created on Periscope) is that they only live for about 24 hours and then once they have expired they will no longer be available for viewing. If you want to watch our saved scopes, check out our Katch.me/OfficeDynamics profile for all the available recordings.
We Hope to See You There
We're very much still "new" at this but we're having so much fun and just had to invite you to the Periscope party.
The app is free and really fun (although live broadcasting can be intimidating). It's available on iOS and Android.
Once you're there, be sure to follow @OfficeDynamics and you'll be notified when we're broadcasting. And don't forget to tap that screen when you like what you hear!
Join us for the next free webinar event…details below. We'll also be sharing via Periscope.