At Office Dynamics International,
We Passionately Believe
The administrative role is a noble calling.
In a "Career of Choice" mentality.
"Falling into a job" will never compare to "falling in love with your career."
A sophisticated, modern executive assistant is an extension of the executive.
Administrative professionals are strategic partners in business success.
"Administrative" cannot be separated from "professional."
and much more.
These are the beliefs that drive us. We work each day toward a world where the administrative assistant is highly-valued. A world where assistants are offered training and professional development opportunities without question.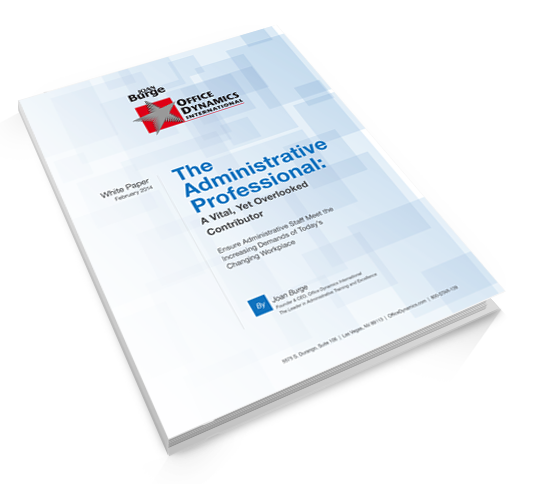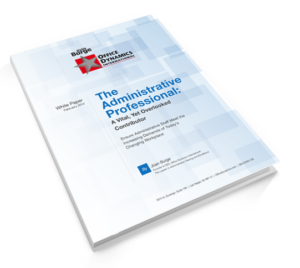 These beliefs have driven us toward writing an extensive White Paper on the need for professional development opportunities for this vital contributor in today's workplace.
In this White Paper, Joan Burge addresses the Problem Statement:
The administrative profession is seen as less important than other professions. It is called the "vital, yet overlooked, profession." Most companies do not provide adequate resources or career-specific training, nor do they plan for succession of support for their top executives. Most administrative professionals do not know how to plan their career or manager their development. They struggle with emerging technologies and insatiable time demands. They have less awareness of advancing trends, and little depth and breadth knowledge of their company's business and strategy. They lack decision making confidence.
At Office Dynamics, we believe the administrative profession is NOT a dying breed. We do believe certain elements of this role as previously performed are dying. (See White Paper for full description.)
We are witness to global organizations rising up and taking a stand for this profession.
Office Dynamics International is proud to support IYOTSA 2014.
What is IYOTSA?
IYOTSA is the 'International Year of the Secretary and Assistant'. It takes place in 2014. In 1984, a similar international celebration was organized by the PSI and 2014 marks its 30th anniversary. Learn more about this 2014 initiative.
How do we address the problems associated with training the administrative role?
Explore our White Paper further for solutions suggestions on the following administrative training pain points:
lack of financial investment
too general, off target
hypersonic today and tomorrow
'good enough' isn't necessarily so
the mass exit
bigger, brighter, bolder
higher entry thresholds
no "plan b"
"one size" does not fit all
and so much more!
Where do we begin?
We highly recommend you gather your facts (starting with the above-mentioned White Paper). Get yourself educated on WHY this is a need and HOW your organization and leadership team would benefit from the training of administrative professionals.
Start educating your peers! Share this Turbo Charge Your Career eBook with them or share access to our free video training available for administrative professionals.
Educate the Learning Professionals in your organization. Human Resources, Training & Development, Talent Management – whoever is responsible for creating a development path for the professionals in your organization. We offer a complete series of educational videos and articles just for these professionals.
Get the buy-in from your leadership team/executive. If the person you support does not believe in administrative professional development, share this information with them. We have a series of educational videos just for leaders on the importance of training with tips on how they can best utilize their assistant.
Please reach out and let us know if we can assist you in any way. 800-STAR-139