Choosing What's Right For You
From managing your executive's day to appointment coordination, we are here to help you develop and grow your administrative skills.
At Office Dynamics International, we pride ourselves in offering content-rich, high-quality, learning programs and resources for today's progressive administrative professional. Since 1990, we have met the needs and expectations of thousands of administrative professionals and client organizations by creating educational programs, conferences, books, online learning, and consulting services that help them achieve dynamic career and business success. We offer a vast array of life-changing information. The key to a successful outcome is matching the right offering to the needs, objectives, goals, and expected outcomes of our clients and potential clients.
You can be confident you're making the right choice to match your training objectives with modern, applicable education from the industry leader in administrative development. Office Dynamics International consistently provides the latest research, emerging business trends, useful tips, best practices, lessons learned, and highly successful, proven in-depth programs that WORK.
If you are just here to look around . . . great! Have a wonderful time exploring the many facets of our site. But if you are here for specific a reason, allow us to guide you.
We want to help you get the most out of your investment whether it is financial and/or time. The clearer you are on your professional development goals, the better chance you have of reaching them and seeing real change. In order to get you started, here are some questions you should ask yourself:
What is my reason for being on the Office Dynamics web site?

I was just looking for some tips to add to my already-great administrative toolbox.
I am looking for an in-depth administrative or executive assistant training program.
My executive told me to find a training program for our administrative assistants.
I am hungry for new information, trends, and anything that will keep me current in my profession.
I want to maintain my competitive advantage in the administrative profession.
I have been told I need to "change my ways" or "increase my effectiveness."
My manager wants me to attend some type of training.

What changes do I expect to see in myself as a result of …….?
What obstacles do I hope to overcome or what career moves do I hope to make as a result of ……?
Do I have the financial backing to support my professional development?
What financial investment am I willing to make in my development?
Is my executive or manager supportive of my training and development?
Does this have to be an online training program?
Can you attend a live event?
Do you want to learn from the top administrative industry experts?
The clearer you are on your goals, the better investment you will make in professional development. If you are not completely clear on what you need or where you want to head, that is okay; sometimes you just have to take the first step. Start with something small such as purchasing a book or watching Joan's videos. Most likely, you will then see what step you want to take next.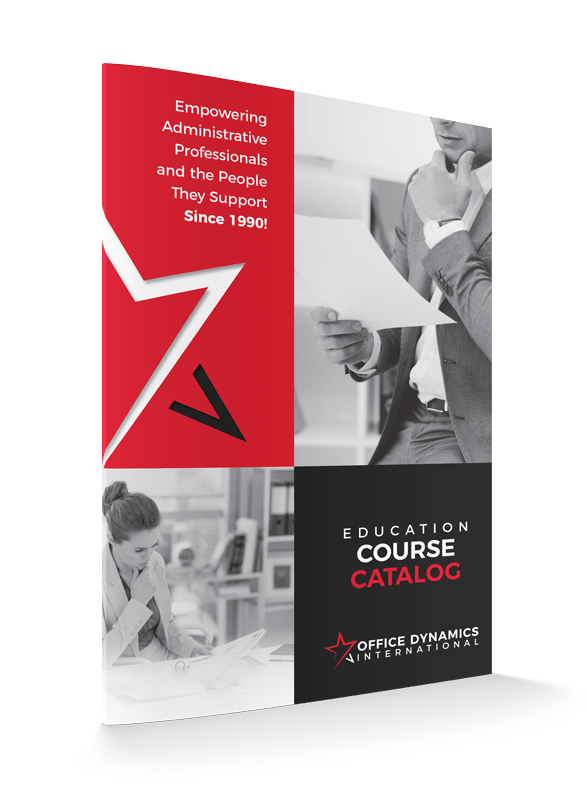 Unlock your full potential and drive success within your organization with Office Dynamics International's Education Course Catalog. Download a copy today to explore various training opportunities tailored for administrative professionals. Invest in your professional growth and elevate your career with Office Dynamics International.
| | |
| --- | --- |
| Administrative Certification; personal, in-depth development in an intimate setting; interaction and collaboration while learning in a small class (maximum 20) of savvy executive assistants or administrative professionals; want to do a deep dive and receive immediate feedback; experiential learning. | World Class Assistant™ Certification and Designation |
| Staccato-like rich content provided in short bites covering a vast array of business and administrative topics; 24/7 learning; learn from Joan Burge (primary blogger) and occasional guest bloggers. | The Year of You! Wealthy, Healthy, and Wise |
| Weekly mini e-mail motivator to kick-start your work week; informational, motivational, succinct (a 3-minute read). | Monday Motivators™ |
| Elite investment training program specifically designed for executive administrative assistants, secretaries, and administrative support staff; proven track record since 1990 with continual enhancements; a philosophy-based program that teaches a way of life, a way of being and thinking to elicit success. | Star Achievement Series® Onsite |
| Interact, network and collaborate with 400+ high-performing administrative professionals from around the world representing a variety of industries and different size businesses; hosted by Joan Burge and the Office Dynamics Team; cutting-edge information presented in a fresh, bold, and invigorating format. | Annual Conference for Administrative Excellence |
| An educational workshop custom designed for your administrative community's developmental goals, with emphasis on your organization's goal, values, and mission. | Customized Workshops |
| Identifying key administrative competencies; assessing learning and development needs; how to hire a star-performing assistant; creating, planning and execution of an internal administrative team; how to justify the hiring of additional administrative or executive assistants. | Consulting by Joan Burge |
| Targeted one-on-one coaching for an executive assistant and executive with pre-visit assessments; customizable to your issues, situation, and specific needs | Coaching with Joan Burge |
| Teaching your executives and managers how to utilize the time and talents of their administrative assistants and executive assistants; on-site or virtual. | Workshop exclusively for Executives and Managers: Maximize The Time And Talents Of Your Assistant |
| Building strategic partnerships between your managers and assistants and increasing team productivity by 25%+. | Workshop for Assistants and Managers |
| Trainer Certification program teaching the most relevant and current skills, strategies and attitudes for administrative professionals. | Star Achievement Series® Trainer Certification |
| Anytime, anywhere learning specifically geared toward the administrative professional; professional speakers. | Online Learning |
| High-energy, high-content, memorable speaker for a special event, conference, or company retreat. | Keynote Speakers: Joan Burge or an Office Dynamics Certified professional speaker. |
| Educational materials specifically written for administrative professionals and senior executive assistants. | Success Store |