Certification and Designation Courses for Executive and Administrative assistants
Your source for Office Dynamics in-person and online certification courses for administrative professionals, and more.
Discover certification programs and designations to set yourself apart and solidify your commitment to the administrative profession
Online Assistant Certification Courses and Programs
Executive Support Series™
Our Executive Support Series™ consists of 16 modules that teach you the skills and nuances that will transform you into the successful partner you want to be and that executives yearn to have! It doesn't matter whether you've just joined the profession or are a seasoned vet: This Series is designed to be impactful no matter how many years you have under your belt. You will walk away with a solid game plan and the know-how to implement it.
Learn more and download our free Executive Support Effectiveness Assessment to see how you measure up when it comes to complementing business objectives and supporting your executive.
World Class Assistant™ Virtual
The World Class Assistant™ online certification course is methodical and assistant-centered in approach. Its original in-person learning format has been transformed virtually. Its robust curriculum umbrellas the knowledge, skills, tools, and techniques of project management certifications, communication courses, and emotional intelligence to develop assistants as strategic partners who lead alongside the people they support.
Unlike other online certificate courses, graduates will also receive their designation. There is no need to re-certify because our criteria involve in-class skill practice and demonstration. Plus, World Class Assistant™ is a curriculum-based designation.
Star Achievement Series™ Virtual
Imagine all the knowledge and real-world application techniques from leadership and business management courses rolled into one philosophy-based program and designed specifically for administrative assistants. The Star Achievement Series® Virtual provides session-based training and teaches advanced business concepts and strategies to lead organizations in growth initiatives.
Obtaining the Star Achievement Series® Certificate and CEAP (Certified Executive Administrative Professional) designation has helped many executive assistants reach the pinnacle of their careers.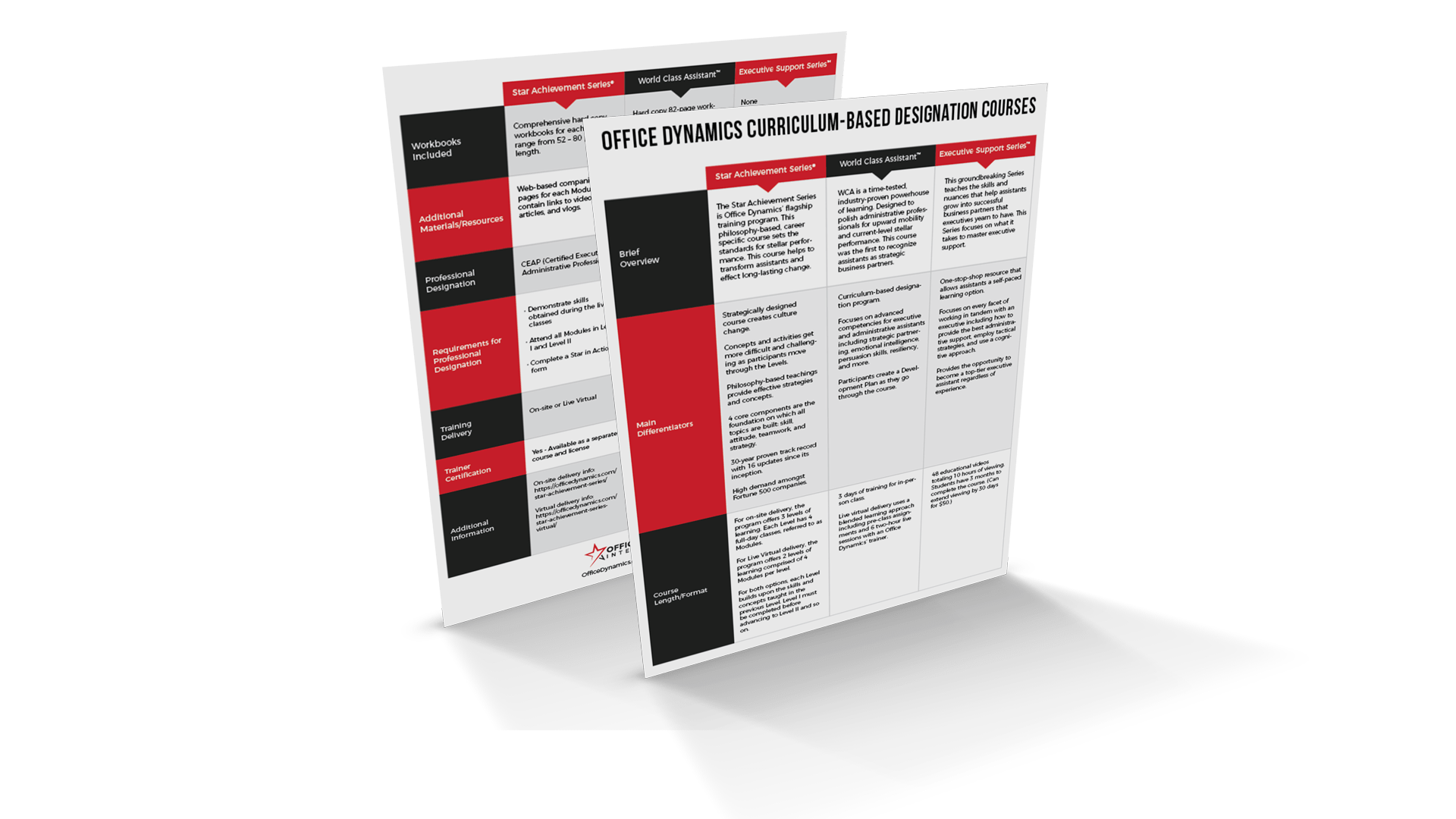 This chart will assist you in comparing all three Office Dynamics Designations. CEAP, CWCA, and CESP.