Be visible, prepare for future opportunities, increase you confidence, impact your organization's bottom line and be recognized as a star performer. Joan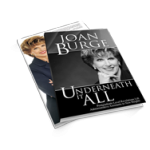 Burge, administrative expert, will take you through 26 weeks of fast-paced strategies for success based on her best-selling workplace bibles for executive administrative assistants, Become An Inner Circle Assistant and Underneath It All.
You'll learn that administrative foundation skills must be fine-tuned every day and building advanced competencies are critical to standing out in the crowd. Burge speaks from 20 years of administrative experience and more than 23 year' experience training and coaching assistants as the CEO of Office Dynamics International.
Session Topics Include:
Not Just A Pretty Face
Manager Support
Appointment Coordination
Managing Office Technology
Meeting Preparation & Coordination
Office Communication
Office Organization
Problem Solving
Professional Behavior And Image
Professional Development
Supporting Multiple Managers
Task And Project Management
Time Management
The Star Achievement Philosophy
This Is Cognitive-Being Territory
I've Got What It Takes To Be A Leader
I'm My Own Career Manager
Professionalism Works For Me
Earning Your Rightful Place On The Executive Team
The Anatomy Of A Strategic Partnership
Communication: As Important As Ever
The Fine Art Of Persuasion
Teamwork And Peer Power
Dear Manager
The DNA Of A Star Assistant
The Journey Of Excellence Never Ends
Become An Inner Circle Assistant
"This book is an absolutely valuable and current resource for all administrative professionals. As an administrative professional for over 20 years, I endorse the book's message that our job is critical in the workplace and is worth talking about. It's not another "how to climb the corporate ladder" book–instead, the author puts in writing ways we can use the administrative and people skills we have developed over years of job experiences in our field to help us expand our positions, become partners with our executive, and become a more visible and important player on our company's management team. Even the seasoned professional will gain additional insight and strategies and benefit from the "hands-on" tips, quizzes, and activities in this book. Ms. Burge's confidence in and passion about administrative profession shines through each page and encourages the reader to be a star and pave their way to Inner Circle status." – Lisa M. Assetta
"Joan's book is a valuable tool to assist you. It can help you define your strengths and weaknesses, your goals, and help you expand your expertise. Joan has the knowledge, professionalism and background to provide valuable tools and solid ideas that work and will help you to be the best. Her book is easy to read and filled with useful information that can (and should) be used in today's world." – S. Horn
"This is the rare book for assistants that doesn't dumb down the role and instead, gives great advice on how to improve your job and look at it from different perspectives and tap into your strengths to everyone's benefit. If you're looking for advice on how to run a software program, this isn't for you but if you want to learn how to really get the most out of the resources you have and make the administrative position one that is invaluable to the team, this is a great book." – Thyme Management
"As usual, I find all the information Joan Burge provides to executive assistants and administrative assistants at any level to be excellent information. Joan's writings inspire me and help me to focus with renewed passion in my chosen profession." – Dixie L. Drake
"Joan Burge's new book, "Underneath It All" is a book for anyone who wants to energize their career. This book covers exciting topics such as leadership, being a cognitive being, professionalism; managing your own career, communication, forming strategic partnerships, persuasion…teamwork…the list goes on and on. The best part is that she offers real, workable, grounded advice and mentoring that simply leaps off the page and into your career. She has activities built into each chapter that allows the reader to form a doable action plan right away. This is a realistic, advanced level book that will provide the insights and vision so that you can be your best and grow your career any way you want." – Nancy