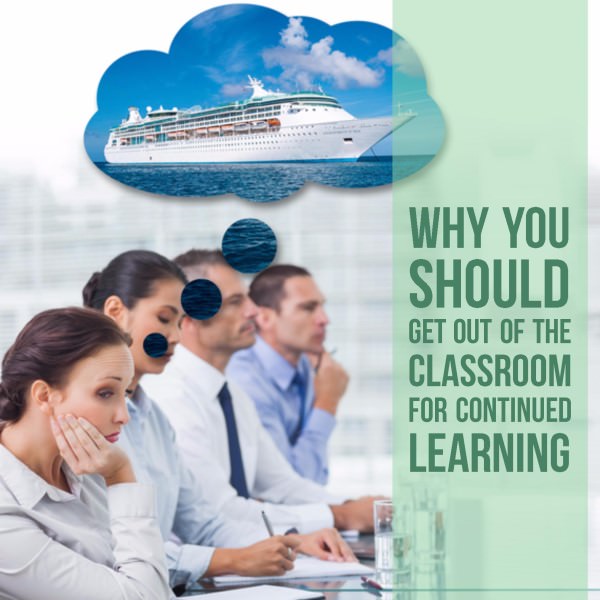 It's time to get out of the classroom.
I have been training assistants for more than 25 years. Most of my work is conducting onsite seminars for executive assistants and administrative professionals. I love onsite training because I really get to know the organization, their mission, goals and the people I will be teaching.
Most of my classes are held in a training room or conference room at the organization's offices. Some of them are beautiful; but many are plain and simple with 4 walls. I'm sure many of you are familiar with these training venues at your own company.
Over the years when it was a lovely day outside, I wondered, "Wouldn't it be wonderful to hold part of the session outside? Why are we stuck in this closed-in room?" There were a few times when I did just that—took participants outside to the company's grass area or to sit at their picnic tables. This was feasible because we were holding discussions or doing brainstorming so it worked.
More recently, I have done this at our World Class Assistant program in Las Vegas at the JW Marriott. We have a beautiful room with lots of windows and a great view of the mountains. We also have a balcony with round tables. So I will have participants go outside and do their coursework. It is so much more conducive to people learning, being open and creative.
Well, why not take it up a notch? Why not take administrative assistants on a cruise ship out on the wide ocean? I have always wanted to do this and now Office Dynamics is going to make this happen in March 2017 with the first-ever Learning At Sea for Executive and Administrative Assistants.
4 Reasons You Should Get Out Of The Classroom
(what is the value of learning at sea?)
No workplace distractions! That is huge. Even participants who go to a company training room get distracted. They go back to their desk at break or lunch and come back to class late; or someone comes into the training room with a message for the assistant from her leader and calls the participant out of class. Even with online learning, you have lots of distractions. Not so when you are at sea!
Focused environment enhances learning. Obviously, if you can be fully focused, you are going to enhance your learning experience. You are going to be able to better absorb information.
Journey-based immersion experience accelerates transformation. Over the years, we have heard of experiential training. Maybe even some of your executives have attended some of those retreats out in the wilderness for team building. We actually have a cooking school in Vegas for such team building activities. Going on a 4-night cruise with stops at various islands truly is a journey. The journey itself is part of the learning. For example, on our Learning At Sea, Royal Caribbean will be stopping for one day at their private island, CocoCay. I have been there a few times. We will be holding our sessions on the island. We will be setting everyone up in small teams and they will work on specific assignments. That is definitely different than attending training at a hotel or in a conference room.
Exclusivity to facilitators. Seminars at sea is not new. It's been around for decades but not for the administrative profession. People who attend a seminar cruise usually have lots of time with their faculty. These normally are not big conferences. These are small intimate events such as ours will be in March 2017. Jasmine Freeman (VP of ODI) and I plan to walk the decks with our attendees; sit out by the pool with a beverage and chat about the challenges our attendees are facing.