Book for Executive and Administrative Assistants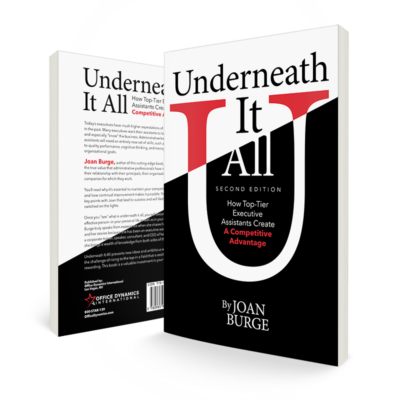 Underneath It All is a book by Joan Burge, a renowned expert in the field of administrative training and development. In this Second Edition, Burge shares insights and lessons she has learned through years of growth in the profession, as well as personal struggles including illness and loss.
The book focuses on the importance of developing soft skills in order to maintain a competitive advantage and achieve success as an administrative professional. Burge's research shows that 90% of the requirements for success in the field revolve around soft skills, while only 10% involve technology and technical skills. In Underneath It All, readers will learn about innovative approaches to improving their effectiveness and rising to the top in their field.
This book is a valuable resource for anyone looking to succeed in the exciting and rewarding world of administrative work. In addition to her professional accomplishments, Burge is also known for her positive attitude and motivation, which make her an inspiring guide for readers looking to better themselves and their careers. With her extensive experience and unique perspective, Burge offers valuable insights that can benefit anyone looking to excel in the administrative field. So, the book is a must-read for anyone looking to improve their skills and advance in their career.
This Is Cognitive-Being Territory
I've Got What It Takes To Be A Leader
I'm My Own Career Manager And I'm "Heady" With Power
Professionals Works For Me
Earning Your Rightful Place On the Executive Team
The Anatomy Of A Strategic Partnership
Communication: As Important As Ever
The Fine Art Of Persuasion . . . Sharpen Your Tools
Teamwork And Peer Power
Dear Managers
Navigate your career
Combat negativity
The nuts and bolts of leading
Break through a career plateau
Perception management
Be a value-added partner
Emotional intelligence
The fine art of persuasion
Accept change
Get into the executive suite
Gain respect
Negotiate with managers
And more!
What Assistants are saying
"I have met many 'experts' who think they have a good view of the administrative world and what it takes to be successful, however, none have actually been in the role to know the true nature of this profession. Joan Burge truly speaks from experience when she shares her philosophies and her stories. And because she has been an Executive Assistant herself, an instructor and the CEO of her own company, she brings a wealth of knowledge from both sides of the desk."
"As usual I find all the information Joan Burge provides to Executive Assistants and Administrative Assistants at any level to be excellent information, informative and highly motivating. Joan's writings inspire me and help me to focus with renewed passion, my chosen profession."
"Joan Burge's new book, "Underneath It All" is a book for anyone who wants to energize their career. This book covers exciting topics such as leadership, being a cognitive being, professionalism, managing your own career, communication, forming strategic partnerships, persuasion…teamwork…the list goes on and on. The best part is that she offers real, workable, grounded advice and mentoring that simply leaps off the page and into your career. This is written by someone who clearly knows the role and has walked in the shoes of an administrative professional. If you are someone who's stalled out in your career OR you are energized but just aren't sure what to do next to make your actions meaningful steps in building a great career you will love this book. She has activities built into each chapter that allows the reader to form a doable action plan right away. This is a realistic, advanced level book that will provide the insights and vision so that you can be your best and grow your career any way you want. I was greatly encouraged by this book and I can also recommend her first book, Become An Inner Circle Assistant."
"What I've changed as a result of Star Achievement is my whole attitude and my belief in my abilities and potential. I realize that I am a professional; it is up to me to be the best I can be, and that I am a valuable asset to my team."
Joan intimately shares with administrative professionals the bottom line to achieving success and maintaining your edge in a worthwhile career.