A meeting planner by MY definition is the go-to person and should be a key member of the design (or planning) team within an organization — be it corporate, association or otherwise — charged with the responsibility of planning and executing a meeting or special event.
Planners utilize their project management experience, planning skills and attention to detail to help create and deliver events that meet or exceed expectations. They add value to an organization by drawing upon their knowledge of the hospitality industry to manage expenses and minimize risk by negotiating the best all-around rates and paying attention to contract terms.
A meeting planner has the keen ability to bring the right people and resources together to create and deliver programs that best meet the strategic goals, objectives and key messages to a defined audience.
A meeting planner is there to partner with team members to take responsibility for the things they do best which gives others more time to concentrate on the things they do best, whether it's the day-to-day operation of a business unit or the company's overall bottom line. Planners maximize time spent on the development and delivery of the meeting content to ensure it meets key objectives. The planner is there to help ensure the success of a program. The goal is to make the meeting host and, if applicable, make their organization SHINE.
Meeting planners are leaders. They are strategic. They are analytical. They are solution-oriented. They are disciplined. They are diplomatic. They have a logical way of looking at a project and understanding what needs to be done to ensure success. They have the innate ability to see the big picture — to take a look at a project as a whole, break it down action item by action item, establish the systematic order within each action item for getting things done, creating an overall time table for completing all tasks and taking the responsibility for following up to make sure everyone stays on task. Their attention to detail is second to none.
Meeting planners work well independently or as a team member. They look for ways to improve the end product and service. Planners take their craft seriously. They tend to be life-long learners and students of experiential learning. They learn through doing, through the professional organizations they belong to, and through outside studies such as Certified Meeting Professional and Certified Meeting Manager programs.
Where exactly the meeting planner sits within the organizational structure varies from organization to organization. It may be a function of HR as easily as it may be of Communications, Marketing or Procurement. Or, a planner could be a small business owner or wear the hat of a bride or groom, or non-profit volunteer heading up a fundraising campaign.
The extent to which planners are involved in meetings varies as much as where they fall within the organizational structure. Some may be involved in many or all phases of the planning process; others may be limited to execution only. Sometimes this is a cultural thing within an organization; sometimes it may be the very nature of the meeting itself. The information being shared before, during and after the meeting may be so proprietary that the fewer who know, the better. If it's more cultural, you will just need to bide your time by doing what you are asked, know when and how to raise questions or offer suggestions and just generally work to gain the trust of the people involved. Sometimes you have to take a leap of faith and be a little aggressive (in a nice way, of course). For instance, if you're working with a group who is being asked to coordinate a meeting for the very first time and you're lucky enough to be asked to sit in on the early planning stages and you see that no one is taking notes much less putting together what I call an "Overall Meeting Action Plan" or "Business Plan" for the meeting, by all means, go ahead and take notes. Develop the best format for the "Overall Meeting Action Plan" and just do it. (There is a template for this document in my book by the way.)
You should send out the meeting notes along with a draft of what your understanding of the "PLAN" is and ask for feedback. With any luck, people will appreciate what you've done. If they don't, then you'll have to decide if you need to take a step back or keep on moving forward. Each group you work with will be different. Personalities and expectations will differ, but how you do your work and the effort you put into it must always be done with the highest degree of professionalism and integrity. It takes patience, but little by little, if you keep plugging away at it, you will find yourself growing professionally. Your areas of responsibility may increase, and the trust and respect of your team will likely grow.
Mary Jo Wiseman, CMP | Author, "The Meeting Planning Process: A Guide to Planning Successful Meetings" | https://www.maryjo-wiseman.net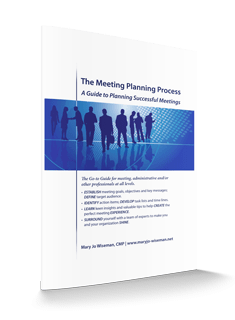 The Meeting Planning Process — A Guide to Planning Successful Meetings