Become An Inner Circle Assistant
Book for Executive and Administrative Assistants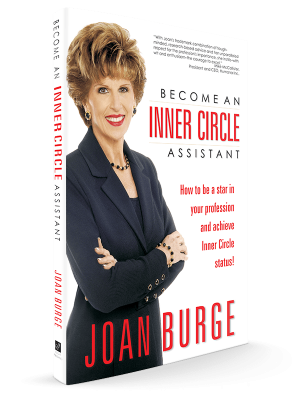 Earn Inner Circle status, thrive in your profession, be visible and recognized as a star performer. Joan Burge brings almost 35 years of experience in the administrative field to this groundbreaking book!
The words Inner Circle conjure up visions of an exclusive group of people whose achievements are admired and rewarded. The Inner Circle Assistant title doesn't show up on any organizational chart but she's the woman or, the man, of the hour. The people who support company movers and shakers have the opportunity to move into an Inner Circle and this book outlines the steps to get there as well as thrive in the position. It is a book of strategy and workplace philosophy that will help administrative professionals become top performers in work and in their careers.
This book for administrative and executive assistants is filled with road maps for success, scoring quizzes, real-life stories and examples.
Section I: A New Way of Looking at the Profession
Section II: Some Things Never Change
Section III: Digging Deeper
Appointment Coordination
Manager Support
Managing Office Technology
Meeting Preparation & Coordination
Office Communication
Office Organization
Problem Solving
Professional Behavior & Image
Professional Development
Supporting Multiple Managers
Task & Project Management
Time Management
To be a star in your profession
Cultivate your tolerance for change
Positive steps that minimize administrative stress
Choose to take risk
Delegating vs. dumping
Unlocking your internal dragon
Become process oriented as opposed to task oriented
Anticipate your manager's needs
Confront problems with your manager head on
Turn failure into success
Graciously accept criticism
Build rapport when communication crisis occurs
Choose when to assert yourself
Get emotions under control
And much, much more!
What Assistants are saying
"Can only reiterate everything good that has been said so far. This is a MUST read. I have over 25 years' experience as an assistant to business owners and executives, yet my copy is dog-eared, highlighted, and just about worn out after one year. Anyone who invests in this book, acts upon what's inside, and tends to their career with diligence, will probably be very grateful to Joan Burge within 1-3 years. Every time I apply something I've learned in this book, I find that my boss seems to make my life a little easier. It's been a total blessing."
"This is the rare book for assistants that doesn't dumb down the role and instead, gives great advice on how to improve your job and look at it from different perspectives and tap into your strengths to everyone's benefit. If you're looking for advice on how to run a software program, this isn't for you but if you want to learn how to really get the most out of the resources you have and make the position one that is invaluable to the team, this is a great book."
"Joan's book is a valuable tool to assist you. It can help you define your strengths and weaknesses, your goals, and help you expand your expertise. Joan has the knowledge, professionalism and background to provide valuable tools and solid ideas that work and will help you to be the best. Her book is easy to read and filled with useful information that can (and should) be used in today's world."
"This book is an absolutely valuable and current resource for all administrative professionals. As an administrative professional for over 20 years, I endorse the book's message that our job is critical in the workplace and is worth talking about. It's not another "how to climb the corporate ladder" book–instead, the author puts in writing ways we can use the administrative and people skills we have developed over years of job experiences in our field to help us expand our positions, become partners with our executive, and become a more visible and important player on our company's management team. Ms. Burge provides an in-depth discussion of twelve key competencies and other personal attributes that are important to our success. Even the seasoned professional will gain additional insight and strategies and benefit from the "hands-on" tips, quizzes, and activities in this book. Ms. Burge's confidence in and passion about administrative professionals shines through each page and encourages the reader to be a star and pave their way to Inner Circle status. I earmarked and highlighted concepts and ideas in the book that are meaningful to me and I keep my copy in my top desk drawer for easy reference. I highly recommend this book to career administrative professionals everywhere!"
The people who support company movers and shakers have the opportunity to move into an Inner Circle and this book outlines the steps to get there as well as thrive in the position.