In order to fulfill the demands of their organization, it is essential that administrative professionals regularly expand their skills and expertise. A yearly training plan can assist in identifying training goals and objectives, allocating resources for training, and monitoring the efficacy of your training efforts.
Since many administrative assistants either advocate training to their leadership or provide a plan for their administrative training, we felt it would be useful to provide you with the necessary steps for success. In this article, we will detail the actions you may take to develop an annual training plan that will assist you or your administrative community in achieving growth and success.
Step 1: Determine the training requirements of your administrative staff
The first step in developing an annual training plan is to determine the administrative staff's training requirements. This can be accomplished through a needs assessment, which is the process of gathering information to identify what training your company requires to achieve its goals. Several methods exist for conducting a requirements assessment, including:
Surveys:
Surveys are an effective approach to collecting information from a large number of individuals in a short period of time. You can construct and distribute your survey using online tools such as Google Forms or SurveyMonkey, or you can utilize paper surveys if that works better for your company.
Focus groups:
Focus groups are small, interactive groups of individuals brought together to explore a certain issue. As participants may discuss their experiences and thoughts in a group setting, focus groups can be a fantastic approach to collecting in-depth information about training needs.
Interviews:
Interviews are one-on-one discussions with persons about a certain issue. Interviews can be conducted in person, over the phone, or using video conferencing applications such as Zoom. Interviews can be a good method for gathering thorough information about your organization's training requirements from key stakeholders.
Once you have collected information from your needs assessment, you can utilize it to determine the administrative staff's training requirements. This may include developing specific skills or information, or it may encompass more general improvement areas, such as communication or time management.
Step 2: Determine the annual training objectives
After identifying the administrative staff's training requirements, the next step is to establish annual training objectives. These should be SMART (specific, measurable, attainable, relevant, and time-bound) objectives that will assist you and your team in achieving success.
For instance, if one of your training needs is to improve your team's time management skills, a SMART objective could be: "Increase productivity by 20% by the end of the year by educating all administrative employees in time management." This objective is precise (it targets time management), measurable (it contains a particular increase in productivity), achievable (it is reasonable given the available resources and time), relevant (it addresses a recognized training need), and time-bound (it includes a specific timeframe).
Step 3: Develop a training budget
After determining your training objectives, the following step is to create a training budget. This can help you assess the available resources (such as time and money) to support your training plan. When creating your budget, keep in mind the following:
Cost of training materials: 
This may include textbooks, handouts, and other training-related resources.
Cost of training facilities: 
If you will be offering in-person training sessions, you must consider the expense of renting a training venue.
Travel costs:
If you will be bringing in trainers or sending employees to off-site training, you will need to consider travel expenses, such as airfare, lodging, and food.
Salary costs:
If you will be utilizing in-house trainers or hiring external trainers, you will need to evaluate their salary or expenses.
Technology costs:
If you will be delivering training utilizing technology, such as online courses or webinars, you will need to evaluate the cost of any required software or subscriptions.
Other costs: 
There may be other fees involved with training, like refreshments for in-person sessions and promotional materials.
After considering these expenses, you can design a budget that reflects the available resources to support your training strategy.
Step 4: Select the training methods that will be utilized to give the training
There are a variety of training delivery techniques available for administrative workers. Some alternatives include:
In-person workshops:
In-person workshops can be an excellent method for providing hands-on training and facilitating participatory learning.
Online courses:
Because they can be accessed from any location with an internet connection, online courses can be a handy and cost-effective approach to giving training.
Mentorship programs:
Mentorship programs can be an effective approach to providing on-the-job training and assistance to employees. This may involve matching an experienced employee with a new employee in order to provide assistance and direction.
Consider the learning type of your personnel, the cost of the training, and the time and resources required to deliver the training when choosing the training methods to employ.
Step 5: Create a schedule for the training plan
After deciding on the training methods, the following step is to design a timeline for the training program. This section should specify when each training session will occur, who will be responsible for giving the training, and how the training will be evaluated.
Your timeline may include, for instance, a timetable of in-person workshops that will be held throughout the year, as well as a schedule of online courses that will be made available to staff. You should also include a plan for evaluating the training's efficacy, such as pre-and post-training assessments or employee feedback.
Step 6: Inform your administrative employees about the training plan
After developing a training strategy, it is essential to communicate it to administrative personnel. This will guarantee that everyone is informed of the various training opportunities and can plan accordingly. You can communicate your training plan to your staff in a number of ways, including:
Email:
You can send an email to the entire team establishing the training strategy and describing each training session.
Intranet:
If your company has an internal website or intranet, you can post the training plan for all employees to access.
Meetings:
You can host a meeting to discuss the training strategy and address any staff members' questions.
Step 7: Evaluate and monitor the training plan
Finally, it is essential to monitor and analyze the training plan to see whether its objectives are being met and whether any modifications are necessary. There are numerous ways to accomplish this, including:
Pre-and post-training assessments:
You can use pre-and post-training assessments to measure the impact of training on the knowledge and skills of your employees.
Feedback from staff:
You can request comments from employees regarding the training, including what they enjoyed and what could be better.
Observations:
You can observe employees at work to determine if they are utilizing the acquired skills and information.
By monitoring and analyzing the training plan, it is possible to determine which areas are operating effectively and which need improvement. This will allow you to make any required modifications to the training plan to ensure that it meets the needs of your administrative personnel and advances the organization's objectives.
Creating an annual training plan is crucial for ensuring that your administrative personnel has the necessary skills and knowledge to fulfill the organization's needs. By adhering to the procedures provided in this blog, you will be able to create a training plan that matches the needs of your workers and promotes the growth and success of your team.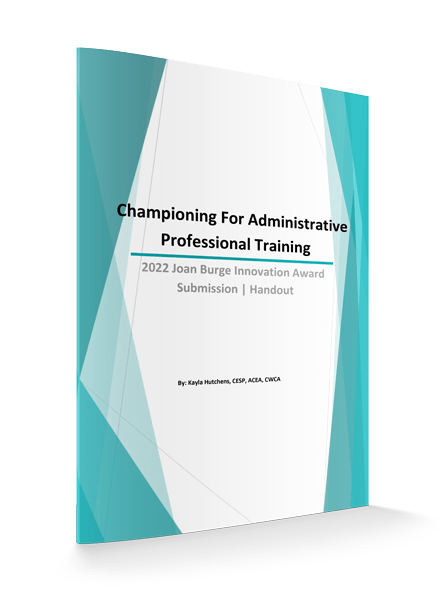 If you are an administrative professional looking to further your skills and career, "Championing for Administrative Professional Training" by Kayla Hutchens is a must-read. As CESP, ACEA, and CWCA, and an experienced administrative professional, Kayla knows firsthand the value of continuing education in this field. In this handout, she provides valuable tips and strategies for getting approval for training from your employer, as well as the benefits of investing in your own development as an administrative professional. Don't miss out on this opportunity to take your career to the next level – download your copy today!
We Can Help!
Office Dynamics International is the leader in training and development for administrative professionals. We have a wide range of training options available to meet the needs of all types of administrative professionals. If you are interested in customized training, please contact us to discuss your specific needs and goals. 800-STAR-139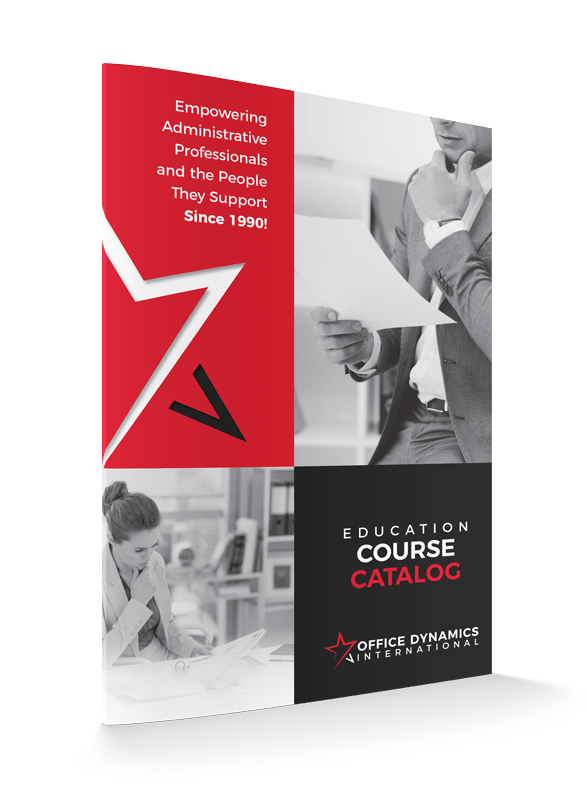 Take the first step towards professional growth and development by downloading our Education Course Catalog and exploring the variety of training options available to you.