Several years ago, I came up with Adminology. It was a formula for success for assistants. I still teach Adminology in our World Class Assistant™ certification and designation course because it never changes. Just bear with me as I explain this to you as it will all come together. Assistants should apply the Adminology formula to achieve better outcomes.
The formula is: Science + Art = Success. So, what do I mean by that? Well, the left side of the brain is the science side.
Words to describe left-brain thinking are:
Logic
Order
Structure
Scientific
Rules
Analytical
Methodical
Words to describe right-brain thinking are:
Gut feel
Intuition
Sensitivity
Artistic
Free-flowing
Imagination
Non-verbal cues
Let's take for example the task of meeting planning or calendaring for your executive. To achieve your best results, you would schedule meetings or appointments for your executive using both sides of the brain.
You would:
Take into consideration your executive's travel. Be sensitive to the fact that your executive may have jet lag, or be tired from a hectic schedule of running from meeting to meeting. You might be sensitive to the fact that your executive has something going on in their personal life.
Pay attention to non-verbal cues when working with others to schedule meetings, if you are talking face-to-face or on the telephone or even in an email.
Maybe use your gut feel or intuition in a situation where you know your executive does not like early Monday morning meetings. Meaning your gut tells you that because your executive has busy weekends and your executive takes a while to get going on Monday mornings, you stay away from booking morning meetings.
Logically look at the entire week. Can you really fit in another meeting on Wednesday? Are you being practical about meeting scheduling? Are you logically thinking through the logistics and allowing your executive enough time to get from point A to point B.
Organize your executive's meeting materials. If you are hosting the meeting, you need to organize your meeting room and any materials for attendees.
Bring structure to any chaos meeting day.
Does this make sense? You could go through just about every major task you perform and use the Art + Science approach.
Optimization
During our World Class Assistant™ course, I also talk about optimization in relation to Art + Science. That is because many assistants who attend our course are already high-performing assistants. You are probably like them. So, what do you do now? You optimize what you have.
Optimize means to:
Enhance the effectiveness of something
Make something function at its best
You will take your career and productivity to an entirely new level if you can combine art and science with a dash or two of optimization.
Art Side: be a visionary; imagine the future; picture what you want your future to be. This means that you will not have all the details now. It is like sketching the picture without filling in the details of the picture. Do not worry whether it is practical or realistic. See the possibilities of what could be.
Optimize by: daring yourself to take big steps; be bold; have a purpose for your life; write your mission statement; stop listening to all the naysayers; verbalize your future to others and use affirmations regularly.
Science Side: map out a plan; identify the steps you will take to achieve your goal; forecast any barriers and list steps you will take to work around the barriers; write a timeline; assess your progress as you travel the road.
Optimize by: writing BHAGs (big hairy audacious goals); force yourself to quietly sit and map out a plan; follow the rules of success and don't be afraid to occasionally break the rules; measure your progress and get back on track when you are diverted; discipline yourself to learn the process of achievement and don't make excuses; give structure to your life where you need to have structure.
This may seem like work at first and you may have to make a conscious effort to use both Art and Science. But like any other habit, after you do it several times, it should become a part of your work life.
Joan Burge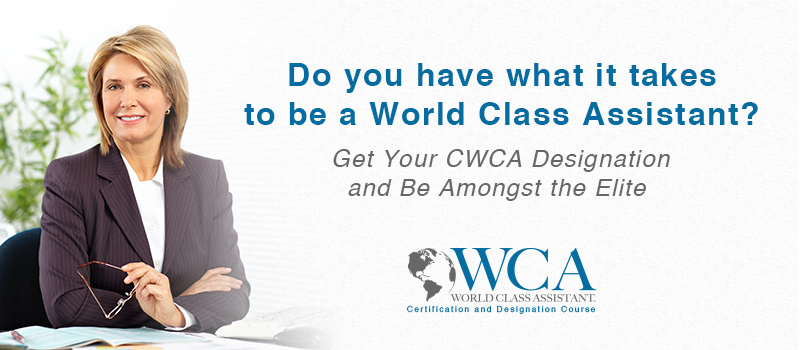 What your peers are saying
"I've attended many administrative training programs, but this is by far the most focused, detailed, and informative one. I feel that I've stepped up to a new level in my career by attending this program."
– Johanna Viteri, CWCA
"Of all the programs offered by other training companies that I've attended, World Class Assistant™ was much more comprehensive and intense. This program is head and shoulders above the rest! It continues to help raise the bar."
– Jennie Forcum, CWCA
"Very valuable and 'real life' knowledge was taught and shared. Excellent team building exercises. Informal, yet professional environment which encouraged participants by all attendees."
– Cheryl Havsman, CWCA
Learn more and reserve your seat here.