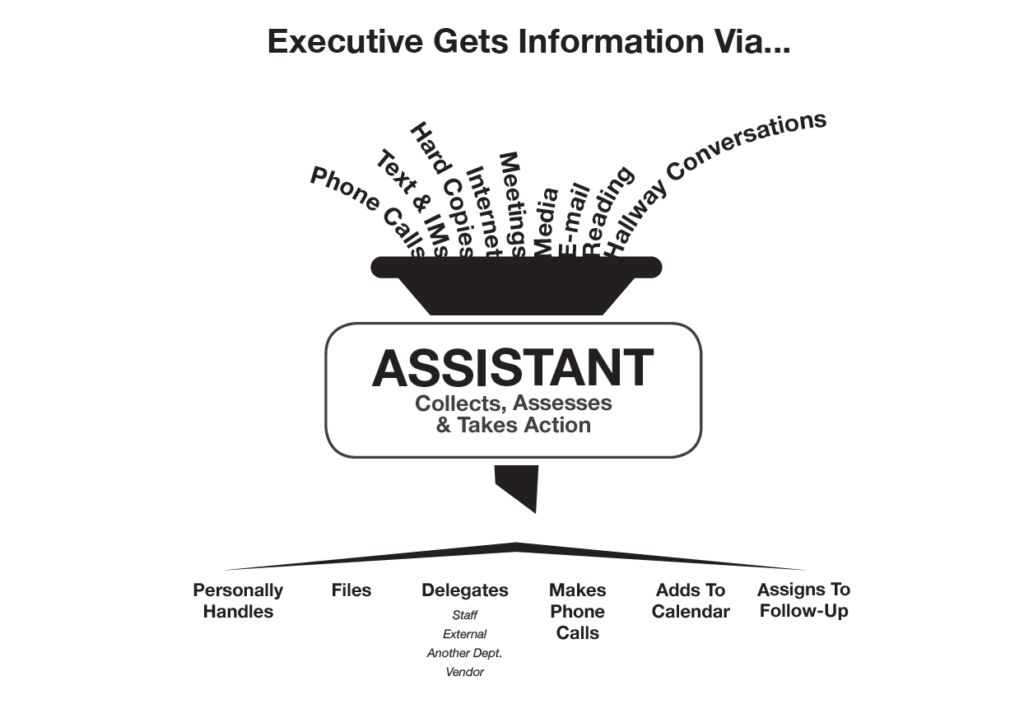 I created the above visual as an image of the ideal situation between an executive and their assistant, especially when it comes to communication. Because of all the technology today, assistants have a very hard time staying "in the loop." When an assistant is aware of what is going on or what is on the horizon, she or he can better anticipate, be proactive, plan better, foresee barriers, look more professional, and reduce stress. I know this from being an executive assistant for 20 years before starting Office Dynamics.
Some executives resist this concept for a few common reasons. Executives are independent. They certainly can manage many of these items on their own, but should they? Is that where their attention rightly belongs? In some cases, they add confusion and overlap by being involved in things their assistants should be managing. They can even create embarrassment when it becomes clear to others that they aren't on the same page.
By allowing everything to flow through you, your executive can use you as a buffer or filter—a conduit for collecting information, processing it, and sending it back out in the appropriate fashion. It frees your executive to focus attention where it is needed. It allows you, the assistant, to truly be involved in all aspects of your executive's business, giving you a more holistic point-of-view. Over time, you develop the ability to anticipate needs and truly act as an "alter ego" for your executive.
Being the Center of Influence requires a deep level of continual communication from and to both parties. Your executive must freely and promptly share information. You must clearly and accurately do the same.
This concept creates deep interdependence between the two parties.
One of our VIP trainers, Julie Reed, for our World Class Assistant™ designation and certification course adds:
Do you have the right tools and are you using them effectively? (i.e., email, calendar, phone lines on your desk)
Develop a healthy curiosity. Make time to investigate. If your executive is not bringing you into the conversation, then insert yourself. Do not be afraid to ask questions.
Have an active mind – be observant, alert and engaged.
I highly encourage you to discuss this visual with your executive. At first, they might be resistant so ask them to try disseminating information to you for three weeks and see what happens. If you can get your executive to stay with this process for three weeks, I believe you both will see the benefit.