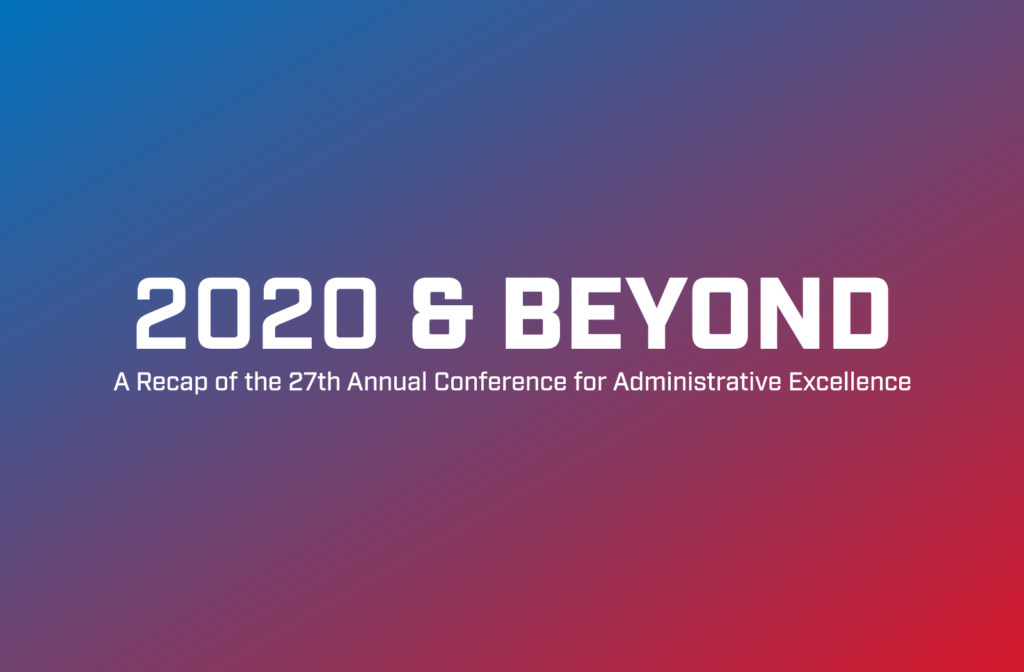 The One of a Kind Assistant Conference Experience
A Recap of Our First-Ever Virtual Conference for Administrative Assistants
Our first-ever virtual conference for administrative assistants had so many monumental moments and nuggets of information. Writing about it alone wouldn't capture the value of the insight provided, intimate moments between speakers and attendees, and networking experiences that fostered new connections and friendships with assistants from all over the world. 
How to Maximize Your Virtual Conference Experience
The event began Tuesday afternoon with Joan Burge taking the conference stage to share how attendees can maximize their virtual experience over the duration of the conference. This was truly the first interaction our attendees would experience with Joan and it wasn't typical at all. Each year our conference is held in-person at Red Rock Resort in Las Vegas, NV, and the energy that feels the room is captivating. There's music and literally dozens of tables filled with assistants from around the world. Everyone is networking, sharing their background, and what sessions/conference speakers they are most excited about.
The whole room is waiting in anticipation and you can feel the positivity in the air. You would think going from that to standing in front of a camera that is delivering a live-stream from our office's conference room would be less exciting, but it was not. 
The Conference for Administrative Excellence has been in existence for 27 years, and our team wasn't about to let a pandemic impact the high-energy event assistants have come to expect. 
Instead of focusing on the aspects that were no longer due to the pandemic, the conference began with an overview of the differences and how they could provide attendees with the career-benefiting experience they've come to expect. 
Here are a few more highlights from our 27th Annual Conference for Administrative Excellence: 
The Conference Session for C-Suite Executive Assistants – C-Suite: Defined and Demystified
Julie Reed is an experienced administrative professional with a proven history of building strategic partnerships. Many assistants claimed it was the best session to begin the conference with. It did not matter if you are an assistant just starting out in the C-Suite or have been in the seat for some time. The information was thorough, dynamic, and kept you engaged from start to finish. 
How to Best Support Your Executive Virtually
Prior to launching her own business, Hayden supported various C-level executives. In her session, Hayden shared tips on how to establish a triage system to optimally support your executive, specific practices for succeeding within a virtual support role, and much more. 
Alexa is Stealing Your Job: Artificial Intelligence and The Future of Admin!
Rhonda specializes in training and motivating Administrative Professionals. True to her style, her session was filled with high-energy and high-impact information. One of the most discussed topics in the administrative assistant career is the role of artificial intelligence in the workplace and how it will affect many of the tasks assistants execute. The one thing she emphasized the most is letting AI do that. The role of an assistant has surpassed the small scale items and has evolved into a partnership role.
Leveraging Up! Executive Assistant Hacks
Joanne Linden is an educationist, author, and consultant. She is the master trainer for Star Achievement Series® Certification & Designation Course at AdminUniverse™ and the Founder & Chairperson of the Administrative Center of Excellence™ (ACE-EA). Her wealth of knowledge was evident throughout her session. Joanne shared highly practical tips, leadership secrets, how to channel creativity, and tricks of the trade to help assistants take their career to the next level.
Future-Proofing Your Role for Today & Beyond – A Global Perspective
Lucy's session covered the dimension of the assistant career-path. She covered the history of the role, its progression, and how to embrace present-day changes and those expected to occur in the future.
Get Control! of Virtual Meetings and Presentation Skills
Mike Song is an award-winning author and founder of GetControl.net, one of the world's leading providers of leadership and time management training. Mike's session provided plenty of "That's cool!" and "Wow! I did not know that." moments for attendees and the Office Dynamics team alike. Every few minutes he was sharing Google, PowerPoint, Excel tips, and even fun ways to kick‐off online meetings in style so that everyone is motivated and engaged.
Joan Burge Innovation Award Presentation
Each year, Office Dynamics celebrates the outstanding ideas birthed by administrative and executive assistants by awarding one extraordinary professional with our Innovation Award.
This year's recipient is Paula Thibodeau. Paula is a great example of an assistant who goes above and beyond, creates new systems, and takes the lead. View the video of us surprising, Paula and presenting her with the award. 
2020 Conference On Demand for Administrative Assistants
Though there were miles separating our team and speakers from attendees, the "purpose of the event" for our attendees, whether it be to learn skills, broaden knowledge, or be introduced to new methods were not compromised. If you were not able to attend and would like to receive recordings of all of the conference sessions, the Conference on Demand is now available.
Here's what our 2020 On Demand Conference for Assistants includes:
Over 25 hours of administrative assistant education and career development

Sessions from over 20 administrative experts, workshop leaders, and professional speakers

Dynamic topics covering everything from administrative assistant technical skills to soft skills. Improve communication skills, emotional intelligence, adaptability, and more. 

A digital participant workbook with session handouts, charts, slide decks, and more that you can download and print (pictured below)

Access to the conference's insightful Q&A sessions with administrative experts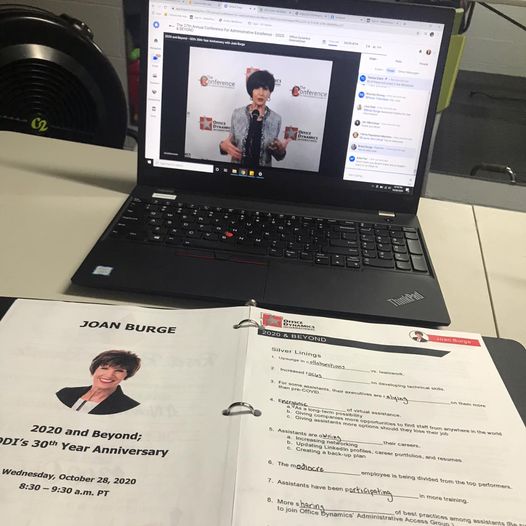 Over 25 hours of administrative assistant education and career development!
2020 & Beyond - Conference On Demand
With our Conference On Demand format, you will be able to view the videos whenever you choose and as many times as you would like. After all, great information is worth hearing over and over!
Read reviews from conference attendees: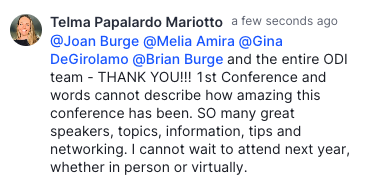 Like this article? Share it!