As I prepare for my upcoming free webinar for administrative and executive assistants on Actualizing Your Professional Goals, I came across an image from an exercise I did with my team a few years ago.
The exercise was to create our own personal manifesto. It's like a vision, motto or credo for your life. I called mine "You Can't Press Instant Replay." Everyone on the Office Dynamics team wrote and designed their own.
Here's mine: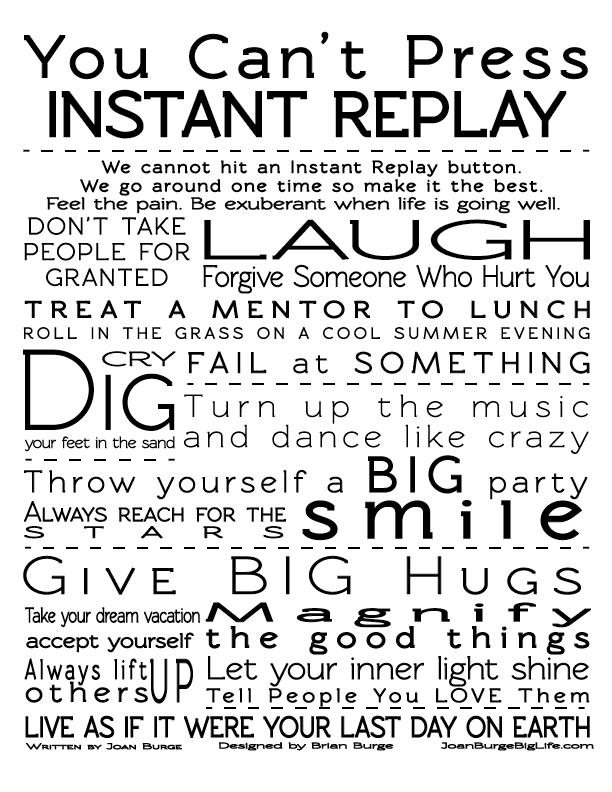 In my upcoming webinar, I am going to focus on what happens after you have set a goal—how do you stay motivated? How do you stay on course? What do you do when life throws a curve ball your way in the process?
For me, the Instant Replay is a reminder that we don't get a repeat in life.
So what is important to you? What are the little things we need to remember to do?
My Instant Replay visual is a reminder for me as I go through the year to make sure I am taking time for the little things such as giving big hugs, magnifying the good things, and laughing – a lot.
I hope you will create your own manifesto and post it where you can be reminded throughout the year.
Have fun with it. Share your motto with us below and let's all be inspired a little more today than we were yesterday.
Joan Burge
P.S. Register for the live event or to view the replay by clicking the link below.