Your assistant is your greatest asset, or will be after you read this.
In today's fast-paced corporate world, many managers rely on the newest technology to help their company grow. Between e-mail, virtual assistants, smartphones, high-speed Internet connections and a host of other technological marvels, they mistakenly believe they are more independent than ever—making their own travel plans, managing their own Inbox, sending their own letters and scheduling their own meetings. In reality, however, these so-called independent managers have lost sight of the one asset that can truly impact the company's bottom line: an empowered administrative assistant.
Unfortunately many assistants (also known as administrative professionals) are not taken seriously. In order to make the most of your administrative professional and advance your company's mission, you need to treat your assistant like a partner and develop their skills on a daily basis. Only then will they have the know-how and confidence to make decisions and take charge of challenges that arise during the day.
Related: Assistants Speak Out, Their Biggest Struggles In Partnering With Their Executive
Following are the top 4 ways to foster growth in your partnership with your assistant.
Have regular meetings. Conducting daily or weekly meetings allows your assistant to gain a broader perspective of your company's goals and what is currently going on in the organization. Attending these meetings also keeps your assistant abreast of upcoming projects and the status of existing ones. Armed with this knowledge he or she can intelligently answer questions for clients, follow-up on action items, monitor the progress of upcoming projects and also remind you of important tasks.
Provide continual and constructive feedback. Many managers and executives neglect to give their assistant any kind of feedback—positive or negative. While they may be able to critique a specific project the person worked on, they're hesitant to give an individual the praise or correction needed. If you want your assistant to grow professionally, you need to let her or him know how their performance rates with you.
Be a mentor.

While you may have an abundance of company information, such as brochures, web site content and catalogs, your assistant ultimately looks to you to teach her or him about the organization and business in general. You can help by mentoring on a regular basis. For example, when you make a decision, explain to your assistant why and how you came to your decision.

Establish goals and state your expectations. Your administrative professional truly wants to help you look good. It's difficult for this person to meet your expectations when you don't clearly communicate them. To make your administrative assistant a greater asset to your business, clearly state what needs to be accomplished and why.
No matter how advanced your office becomes, your administrative assistant will always prove to be your greatest asset. When you encourage your assistant to become a true work partner, you will become more productive.
Joan Burge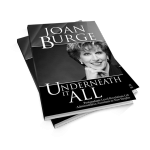 This article is an excerpt from the book, Underneath It All: Postgraduate Level Revelations Lift Administrative Assistants to New Heights. Authored by Joan Burge, Founder & CEO, Office Dynamics International
Related: Executives and Assistants Are Struggling Today