Mobile has become the way in the daily operations of both our personal and business lives. It is increasingly important to know how to work productively from anywhere, anytime. It's all in the apps.
Mobility is changing how we work and live; blending personal and professional lives, apps and tools needed to work well across different devices, and employees expect—and are expected—to work from anywhere.

Today, going mobile means having instant access to all documents, content and colleagues, and the tools to get any job done – anywhere, anytime. ~ Microsoft
Gone are the days of being tethered to a desktop computer to conduct day-to-day business tasks. Today's Admin needs to be a MobileOfficePro™.
At minimum, a mobile user needs apps to perform key daily business tasks. Apps for file access, e-mail, calendar, password protection, word processing, spreadsheets, presentations, virtual meetings, news, weather and travel are examples of key productivity tools mobile devices should have installed.
Know Your Mobile Device
As a mobile user, become familiar with your device and device settings. Learn how to set a password in the event you lost your device, access Wi-Fi points, turn app notifications on and off, run software updates, know how much available storage you have left, how to uninstall apps you no longer need. You can do this and I don't want you to ask your first grader or Grandchild to do it for you. I know it's tempting.
If you are an iOS user (iPhone, iPad), tap the Settings icon to look at your settings. Learn more by using the guides. iPhone User Guide: http://help.apple.com/iphone/9/ and iPad User Guide: http://help.apple.com/ipad/9/
Important Note: setup Find My iPhone so you can track down the physical location of a lost iOS device. Put that on your action list.
Now, on to a few key productivity mobile apps.
Cloud Storage
First and foremost, learn how to use a cloud service to backup and access your documents, photos and videos in a flash and I don't mean from a flash drive! (I still recall the days of the floppy disk, when they were actually floppy.) Backup and store your files via a cloud service. Files will be accessible from any device you have installed the app on. An added benefit is the ability to share and collaborate on files of various types with others.
Note: if you are using an iOS device, at minimum, you should keep your device backed up using iCloud.
Note: Subscribe to Executive Secretary Magazine, and read my detailed article on Clearing Up The Fog Around Cloud Storage, in the January 2016 issue.
Three Popular Cloud Services
OneDrive is tightly integrated with newer versions of Microsoft Office. If you want to stay all Microsoft and easily edit Microsoft documents from the cloud, OneDrive might be the one for you.
Microsoft's paid version is OneDrive for Business, which contains more features for collaboration.
A free Google app which includes a suite of productivity tools similar to Microsoft Office. Create Docs (word processing), Sheets (spreadsheets) and Slides (presentations) from within your Google Drive account.
Note: Docs, Sheets, and Slides can be downloaded as individual apps from the Apple App Store or Google Play
Another powerful cloud service for uploading files of a variety of types. Share and collaborate on files. Free and paid versions are available.
Like any file storing system, you should create folders to organize your files. Folders can be shared.
Microsoft Office Mobile Apps
Microsoft Office is one of the most widely used suites of productivity tools in the business world. You don't have to be at your computer to access, edit and create Office documents. Take advantage of the free mobile app versions of Microsoft Excel, OneNote, Outlook, PowerPoint, and Word. If you have an Office 365 subscription, the mobile versions have more features. Download each app from the Apple App Store for iOS devices and from Google Play for Android devices.
Microsoft Office mobile apps can be connected to multiple cloud services for file access. OneDrive, OneDrive for Business, Dropbox, Box, and Egnyte.
Additional Apps
Meetings
GoToMeeting
Skype for Business
PDF
Adobe Acrobat Reader – a free app. View, annotate and sign PDFs. I use this app often from my mobile devices to view and sign contracts that are emailed to me in PDF form.
News
Flipboard, a customizable app that displays the news in a magazine style layout. Keep up with the latest news. Share with others using Flipboard's social sharing features.
It's time to take the steps needed to become a Mobile Office Pro.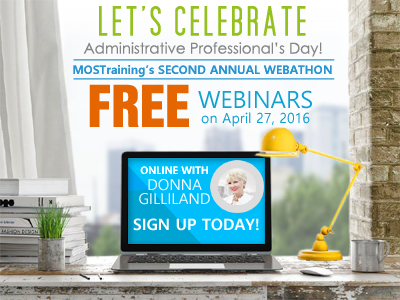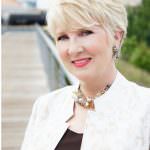 Donna Gilliland, Founder of MOSTraining, Inc.
Donna Gilliland is an award-winning instructor in her field and the Founder of MOSTraining, Incorporated. Donna's company provides workforce productivity training and consulting in Mobile, Office and Social Media technologies.
Donna's training and speaking career spans over 25 years and she holds a wide range of technology certifications.
When Donna is not teaching or consulting she is writing about what she teaches via her blog at www.DonnaGilliland.com and as a writer for Executive Secretary Magazine.
Sign up for Donna's newsletter at www.MOSTraining.com Follow her on Twitter @DonnaGilliland and on Facebook at www.Facebook.com/MOSTraining
Join Donna's Free Webathon on Administrative Professionals Day, April 27.