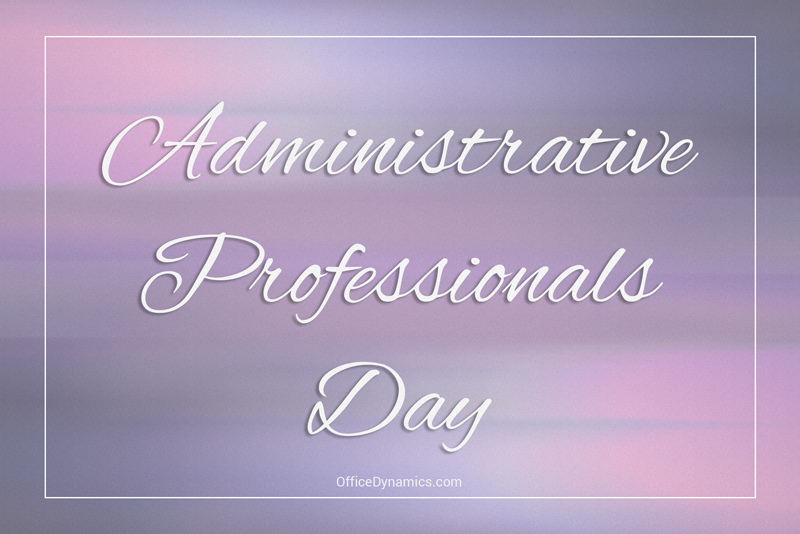 Here we go again! Administrative Professionals Day and Week will soon be upon us. The dates for Administrative Professionals Week are April 22 – 26, 2019. Administrative Professionals Day is on April 24, 2019.
Here at Office Dynamics, we love to celebrate administrative professionals of all walks of life in a big way. Since I worked as an executive assistant for 20 years before starting Office Dynamics, I thoroughly understand what it is like to be in your job and walk in your shoes.
I loved being an assistant. It was an exciting career. There was always an element of surprise. I got to support and work with the top dogs—the movers and shakers! I had an inside scoop on what was going on; met incredible people; learned new skills; was a confidante; the go-to person. I could go on and on, but I will stop.
Administrative Professionals Day was created by the president of the National Secretaries Association – Mary Barrett – in the late 1940s and early 1950s. In 1952, U.S. Secretary of Commerce Charles Sawyer declared the first week of June to be Secretaries Week, and the Wednesday in that week to be Secretaries Day. In 1955, Secretaries Week was then changed to the last week of April. In 1981, the day was changed from Secretaries Day to Administrative Professionals Day to incorporate not only secretaries into the holiday but a myriad of professional and administrative assistants.
Free Webinar For Assistants:
Office Dynamics will be doing several special things to celebrate you in April. We are very excited to host a free webinar on April 16. There will be great content and awesome giveaways. There will be 2 grand prizes: one is a registration to our Star Achievement Series Certification Course in Las Vegas (value $1795); the other is one registration to our World Class Assistant Certification/Designation course in Las Vegas (value $1695). Plus our sponsor, Purple Lizard, has some amazing gifts for me to give away throughout the 90-minute webinar.
Help us break a record!
Please tell your administrative peers about this special celebration webinar and help us break our webinar record of 6,900! You know how assistants love to share the good news with each other, network (in our chat), and win goodies!
For Executives: Give the gift that lasts
Flowers are a lovely gift, but they don't last! Cards are always appreciated especially if an executive or team has written a personal note to their assistant. Some other ideas are:
Education: today's assistant is hungry to learn. Whether it is a conference, online class, or educational materials, investing in your assistant's professional development will not only make your assistant happy, but you will also reap the rewards.
Books are another great gift. Be sure to purchase books that are pertinent to the administrative profession.
If you want to have a lasting impression on your assistant, maybe give your assistant a gift card to a spa or an overnight stay at a hotel.
Of course, all executive and administrtaive assistants love a bonus! Your assistant can put that money away in a savings account or purchase something personal that lasts.
Regardless of which gift you give your assistant, the best gift you can give all year long is your attention. 80% of assistants say they don't get enough one-on-one time with their executive. Since your assistant is your right-hand business partner, it definitely would be worth your time to give more focused attention to your assistant.
It has truly been my privilege to serve the administrative community and profession since 1990!


Joan Burge
Founder and CEO
Office Dynamics International