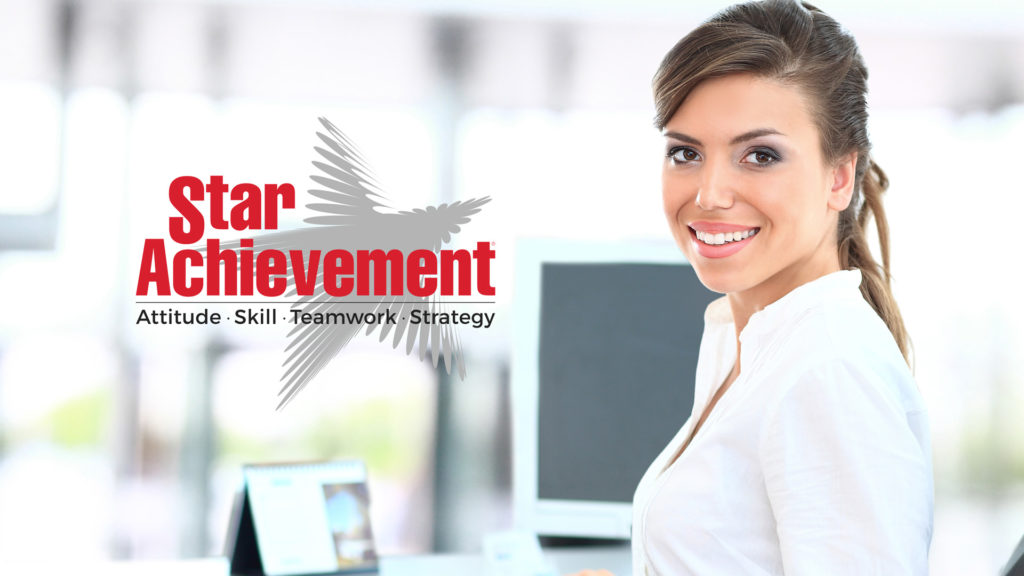 Career Tips for Assistants from the Star Achievement Series
Take a good, long look around your office (or, if you're still working remotely, around your Zoom room). How many successful executive assistants do you see? Who is at the pinnacle of growth, productivity, and success? Are you one of those successful administrative assistants? When you really consider this question, you may surprise yourself with the answer.
Defining success in the executive and administrative support profession is a difficult task because our industry is deceptively complex. It can be far too easy to become stagnant in your professional development and growth as an executive assistant. When that happens, progress and improvement tend to dwindle, apathy sets in, and success drifts away. 
Most would agree that being a stellar administrative assistant is more than executive support and meeting planning. You acknowledge that, but you're also wondering:
What does true success really look like?
How can you become a better team player?
Is there a better way to deal with challenging personality styles?
How do you support multiple managers effectively?
What kind of professional development do you need?
What does truly mastering executive assistant skills entail?
Skills for C-Suite Executive Assistants
In order to answer those questions, let's think about the top-tier administrative assistants: C-Suite Executive Assistants. Senior executives generally have higher expectations of their administrative team and thus those who thrive in that arena are high performers who have really figured it out. Identifying the characteristics those executive assistants possess can be a profound case study. The assistants that stand out above their peers are typically the ones who excel in four key areas:
Skill – They continuously work to sharpen the skills they have and attain those skills they don't yet possess.
Attitude – They achieve and exhibit a good attitude every single day and are able to maintain it, regardless of what the day throws their way.
Teamwork – They know they are a part of something great, and they help others shine. They recognize that a rising tide raises all ships.  
Strategy – They put in place a plan for development and growth and remain future-focused. Without a goal or a vision, it's easy to veer off course.
They also understand and fully embrace their career as their chosen profession. They're not just punching a clock…they are always seeking something more. They don't ever identify as someone who knows it all. They remain hungry to learn and grow. Successful executive assistants are lifelong learners and strive each day to add additional tools, and skills, to their arsenal.  
Training for Executive Assistants
Let's be realistic: reaching the highest level isn't easy. In fact, for many assistants, that kind of success can be downright elusive. 
Goals seem out of reach
You don't know your real "why"
You're confused about the direction
You're struggling to define what you really want out of your career
You find it difficult to connect with your executive
Professional Development for Administrative Assistants
The path to success for so many assistants begins with a simple commitment to grow. You have to change your mindset. You have to prepare for challenges and some discomfort. Growth can be a little painful! Staying inside your comfort zone for your entire career will prevent real change and stagnate your ability to grow. 
Once you've made the decision to invest in yourself and your administrative support profession, you should notice a subtle change immediately. It's like the first day of school.  There's a palpable excitement that comes once you've decided you're ready to excel and succeed!
You will begin to feel:
Empowered
Interested
Eager
Observant
Creative
More open to new experiences
The next step is to determine which of the many administrative professional development options are the right fit for you. Spending hours sifting through the various admin assistant courses, administrative assistant certificate programs, and online training options for executive assistants can begin to feel like analysis paralysis. Don't worry. Office Dynamics already has a proven plan in place for you.
Hear from one of our Star Achievers:
"By striving to be a Star Performer on the job, I am more confident, more creative, and more efficient. This is one training course where you don't passively listen in a classroom, then go back to your desk and forget everything you learned. With all the group interaction, activities, and workbook exercises, each person is actively involved. I find myself practicing Star principles every day." – Dixie
Like this article? Share it!