We had an incredible webinar event with over 1,300 assistants registered to learn more about why, as an administrative professional, they should consider a career certification. You may think this would be a biased conversation about our curriculum-based designation courses but it was far from that! We had a rich discussion in the chatbox that copied here for you (see below). We also featured a special guest, Brenda Mason, who is a lifelong learner who holds a variety of professional designations. We wanted the conversation to be open and it was! So, if you are looking for more info on continued development and assistant certifications – you're in the right place!
ATTENTION
Make sure you are using Chrome, Firefox, Safari, or Microsoft Edge.
You will experience issues with Internet Explorer.
Don't forget to download your handout before watching: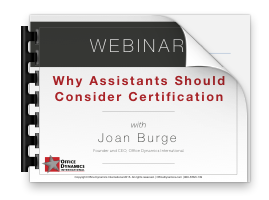 Why Assistants Should Consider Certification Handout
Live Webinar Question and Answer Follow up!
We promised everyone we would continue the conversation due to the rich discussion that was happening in the chat area during the webinar. There are so many questions about certification options we wanted to take some time to answer them here as we ran out of time during the free webinar.
Is certification a good way to get experience for becoming an executive assistant?
It's not so much about receiving a 'certification' as it is about what will be covered in a class or online course. A certification can certainly help you get promoted to an executive assistant position or be considered for an executive assistant position. You want to take a close look at the curriculum of a course, topics covered, and what results you can expect. As I mentioned in the webinar, be picky and take time to do your due diligence. There are some certification programs out there that, unfortunately, don't teach you how to build a partnership with your executive or how to manage your executive's day; but our programs do. (JB)
How do I find out more about the World Class Assistant curriculum-based designation and program? 
Our program detail can be found here.
Does Joan offer coaching sessions outside of the World Class Assistant program?
Yes. You can access more information about coaching with Joan virtually or in person.
Is there funding out there for education? 
Yes! Some colleges offer scholarships. Check your local education campuses to see if you qualify.
Private colleges may seem expensive but they offer many scholarships to help offset this cost.
Check with various foundations because they also offer scholarships. (answers pulled from live chat from various participants)
How does a small business assistant get support for great programs like these?
You have to show your executive and business owner how investing in your development will benefit them or the company. It is very hard for small businesses to find money to support training. It can be a very hard sell. All the more reason you have to show your executive the benefits you will drive; the benefits your executive will derive from sending you and how the company will benefit. You might also look for courses that will develop some new administrative and entrepreneurial skills that will expand your contributions to your company and can possibly save them from having to hire another employee to do that work.
I wrote an article called Getting To Yes that outlines the steps you need to take to persuade your executive to support your training. Here is the link to all my article, Getting To Yes.
Here is an example of a worksheet Office Dynamics put together outlining the topics we are covering at our 22nd Annual Conference for Administrative Excellence as a tool that assistants can use to give to their executive. We have listed each speaker and what the attendees will learn. As the assistant wanting to get approval, you would fill in the Goal/Learning Objectives column and then present that to your executive and show the benefits of each. I hope this helps you get an idea of what you need to do.
What about taking advantage of training from Skillsoft or employee training through your company?
There are a lot of good training programs out there and reputable companies. Skillsoft has been around for years and they have a plethora of courses and workshops. The difference between Office Dynamics and Skillsoft is we have specialized in administrative and executive assistant training for 25 years. As the instructional designer, I worked as an administrative assistant for 20 years so I know the profession inside and out. I worked in 12 different companies in 5 states and worked my way up to Executive Assistant supporting Presidents and CEOs. I know every aspect of the profession. The instructional designer of Skillsoft may have never worked in the profession and so their knowledge will be limited. Also, a benefit of working with a smaller organization like Office Dynamics is the personal touch. We get to know all our attendees and form long-lasting relationships. We are there for them years after the training is over.
The reason I started my own training company for assistants in 1990 was that I felt there was never any meaty, in-depth training for me when I was an assistant. There were several public seminar companies whose 1-day workshops I attended and I did learn some good tips. I just felt it wasn't enough! There wasn't enough challenge or depth or future-focused topics. So I started Office Dynamics.
What certification/designation would you recommend? I have a BS in management and over 15 years of work experience.
It goes back to what I said about your career goals and aspirations. Remember Brenda and I talked about "it's not just a piece of paper." It's really about looking at the skills you need to succeed in your current job; be ready for new opportunities, and plan for your future. If you are asking me a general question, I would say get one of the Office Dynamics curriculum-based designations. We are the only training company offering courses for administrative assistants who have a Certificate and Curriculum-based Designation. That would be our World Class Assistant high-end boot camp. You can receive the WCA Certified designation in just 4 days. The classes are held in Las Vegas. You can get the designations that Brenda mentioned from IAAP which are the CAP and OM. Those will take you much longer to obtain but they are good designations to have behind your name.
It is admirable that you have your BS in management. Great job! If I am looking for a star-performing, highly-qualified executive assistant, I am going to be more interested in your years of experience and how you have continued your education in your profession, specifically. Just as accountants get their CPAs to demonstrate they have completed a thorough study in their profession/industry, so should an administrative professional have a designation that shows he or she has put in their hard work to grow in their profession. (JB)
I've been in the admin role for more than 30 years, but during my career was busy working full-time and raising my family. I do not have a college degree. I've taken the WCA program and am now enrolled in the Star Achievement Series. Do I still need a two-year degree to be taken seriously as an executive assistant?
My first thought is….. be taken seriously by whom? Is it the executives in your company? Being taken seriously by your peers? Do you mean be taken seriously so you can advance in your company? Or that your organization requires a degree before you can move up? So it is difficult to answer this question. While many organizations are starting to require a 2-year degree, you should be able to communicate the serious work you did to obtain your WCA and eventually CEAP. You will need to emphasize the credibility of these curriculum-based designations such as how you had to demonstrate the skills learned in the class. You had to pass a quiz, complete an essay test which is harder than a multiple-choice test. With the CEAP, which can only be received by attending Star Achievement, you also have to get a letter from your executive proving that you have changed behaviors as a result of attending the course. That is very powerful.
If the only way you can get ahead in your organization is by obtaining a 2-year college degree and you plan to work for several more years, and want to advance, then you have to give it more serious thought. Is that in line with your goals and the other things I discussed you consider in the webinar? Listen to the webinar again.
Why do some businesses say that you are overqualified and won't hire you?
Sometimes they think that you will want more money than they are willing to pay. (answered via live chat by other users)
Another reason is if an employee is overqualified for a position, eventually they will get bored and leave. A company does not want to invest time teaching a person who will most likely not stay. They are doing you a favor because you don't want to waste your precious time learning a job and then realize months later, it's not really for you. So see it as a positive. The only way I see over qualifying working in favor is if that employer is planning to move you up into other positions.
With so many options out there, where do I start first (with a certification) and which one is best?
That's easy, Office Dynamics! Make a trip to Las Vegas out of it, too.
Get the "easiest" one done first, that first certificate of accomplishment will get you hooked!
Some companies value a college degree more than a certification. It depends on what your company looks at.
It depends on what course is offering a curriculum that is important to you and your development needs. (answers pulled from various participants in live chat.)
I have my Bachelor's in BSBA focusing on Human Resources. Would a certification or classes be useful to me if I eventually want to work primarily in Human Resources?
If you want to work in HR, you should work on getting that designation. It takes months and sometimes years to study for that designation.
Would you put MBA behind your name?
The employees at Nationwide do place a BA or MBA behind their signature/names because it allows individuals to know that they are communicating with that they do hold these degrees.  It also promotes yourself for your next position.
With technology and the new millennium percentage in the workforce rising, what does the future look like for the baby boomer generation of the administrative professional career?
The baby boomers, Gen Y's, and millenniums are mentoring each other both on technology and human moments.  With the baby boomers working longer and a shortage of millenniums coming into the workforces, you will see a trend of more of the baby boomers, Gen Y's and millenniums working as a team.  This will be a competitive advantage to all businesses who have this kind of diverse environment in that they will have the advantage to build relationships with their business partners.
The baby boomers will be valued because of their vast knowledge and 30+ years of hands-on experience. Baby boomers are admired for their business savvy, etiquette and professionalism and companies want that to flow over to the Gen Y's and millenniums. It will be very important, though, for baby boomers to stay on top of things, grow, change and adapt to current times. Baby boomers should stay abreast of trends and modern-day language. Many of our corporate clients want their baby boomers to mentor the younger generation coming into the workplace. This is very important.
Is the WCA a professional designation? Will it require ongoing certification?
Yes, it is considered a Curriculum-based Designation. Because it is curriculum-based it does not require re-certification.
I have almost earned my CEAP Certification through the Star Achievement Series®. Do I have to complete this program before I attend the WCA World Class Assistant program? 
No. There is no prerequisite to attend our World Class Assistant™ course. Star Achievement Series and World Class Assistant are two different and separate programs we offer.
It's really hard to be excused for traditional courses. Do you have advice for those of us who aren't granted time away from the office for continued learning?
Start a book club during your lunch hour.  It's a great way to mentor, as well as network.  I started an administrative book club where we met once a week.  Our very first book was Joan's "Inner Circle Assistant."  She has several other books that will aid in knowledge transfer.  Also, Joan provided a certificate to each assistant who completed the book.
I have always believed learning can take place anywhere and anytime. If you keep your ears and eyes open at work, you can learn a great deal from other people. Observe your executive and other executives—what do they do that you like? How do they tactfully handle situations or difficult people? What do you see executives do that you don't like—and don't do it. Observe co-workers and assistants who are in higher positions. Again, what are their 'star' behaviors—model those. What are their 'non-star' behaviors—don't copy them. Also, individuals have to make time outside of work for learning. All star-performing assistants make some time, even if only an hour, during the week to attend an online course; listen to an audio CD; watch a video. Today we are very fortunate because we have every option available to us.
Can more then one organization get together and host a Star Achievement Series to make it more cost-effective?
If your a smaller business and don't have enough staff to host a full class you can merge with a few other companies and host the program. Logistics would be coordinated by you/your planning team. For more information please contact Jasmine Freeman.
Great quotes from our chat participants:
Because learning is a "never-ending" process. – Flayveila G.

Learning is never a waste of your time, no matter your age! – Karen

This webinar has been very informative. Thank you for providing this for free! It is perfect timing for me as I have been looking to set new goals for myself this year in my EA position. – Nikki

I have a Microsoft Master Certificate – which I sat and took a test to get. I still feel I earned it. – Susan

This has been very helpful. I wasn't aware there were so many certificates/certifications available for admins. – Karen

I received my Associates Administrative degree completely online and love online studying. I can study when I want rather than having to carve out time through my week to be away from home. – Sandy

I obtained my 4-year Bachelor's degree while temping as an AA and fell in love with my career. It allows the perfect work-life balance with my husband and children and has open many opportunities to me once I obtained my CAP designation. I just took my OM exam this weekend and am awaiting the result. I am excited. The BEST is yet to come! – Stacie Perrine Pinto

I am job hunting right now and notice that the majority of companies are asking for two or more skill sets. Some ask for Accounting, Bookkeeping, etc and many also ask for a 2-year degree or higher. – Barbara M.

I'm getting an Associates of Applied Sciences as an Administrative Professional. I finish my coursework this Friday! I have been working in the field for almost 15 years and was finally able to get the education to back up my experience. – Kristin

Very informative. I feel overwhelmed with the options out there. I need to do something as I don't have a college degree. – Danielle

After this webinar, I think I can conquer anything! My confidence has hit an all-time high! – Keshia D.