An important component to self-management versus stress-management is to set healthy boundaries in the workplace. In this article what kind of boundaries and with whom.
As administrative assistants and executive assistants, you can often feel like setting boundaries might get you fired or your leader will think you are not a team player. Some people think when I'm talking about setting boundaries, it has to do with sexual harassment in the workplace.
Boundaries can be set any time, any place, on anything, and with any person. I'll give you a perfect example. I was at McCarran Airport in Las Vegas waiting in the security line and was in line to pass my carry on through the screening process. (Keep in mind; I travel quite frequently for business, so I know what I'm doing.) I was quickly placing my laptop in the bin, folding my raincoat up, taking off my shoes, and putting my purse on the conveyor when all of a sudden, this young woman who had been in line behind me, stepped right in front of me with 2 suitcases and placed them on the conveyor. She still needed to take off her shoes – and she didn't know she was supposed to take off her jacket.
You are probably thinking, "So what?" So what? It was rude that she thought she could just jump in front of me especially when she wasn't ready. It was not as if she said, "May I go ahead of you?" I nicely told her that she couldn't cut in front of me. Of course, she looked at me in shock and made a few comments. (I will spare the details of our back and forth dialogue.) She finally took her items and moved behind me and told me to have a nice day.
A boundary in the office for an administrative assistant can be as simple as addressing a coworker or manager who constantly steps into your workspace and takes your desk supplies without asking and doesn't return them. If that bothers you, say something.
Another boundary you might need to set is your accessibility after hours to your leader as far as emails go. This is becoming problematic for assistants all over the world. As I travel and talk to hundreds of administrative office professionals ranging from administrators to executive assistants, I'm hearing them say they are spending too much of their personal time (evenings or weekends) managing and/or responding to emails from their leader. One administrative assistant said that her manager did not expect her to check business emails or take action on non-work hours. But she wanted to get a jump on things or was curious as to what was going on or wanted to read emails on Sunday night to be prepared for Monday morning. The problem is… she started responding to her leader's emails and taking action steps if required. Today, she is frustrated because she spends 50% of her weekend working. I told her, "You created the monster." It wasn't required of her and while she thought nothing of it at first, it snowballed and now she will have to say something to her leader.
First, do not create situations that you will later regret.
Second, people will act as we allow them to. If you don't say something when something isn't right, then the person assumes it is okay.
Third, professionally communicate when setting boundaries yet be firm.
Healthy boundaries are good for you and those you work with. It teaches them how to work with you in a way that stimulates win-win situations. You enjoy your work environment and are more enjoyable to work with. You are confident, peaceful, in control (not walked over), respected, like a peer or business partner and viewed as a leader. Consider what types of boundaries you might need to implement this week.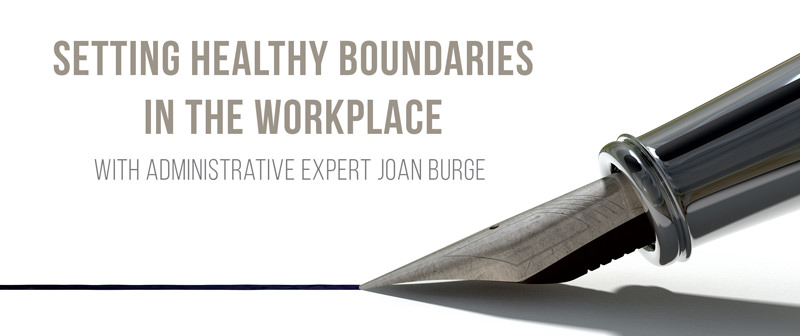 Learning Highlights
You will learn:
How to evaluate your current communication and boundary-setting style so you can build on your strengths and address areas for improvement.
Why assertiveness in the workplace matters, especially for assistants, how it benefits you and what it really means. (Hint: It is often totally misunderstood!)
How to recognize and minimize the risk involved so your message is received and your professional image remains intact.
How to appropriately set limits, voice your ideas and opinions, and articulate your needs using thoughtful, diplomatic communication techniques.
7 essential action steps for becoming a more assertive assistant. (You will hear examples and learn specific language to use in common challenging workplace situations.)