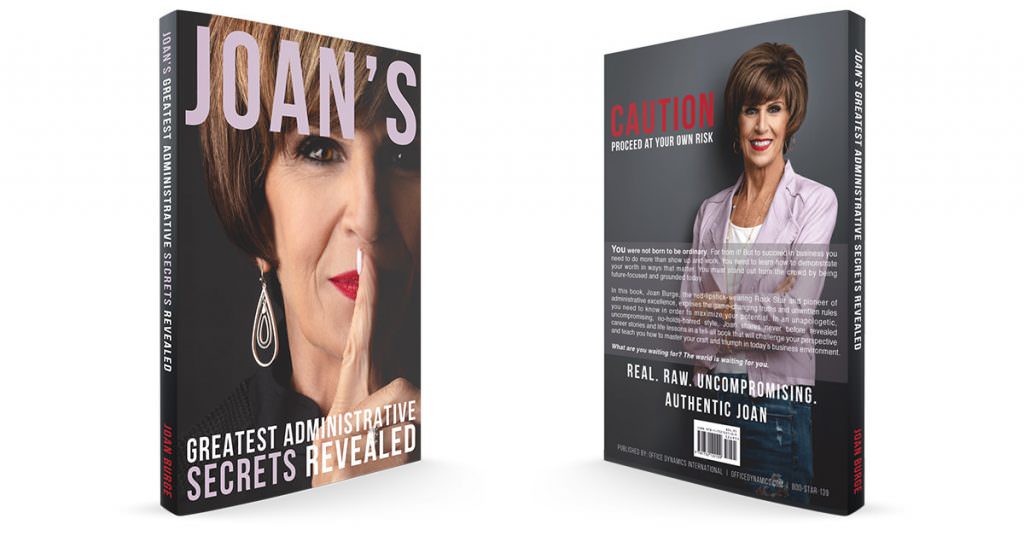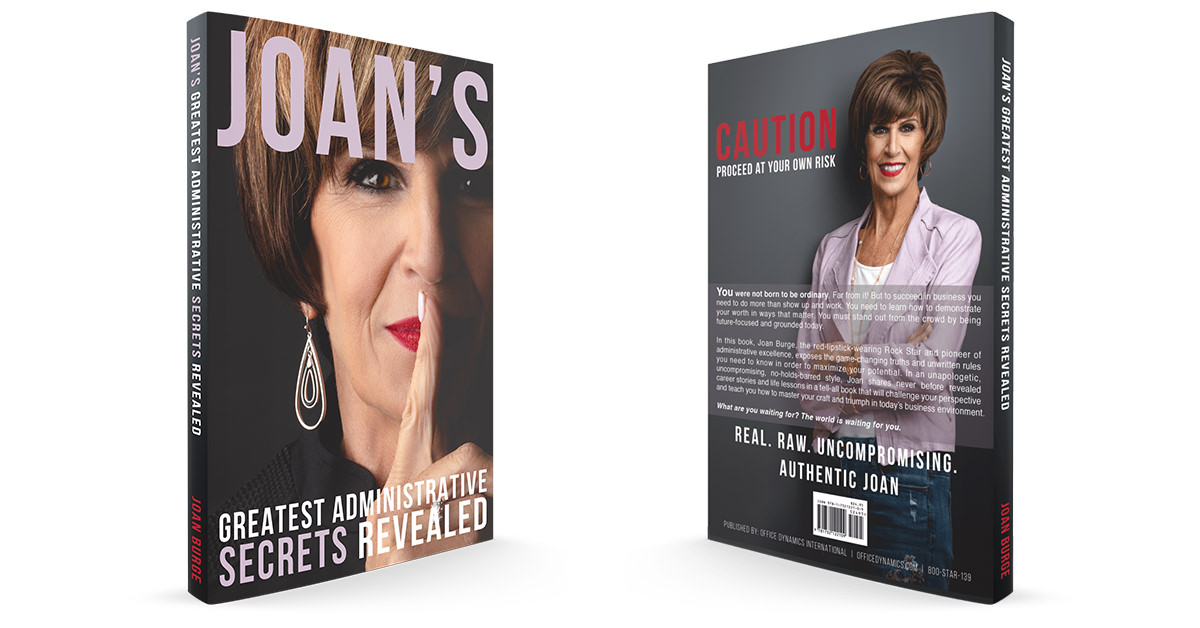 The secret is out! Finally, the secret we have been building up to for several weeks is out. I am very pleased to announce the title of my new book, Joan's Greatest Administrative Secrets Revealed. In case you have not seen all the social media buzz, this has been an exciting project as this book is like none other I have written for assistants. I wanted to use a very different approach and shake things up, including my wardrobe for the back book cover. This book is pure Joan Burge… Raw. Real. Uncut.
There are a few things that I experienced in bringing this book to life that I want to share with you that you can apply to your own work.
Thinking outside of the box. I have written 4 books over the years for assistants and a few other books for women. For whatever reason, this time, I wanted to be edgy and different. I didn't want to use my same old corporate look. While I love it, I have changed and times have changed. So it was important for me to portray that through the images we used on the book cover. Not only is the outside of the book very different and modern, my writing style is different in that I did not hire any editors or writers to polish or fine-tune my message. The approach I took with my communication style was as if I was sitting at a coffee shop with an assistant, what would I straight out say to this assistant? What have I learned over four decades of being in the business world? 20 years as an assistant? 28 years as the visionary for the administrative training industry? As a person who has sat on both sides of the desk for a very long time?
Collaborative effort. The book cover is the result of a team of us working together. We spent an entire day doing a photo shoot—over 500 shots taken. That photo shoot included my amazing Las Vegas photographer, Chris Tucker, plus three of my team members (Brian, Ernan, and Beth). Every person played a part in the six-hour photo shoot! It was an incredible experience. The cool thing when you collaborate with others, ideas come to life that you had not planned. That is one of the differences between teamwork and collaboration. Brian came up with an amazing idea which is the photo you will see on the front cover of the book. Also working with everyone made the long day very fun! We put music on, we laughed, we even got silly late afternoon. Our result was beyond our own expectations. Who do you need to collaborate with at work? Do you even know the difference between collaboration and teamwork? Google it. There are distinct differences.
Willingness to be the real you and step out of your norm. As I mentioned, my professional photos are your typical professional business photos, from my outfit to the way I stand or position my body. This time, I wore clothing that portrayed another side of me that most of the public has not seen. But the clothes represent where I am today and being extremely comfortable in my own skin! Plus I was keeping in mind that there are thousands of young people coming into the administrative profession and I wanted to relate to them as well.
Be daring! I have always loved to push the envelope and be a little daring. When you see the cover of the book, you will know what I mean. At first, it's easy to say, "Oh, maybe I better not do that!" But then it was easy for me to say, "Why not do that?" I want to shake up the administrative world in a big way. Mission accomplished. Where, when and how can you be daring? Life is so short and you need to get out there and shake yourself and others up! What are you waiting for?
Trust in the creative process. Believe it or not, every person can be creative. Creativity just comes out in different ways. I know this because I teach creativity in our Star Achievement course. The main thing with creativity is letting it rise to the top. When you just let your mind be free and not be analytical, amazing ideas come to your mind. I love watching the creative process in action and experiencing it.
Your skills and talents can shine. Brian Burge, our Creative Director, was so excited to be asked to design the cover of this book. Over the years, before Brian was with Office Dynamics, I outsourced the work for my book covers. The people I used in the past did a good job. But Brian knocked it out of the park—and on the first go around. The cover is an awesome expression of Brian's talents. He had very little direction from me. I let Brian run with it. You need to make sure you get to work on projects that illuminate your gifts! If you are not given projects that will let your talents shine, then create something where you can display your talents and special gifts.
I know there are many more lessons I learned from this project but I will stop here. If you even embrace one idea I mentioned above, you will be amazed!