Sure, having a high IQ is great, but how does your EQ (emotional quotient) at work stack up? Nearly all HR managers (95 percent) and employees (99 percent) surveyed by OfficeTeam said it's important for staff to have strong emotional intelligence. In addition, more than one in five workers (21 percent) believe EQ is more valuable in the office than IQ.
What is Emotional Intelligence?
You've probably heard the phrase "emotional intelligence" before and dismissed it as the latest buzzword. You may have even assumed team hugs and trust falls were involved. But emotional intelligence deserves your attention because it plays an important role in your overall career success. In a nutshell, emotional intelligence is the ability to identify and manage your own emotions and the emotions of others.
Why You Need It 
Having a high EQ comes in handy in today's workplace, especially for administrative professionals. Here are five reasons why:
In most jobs, collaboration is the name of the game. And to quote Liam Neeson in the movie "Taken," regularly interacting with a wide range of personalities inside and outside the company requires "a very particular set of skills." Being able to respond calmly and diplomatically to difficult people or challenging situations is a must.
Losing control of your emotions isn't a good look. It's not uncommon to get a little stressed or upset at work: More than six in 10 employees we polled (61 percent) admitted they've let emotions get the better of them in the office. Unfortunately, others could be judging you when you can't keep your cool. Eighty-six percent of workers said when a colleague doesn't control his or her emotions, it affects their perception of that person's level of professionalism.
There are always bound to be conflicts and disagreements at work. If you're an effective communicator, you'll listen to what coworkers have to say, show empathy and come up with solutions to issues. Problem-solvers get a big thumbs-up.
No one likes a Negative Nelly. When you're a motivated individual, you strive to get things done, and that enthusiasm spreads. What office couldn't benefit from a little positivity?
You'll make a good impression on others. Let's face it, people who have strong interpersonal skills, maintain a friendly tone and show a genuine interest in their coworkers are just more likable. When you tap into your emotional intelligence, you also make a better leader.
---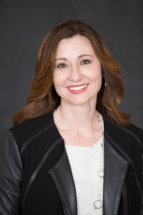 Brandi Britton is a district president for OfficeTeam, the nation's leading staffing service specializing in the temporary placement of highly skilled administrative and office support professionals. OfficeTeam has 300 locations worldwide and offers online job search services at roberthalf.com/officeteam. Connect with us on Facebook, LinkedIn, Twitter, Google+, Pinterest and the OfficeTeam blog.