A powerful, but underutilized, way for administrative and executive assistants to gain respect and be taken seriously is to exude executive presence. Forbes.com define executive presence as the ability to project gravitas–confidence, poise under pressure and decisiveness. Furthermore, communication—including speaking skills, assertiveness and the ability to read an audience or situation—and appearance contribute to a person's perceived executive presence.
When you create executive presence, you are taken more seriously in the workplace and your voice is more clearly heard. Executive presence is a combination of business expertise, competence in a chosen profession and ability to build or connect with others. You do that by:
Delivering information in "headlines." In my World Class Assistant™ course, attendees will ask me what this means. Just think of a newspaper. We see headlines, right? So, when you are communicating with executives or managers, keep it short, simple, and to the point. They don't have time for the back story.


Communicating with passion and energy. You get people's attention when you do this. A goal in communicating is to get people to listen to us. Maybe our goal is to get them to buy into an idea or try something new. Even daily, you can speak with more liveliness. I notice when I speak with more energy, I actually feel energized!


Speaking up. Use strong and clear language. You can do this in a way that does not make you appear to be aggressive.


Using a confident tone. It's very hard to convince or persuade someone when you come across as hesitant just by the tone of your voice. I recently worked with a CEO of a top Fortune 500 company and coached his assistant. The CEO told me he does not like it when his assistant does not sound confident about something when he asks her a question. The example had to do with a meeting whereby the assistant did not sound sure of the information when questioned by her executive.


Engaging people in conversation. Don't wait for people to ask you question or start a conversation. We project confidence when we reach out to others and initiate conversation. You will be amazed at how positively people will respond to you when you pay attention to and show an interest in them.


Learning to read your audience or the situation and adapt as necessary. It's just like what I must do as a speaker and trainer. If I am good at my craft, I pay attention to my audience. I don't just keep going ahead with what I want to say without noticing how my audience is responding. Your audience may be one or two people. But if you are to be successful, you need to be aware of what is going on with the other person and adapt, if necessary.
In my World Class Assistant™ course, attendees get to practice projecting executive presence. We do this on the third (last) day of class. They present as a team and discuss the benefits they derived from attending the WCA course. To make it real, the assistants pretend they are presenting to their executives. Each person in the group demonstrates their newly learned skills.
I hope you will practice the above-mentioned techniques. I am positive you will see results.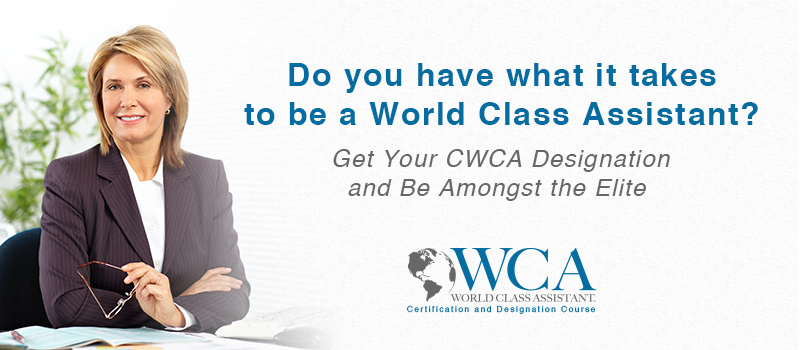 "Of all the programs offered by other training companies that I've attended, World Class Assistant™ was much more comprehensive and intense. This program is head and shoulders above the rest! It continues to help raise the bar."
– Jennie Forcum, CWCA
Our World Class Assistant™ course typically sells out so act fast! In order to deliver a cutting edge, unique experience, we intentionally keep class sizes small. Don't spend too long on the fence. You'll miss the opportunity of a lifetime!