What is prioritizing?
Prioritizing means using your strategic thinking, long-range vision, and knowledge of your leader's priorities and business objectives to see and determine which tasks are more important at each moment. You give those tasks more of your attention, energy, and time. You focus on what is important at the expense of lower value activities. Prioritizing is about making choices of what to do and what not to do. To prioritize effectively you need to be able to recognize what is important, as well as to see the difference between urgent and important. And, it means recognizing that at any moment your A1+ hot priority is supplemented by a new and more urgent A1++ priority!
I don't need to prioritize, I can just get everything done on my to-do list.
It is not about getting faster. It's about putting your energies where they are most needed when they are most needed. It's the reason why you must learn your leader and know the business so that you can put those factors into play when you are prioritizing.
There is no way I can get it all done!
When you have a long To-Do list, it can be quite overwhelming. In fact, you can feel so overwhelmed by a lengthy To-Do list that the feeling of being overwhelmed can stop you in your tracks, preventing you from accomplishing anything at all. One way to stop feeling overwhelmed and get back to accomplishing the tasks on your To-Do list is to prioritize tasks.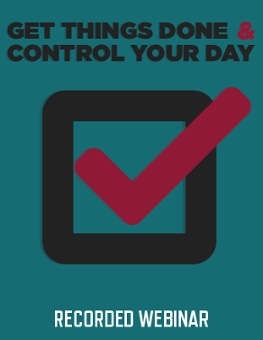 Administrative professionals are notoriously over-worked—we all know that feeling of "too much to do and not enough time." Even the most dedicated admin can fall victim to everyday productivity pains like procrastination, unrealistic deadlines, and lack of organization. Take control of your day and learn to effectively implement different strategies to maximize your day! Get Things Done & Control Your Day!
How do I cope with conflicting priorities?
Prioritizing Tips
Focus on high-value activities.
As soon as possible, finish all the important urgent tasks. (These are the ones that would have a major negative impact if you did not get them done.)
Start with the end in mind. Ask yourself, "What will be the result if I do not get this done today?"
Ask for specific deadlines – not simply "ASAP."
If you support multiple leaders and feel conflicted as to what takes precedence, ask the group to decide the order and then tell you.
Early in the day, clarify the top three items that must be accomplished that day.
Establish huddles with your leaders so you can discuss the day or week's priorities.
Do the work first for the person who gives your performance evaluation, unless they tell you differently.
Make deadlines public information; inform all members you support through a status update sheet or form.
Establish Categories and Rank Tasks
A This item is of extreme importance. It requires same day turnaround. If not done, it will lead to significant consequences.
A1.
A2.
A3.
B This item is important can be completed within 2 – 3 days, as necessary. These should not be done until you have finished the "A" items.
B1.
B2.
B3.
C This item may be completed within 2 weeks. These are tasks that have no penalty.
C1.
C2.
C3.
Of course, these categories can shift, especially the A's and B's as the day passes and business fluctuates. When you set priorities for items on your to-do lists, also keep asking yourself if any of your tasks can be eliminated or delegated.
When unexpected opportunities or activities come your way, you may need to make a quick judgment for prioritization. You can't become bogged down and leave your current A1 priority to research this new item. Run each new item through your goals grid. Does it take you toward or away from your goals? Trust your gut instinct and retain clarity on what really needs to be done that day. Then take the "A" priorities and decide which is the most important item – the one task that must be done today. That becomes A1, the next most important would be A2 and so forth. Your goal is to work on the "A" priorities before going to "B" or "C" priorities.
Joan Burge
For more great workplace tips, visit YouTube.com/OfficeDynamicsIntl where I have more than 200 videos for your viewing.