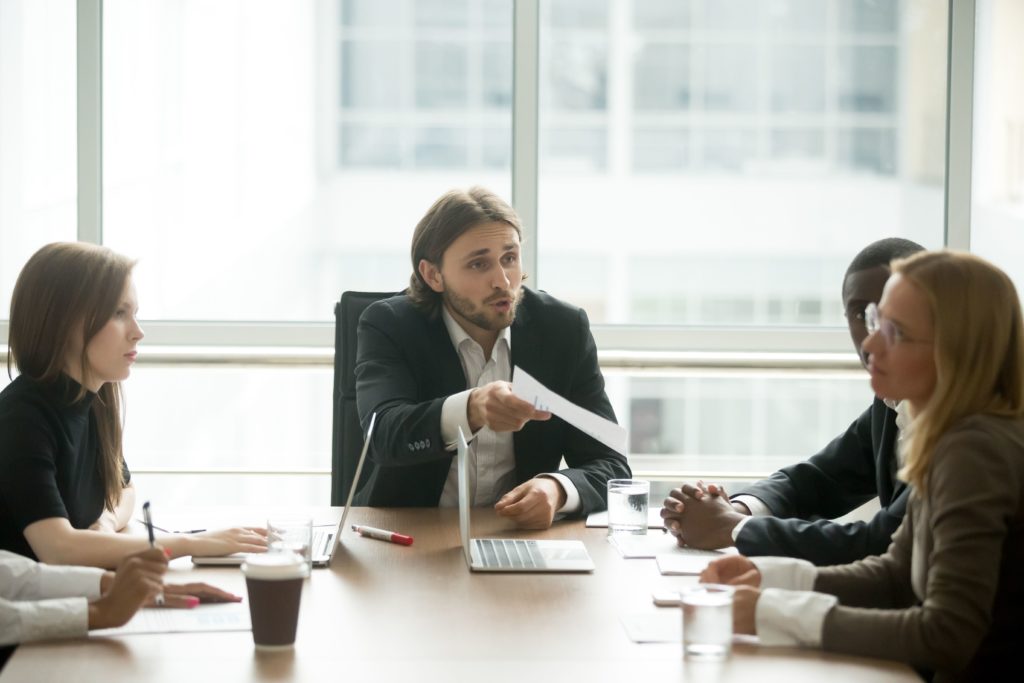 Dealing With a Difficult Boss
Working with people has its pros and cons. When you work with others you are able to bounce around ideas, collaborate, get feedback, and share knowledge. However, when you work with difficult people, you may experience resistance.
In the past, we've touched on how to deal with difficult people but let's face it, dealing with a difficult boss is a whole other story. 
Whether your boss is a micro-manager, has anger management problems, shows favoritism toward one person, is a flat-out workplace bully, or just isn't very competent, you still have to make the best of the situation and get your job done.
But how do you do that without jeopardizing your position, insulting them, or adding to their temperament? We've gathered the best advice from our past blogs and assistant submissions to shed some strategies on how to deal with a difficult boss.
But first, make sure you're referencing the right article for your issues. 
Every person is different, and therefore before you begin attempting to troubleshoot your situation, make sure you're dealing with a "Bad Boss." According to
CareerAddict.com
, there are several common signs of a bad boss. They include:
Plays Favorites
Lack of Flexibility
Micromanagement
Verbal Abuse
Criticism in Public
No Praise
Lack of Vision
No Critical Feedback
Takes Resignations Personally
Hovers Like a Helicopter
Overpromises
Expects 24/7 Employees
Lack of Trust
Inappropriate Comments
Expects Everyone to Be Like Them
Doesn't Admit Mistakes
Breaks Their Own Rules
Neglect to Connect
Poor Communication Skills
Bodes an Air of Arrogance
If you feel that your boss does not possess the majority of these qualities, assess if there might be a reason for their behavior. You can do this by observing your boss for a few days to notice how many things they do well versus poorly. When they do something "bad," try to imagine the most forgiving reason why it could have occurred. Is it truly their fault, or could it be something out of their control? Our Communicating with Your Manager blog provides insightful information to improve efficiency and productivity. 
If your boss does possess the majority of the qualities above, then read on. 
Steps for Dealing With a Difficult Boss
Identify Your Boss' Motivation
Your boss's career agenda can provide you with reasoning on why they behave the way they do. Discovering what your boss cares about can provide clarity on their management style.
For example, do they watch the clock and monitor your lunch, tardiness, and bathroom breaks? Maybe they are a stickler for punctuality, or perhaps it is not that they really care about how long you are taking; they actually care about how it looks to other employees and their superiors.
If they want to climb the corporate ladder, they may feel that not having their employees inline makes them look as if they have no control over their department. 
Whatever the case may be, identifying their motivations and researching how to best work with people of different personality types can help substantially. 
Additionally, discovering what qualities they find most valuable in an employee can help as well. We are not suggesting you change who you are but that you simply practice those characteristics in times of chaos and high-tension to alleviate feelings of discomfort or animosity. 
Related blogs: 
Make Your Boss Look Good – Part 1 
Make Your Boss Look Good – Part 2
Don't Let Your Boss Affect Your Work
Your boss is going to have bad days. If they are already pretty uneasy to be around, it may worsen during times of crisis, overwhelm, and pressure from their superiors. It is not uncommon for many assistants to find themselves taking the brunt of those feelings. As much as you may want to throw in the towel, or even the scorecard, do not. Remember that you have the power to influence the way others perceive you.
Do not jeopardize your career, character, and morals over someone who chooses to act hostile. It will only put you further behind in your workload and build a case for your boss to send you packing before you are ready to leave. Instead, remain resilient during turbulent times. Others around you will take notice. 
Manage the Micro-Manager's Expectations
The majority of us are familiar with that all too relatable scene from the movie Office Space. The one where Peter Gibbons' boss shamelessly hovers over his desk area monitoring his tasks and schedule. 
If you are working with a micro-manager, watching it probably makes you cringe. One workaround is to anticipate requests and get things done before they come to you. If your manager is constantly asking you about statuses, memos, projects, calls, and more, realize their need to be in the know at all times and be ready to provide updates. It may seem overwhelming, but by creating a list of open items and your progress, you can easily reference it and even send it to your manager. 
Every executive and assistant work differently. Therefore, you may want to establish the right time to provide updates based on how frequently you are approached for them. To do this, check out our Revolutionary Ways Assistants Can Get Information From Their Managers blog for ideas and tips. 
Your Boss Does Not Know It All
Unfortunately, there are executives that let their title go to their head. They may feel that because they are in charge, they know more, and therefore, are smarter than everyone else. Working with this type of boss can make it hard to get involved in projects, present new solutions, and processes. 
To work around this, take a psychological approach. Give credit to their methods and the benefits that come along with it while suggesting variations. You can say something like 
"Your process for submitting invoices has really helped me streamline my schedule. I like how you (insert compliment here). How do you think adding (insert your suggestion here) would work? By carefully wording things, you will make them feel as if it is their idea. 
While you may not get the credit you deserve, you may make your job more efficient in the process. 
Act as the Leader and Self-Manage
Don't lose sight of your goals in the process. Just because we suggested the method above, does not mean you should not showcase your value.
Your manager will not always be available to speak with and get the green-light from. If you know your area well enough, go ahead creating and pursuing a direction you know will achieve good results for your company. The majority of people gravitate towards positivity and good leadership. Management, although maybe not your direct boss, will notice your initiative. Of course, you don't want to do something that undermines the boss, so keep him or her in the loop.
Related article: Self-Management & Personal Care 
If you are working for someone who belittles you as a person, or if they treat you unfairly; that is not a difficult boss. That is a different story. Then you really have to do some soul searching and maybe some job searching!
Like this article? Share it!