At Office Dynamics International we love what we do. Part of that is providing tools and services to administrative professionals that enhance the quality of their work-life, promotes career growth, and strengthens administrative skills and excellence.
We offer high-level coaching, onsite workshops, an annual conference for administrative excellence, certification and designation courses (World Class Assistant™ and Star Achievement Series®), and more. However, we aren't able to reach every administrative professional with our premium programs.
How Our Free Training Benefits Assistants
Below you will find all the free training for administrative assistants we offer! We have a ton of value to bring to the profession and we certainly don't want to exclude the many assistants who aren't receiving funding to attend our live events.
How Our History Benefits Your Future as an Assistant
Though we have been around since 1990, our free training programs for administrative professionals began in 2009 with the 26 Weeks to Administrative Excellence pre-recorded video program. As the years passed, we continued to add additional video programs that convey the expertise, real-life scenarios, and in-demand topics from over the years.
What Assistants Say About Our Materials
Many assistants love having a library of free assistant training available to them day or night. Our content is for EVERY kind of assistant. However, assistants who work for a nonprofit or organizations that do not put any or enough emphasis on developmental training for administrative professionals find our training materials extremely resourceful.
My growth has definitely come from Office Dynamics! After months of webinars, watching replays, reading the blog, and books, I feel much more confident in myself. I am ready to abandon my comfort zone.
Thank you so much!!!? – Cristina Bandrés Ottavi Assistant
Office Dynamics is the best professional resource for administrative professionals. It is the only one I recommend to ALL my colleagues. – Katherine Morgan Executive Assistant
I can't say enough good things about Joan and Office Dynamics International. I try not to miss any webinars, I love reading the Monday Motivators. This is really a great team of people! – Giovanna MazariegosAssistant
Administrative Assistant Training Videos and More
With the success of our free video series and the gaining popularity of social platforms and video services, we branched out and began adding educational videos for administrative professionals to YouTube and Facebook Live.
There are hundreds of videos available at your fingertips.
Check out the Office Dynamics International YouTube Channel

Like our page to get Facebook Live notifications.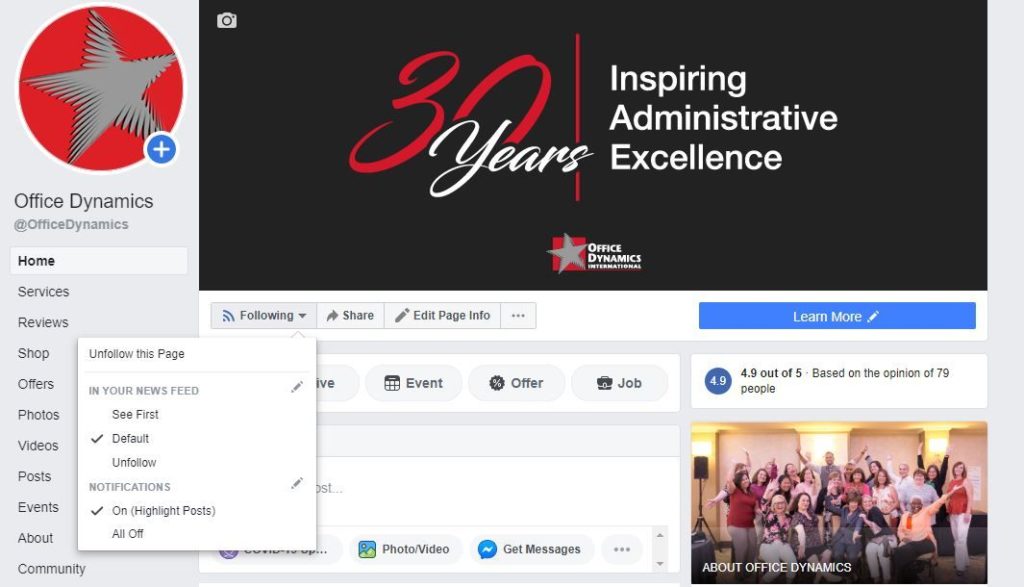 Blogs on Real Life Situations, Assistant Career Development, Skill Development, and More
Of course, you know about our Office Dynamics Blog because you're reading a post right now.
Success Motivators and Tools for Assistants
Monday Motivators, our longest-running free content, gets sent out each Monday and delivered directly to your Inbox. If you haven't already subscribed for this weekly pick-you-up you can do so here: Subscribe to Monday Motivators.
Free Downloadable Administrative Professional Resources
If you are short on time and would like to easily download our training content to your device or computer, we offer a variety of free downloadable resources by the pioneer of the administrative professional industry, Joan Burge. Explore our article archive for administrative assistants and even some articles for the executive.
Free Webinars for Assistants
Our biggest hit yet is our monthly free webinars for executive and administrative assistants.
You can access webinar recordings as well as view and register for future webinars.
Both ways include sign-up forms to receive our webinars in your inbox.
Below you'll find a listing of some past webinars we have offered.
Past Webinars
The Resilient Assistant with Peggy Vasquez Webinar
Why Assistants Should Consider Certification featuring Brenda Mason Webinar
7 Steps to a Ridiculously Radiant Career Webinar
Live Your BIG and Bold Life Webinar
The Star Performer's Secret Sauce Webinar
3 Keys to Making Your Best Week Ever with Adam Timm Webinar
Challenge Your Comfort Zone with Jasmine Freeman Webinar
Managing Your Executive's Day (Part 1) Webinar
Managing Your Executive's Day (Part 2) Webinar
The Revolutionary Assistant (Disrupt the Status Quo) Webinar
Revolutionary Insights Into Self-Leadership
Don't Let Fear Sink Your Career!
Helping Your Manager Maintain a Competitive Edge
Are you an office professional who has taken advantage of our free training for administrative assistants? We would love to hear your story. How has the training provided above helped you in your career? Please comment below.
Share this post using the social media buttons below to let your friends know about all the free training available to them right here at OfficeDynamics.com.